Comics artist Ernie Chan, 71, passes away
A week after renowned Filipino comic book artist Tony DeZuniga passed away, the industry lost another pillar on May 16 in the United States when Ernesto "Ernie" Chan, 71, of Marvel and DC comics fame died after almost a yearlong battle with cancer.
A relative, who asked not to be named prior to seeking permission from the artist's immediately family, confirmed via Facebook that Chan died in California last May 16, or just two-and-a-half-months shy of his 72
nd
birthday.
Chan's own
Facebook page
showed he was 71 years old when he passed away. He was born on on July 27, 1940.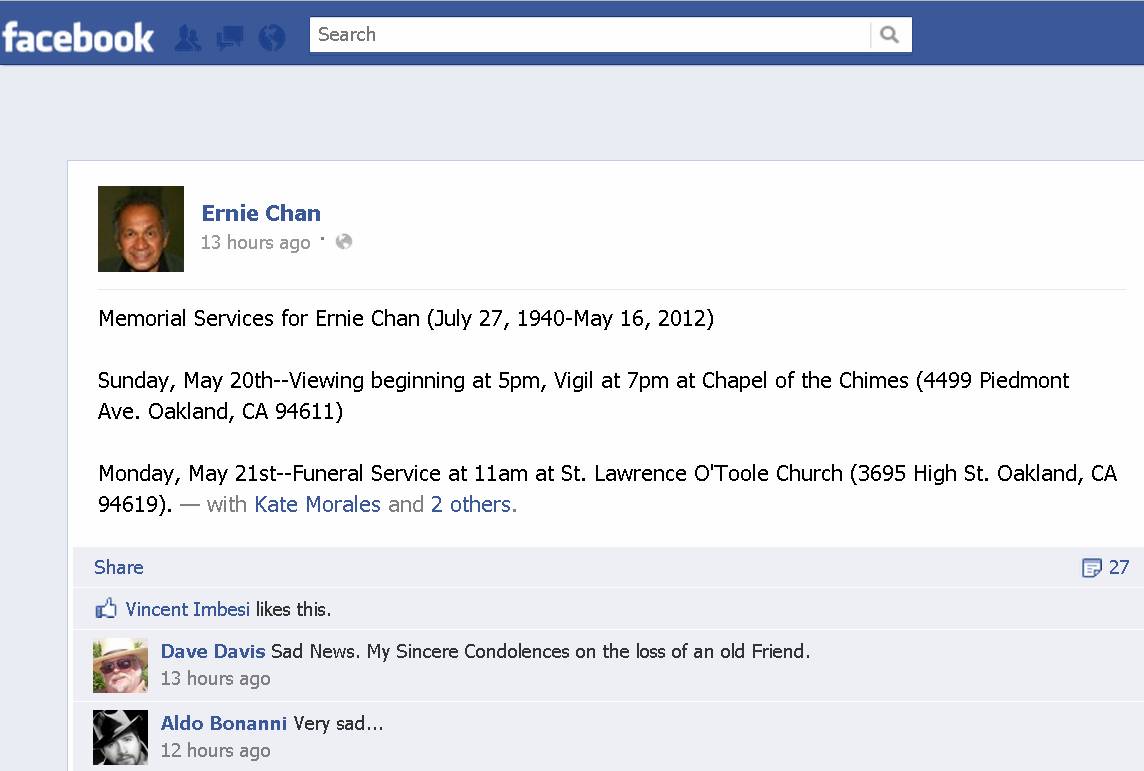 Memorial services set in California for famed Filipino comics artist Ernie Chan.
Award-winning comic artist Gerry Alanguilan, creator of Elmer, expressed sorrow over the death of "Mang Ernie", as he fondly calls Chan.
"I am saddened to hear of Mang Ernie's passing. I heard from Tina DeZuniga that Ernie had been feeling sick during that convention (San Diego Comic Con), and he found out he had cancer soon afterwards. It's sad to lose one, but it's truly crushing to lose so many in such a short… time,"
Alanguilan wrote in his blog
.
He cited Mang Ernie's contribution to the recognition of Filipino talents worldwide.
"He had accomplished a lot. There was a point in time [when] he was one of the hottest artists... He deserves to be remembered and recognized as someone who contributed positively to the image of Filipinos and their talents worldwide," Alanguilan added.
Moreover, comic artist Jonas Diego also acknowledged Mang Ernie's role in shaping the comic industry.
"I loved Mang Ernie's work on Conan the Barbarian and Kull the Destroyer. Mang Ernie, together with other artists of his generation, cemented the Filipino illustrator's reputation as a dependable and talented artist," Diego said. "Though he has moved on to a better place he will always be an inspiration to Filipino Comic Book Creators everywhere. Godspeed, Mang Ernie," he added.
Marvel and DC artist
Chan started doing comics at age 20 but migrated to America in 1970.
According to
his website
, the comic legend got his break by doing mystery short stories in DC Comics. Later, he worked on a number of covers and characters such as Batman, Claw, Sandman, Swampthing, and Jonah Hex.
He then moved to Marvel, and worked on characters like Dr. Strange, Dracula, Daredevil, Doc Savage, Thor, Fantastic Four, Hulk, and Powerman. However, Conan continues to be his most popular work. —
VS, GMA News