Palace aides tweet side comments as Corona delivers statement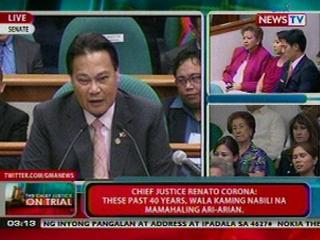 Corona testifies in own trial. A screen grab from GMA News TV's live coverage shows Chief Justice Renato Corona delivering a lengthy opening statement Tuesday afternoon, while his family looks on in top right inset. In bottom inset are members of the Basa family, Corona's wife's relatives with whom the Coronas have had a long-running feud. GMA News
Despite a supposed gag order, Malacañang aides tweeted side comments while impeached Chief Justice Renato Corona delivered a lengthy opening statement at his trial Tuesday afternoon.
Communications Undersecretary Manuel Quezon III and deputy presidential spokesperson Abigail Valte also kept themselves busy retweeting side comments of other netizens while Corona delivered his statement.
"I hope he continues to talk like this during his direct and cross examination," Valte
tweeted
in the first few minutes of Corona's statement.
Valte likewise retweeted comments that the speech was too long.
When Corona accused some members of the Cabinet of being allied with the political left, Valte
tweeted
, "Did he say '
kaliwa
?'"
She also
retweeted
an account that members of the Basa family "looked at each other and smirked" when Corona claimed he and his wife lived a simple life.
When Corona spoke about the row over the two-hectare Basa property in Libis, she
tweeted
, "And of course Mr. Basa cannot defend himself. He's dead."
When Corona read the letter of his daughter Carla Corona-Castillo, she
commented
, "I wonder why they didn't put Carla Corona-Castillo on the stand instead of reading her letter."
For his part, Quezon
tweeted
about a "beautiful visual" where former Sen. Francisco Tatad "looms behind Corona's shoulder as he perorates."
Quezon also
posted
"'Are you through?' Cuevas requests a brief break."
"Word of the Day: 'vacillation,'"
tweeted
Quezon.
He also
retweeted
a netizen's comment that Corona's lengthy statement was "argumentum ad misericordiam."
Quezon retweeted as well posts by news sites where the Senate President and presiding officer Juan Ponce Enrile interrupted Corona.
Last March, presidential spokesman Edwin Lacierda claimed he and Valte will no longer comment on the Corona trial except when President Benigno Aquino III is "being unfairly dragged into the issue."
"We would rather that the focus be on the impeachment spokespersons doing their job of explaining what goes on in the trial itself," Lacierda said at a Malacañang press briefing at the time. –KG, GMA News