Joe Jonas wows fans in first Manila show
Even before he entered the hall, the fans were already screaming and chanting his name.
When award-winning American singer-songwriter and actor Joe Jonas stepped into the Rizal Ballroom of the Makati Shangri-La, they went absolutely wild.
Joe was officially launched as the newest international endorser of homegrown lifestyle and clothing company Bench on Wednesday. A number of Pinoy Jonas fans—known as JBnoys—went to the show to support him in his latest solo endeavor. Most of them had been waiting six years to catch a glimpse of the musician in person.
Joe Jonas is the lead singer of the Jonas Brothers, an American pop-rock band which has produced four albums that have sold millions of copies worldwide. In 2011, he released his debut solo album "Fastlife."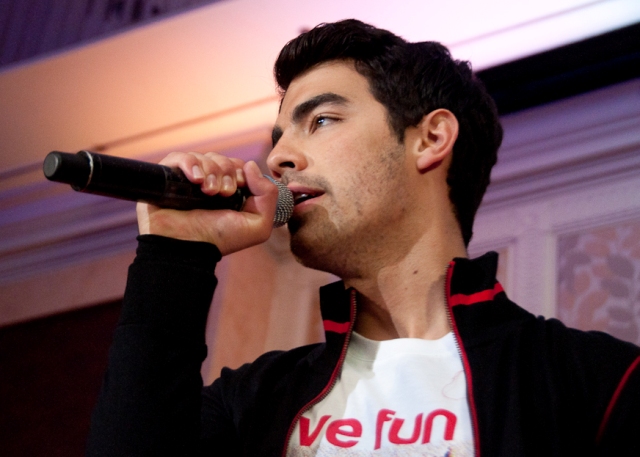 Dressed in jeans and a white shirt with the slogan "Have fun in the Philippines" under a black jacket, Joe sang his hit singles "Love Slayer," "Just In Love" and "See No More" to the delight of his fans, who sang along with every song.
After his performance, Joe gamely answered questions from the press and several fashion bloggers.
Joe said that the hospitality he has received while in Manila has been very warm. He has learned the phrases "Mabuhay' and 'Mahal ko kayo.'
When asked what else he's learned, he said, "The food's amazing!"
He added, "You have a lot of beautiful women here," which earned appreciative shouts from his female fans.
Noting that the JBnoys were shouting marriage proposals, Joe was asked how many he has received so far. "I think if I said yes to every marriage proposal, I'd be married a lot of times," he replied, smiling.
Also known as a fashion icon, Joe shared, "I like to take risks in clothing and try new things.
"It's also nice to express your personality through your clothing. It's something I always do and always tell my friends to do," he said.
Aside from endorsing Bench, Joe said he wanted to visit the country to meet his fans in the Philippines for the first time.
Joe is doing a solo endorsement, without his brothers. Asked how different it would be compared to doing a project with Nick and Kevin, he responded, "I think that no matter what, me and my brothers are really supportive of each other's projects."
After the press interviews, Joe posed for photos with fans. He will be in the country until Sunday to meet his fans and visit Bench stores in TriNoma, Glorietta 5, and Ayala Center Cebu. –
YA, GMA News
Photo by

Kitkat S. Lastimosa