Bishops back Corona dare to solons; 3 Cebu lawmakers open to signing waiver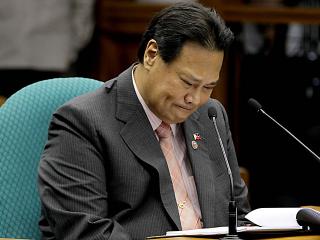 Corona gets emotional during testimony. While delivering a lengthy opening statement during his trial, Chief Justice Renato Corona chokes back tears, leading to a temporary suspension of the trial. Bernard Testa/Pool
Impeached Chief Justice Renato Corona may have gained backers from among Catholic bishops, not necessarily for his acquittal but for his dare to lawmakers to sign waivers opening their dollar accounts to scrutiny.
Manila Auxiliary Bishop Broderick Pabillo and Lipa Archbishop Ramon Arguelles said signing such waivers could boost transparency while showing the public the lawmakers have nothing to hide.
"Those accusing him should also set the example by disclosing their dollar accounts. That's why the challenge of the Chief Justice is good for other lawmakers to show their assets," Pabillo said in an interview on Church-run Radio Veritas.
Excerpts of the interview were
posted
late Wednesday on the Catholic Bishops' Conference of the Philippines news site.
On Tuesday, Corona testified at his own impeachment trial at the Senate, delivering a lengthy opening statement airing his side on the charges against him.
He also signed a waiver allowing investigators to pry into his dollar accounts, but on one condition – if the 188 legislators from the House of Representatives who signed the impeachment complaint and senator-judge Franklin Drilon also execute a waiver.
While some solons have accepted the challenge, the others, including Drilon, have refused to do so.
A separate report on dzBB radio said some lawmakers have accepted the challenge, including Kalinga Rep. Abigail Ferriol, who at 27 is the youngest member of the House of Representatives. The others were ACT Rep. Antonio Tinio and Pangasinan Rep. Kimi Cojuangco.
But the dzBB report quoted Ferriol as maintaining she had no dollar account.
On the other hand, Drilon had said he will not sign a waiver, while the House prosecution panel's members also refused to do so, saying they are not the ones on trial.
Pabillo, who chairs the CBCP's National Secretariat for Social Action Justice and Peace (NASSA), also said "There is really something wrong when they want a person to disclose his dollar accounts but his accusers refuse to do the same or don't want to be transparent."
Besides, he said if the Beningno Aquino III administration really wants transparency, it should start with its allies in the House of Representatives and the Senate.
Meanwhile, Lipa Archbishop Ramon Arguelles said taking Corona's challenge would erase doubt on every politician's credibility.
"The nation will benefit a lot if they will sign a waiver," said Arguelles, who led a Mass for Corona earlier this week.
For his part, retired Archbishop Oscar Cruz said Corona's dare "is but a statement that those accusing him of dishonesty in making his SALN are dishonest themselves."
"That's why the basis of this is let us know who have no sin and throw the first stone. That's the message," Cruz said.
3 Cebu solons open to signing waivers
At least three lawmakers from Cebu expressed willingness to sign the waiver, according to a report by dzBB's Cebu affiliate on Thursday.
The report identified the three as Reps. Rachel Marguerite del Mar (1st district), Ben Hur Salimbangon (4th district) and Gabriel Luis Quisumbing (6th district).
Cebu-based lawmakers who still refused to sign the waiver included Ramon Durano VI (5th district), it added.
— LBG, GMA News