Phillip Phillips named 'American Idol,' Jessica Sanchez runner-up
(Updated 10:49 a.m.) - After a record-breaking 132.3 million votes were cast by viewers Wednesday (PHL time), Phillip Phillips was named on Thursday (PHL time) the new "American Idol."
The guitar-playing Phillips, 21, from Leesburg, Georgia, who brought an indie vibe to the show, has
consistently done well in the competition
, and bested 16-year-old Jessica Sanchez, a Filipino-Mexican-American who grew up in Chula Vista, California.
Phillips looked stunned as host Ryan Seacrest announced his name, and could not finish his performance of his new single "Home" as he fought back tears.
He was favored to win by some quarters, saying he fits the "White Guy With Guitar" type that has characterized recent winners of "American Idol," among them David Cook, Kris Allen, and Lee DeWyze.
Phillips' goofball humor and individual style earned him a large, young female fan base on "Idol," and he had never appeared in the bottom three in public votes during earlier stage of the Fox TV show.
The "Idol" judges also raved over his singing at Tuesday night's performance show finale of what will now be his first single–a folk-rock ballad called "Home."
Phillips, who worked in his father's pawn shop before auditioning for "Idol" also won sympathy for a recurrent kidney problem that has plagued his health during the season.
Sanchez was praised in the contest for her big voice but sometimes faulted for lacking emotion.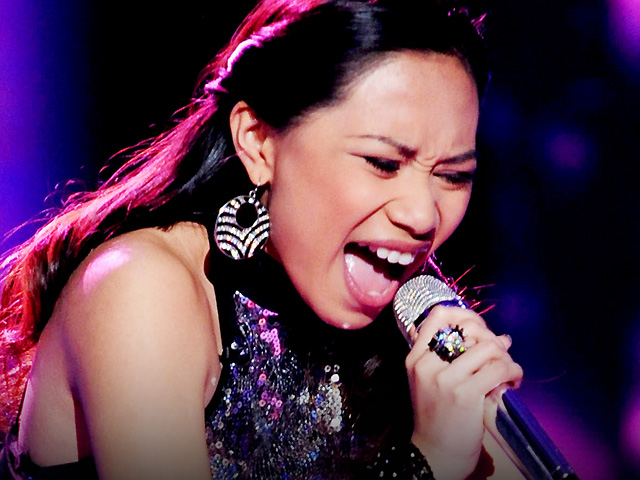 16-year-old Jessica Sanchez on American Idol.
She was saved by the judges from elimination in April after placing in the bottom in the public vote, and the show's judges disliked her third song in Tuesday night's performance finale.
Earlier on the show Thursday (PHL time), Sanchez said, "I'm thrilled" when host Ryan Seacrest asked them how she felt. Phillips said, "I'm excited," and said he had about nine hours of sleep.
The top 12 finalists sang "Runaway Baby" by Bruno Mars. Later, the women finalists sang with Chaka Khan the R&B icon's hits such as "Through the Fire" and "I'm Every Woman."
The male finalists, meanwhile, sang with Neil Diamond hits like "Sweet Caroline," and later, a string of Bee Gees songs in honor of Robin Gibb, who recently
passed away
.
Phillips sang a duet with John Fogerty of Creedence Clearwater Revival. They performed "Have You Ever Seen the Rain" and "Bad Moon Rising."
Sanchez sang Whitney Houston's "I Will Always Love You," which earned her rave reviews in the top 13 episode.


She also performed "And I'm Telling You I'm Not Going," a duet with "Dreamgirls"' Jennifer Holliday, which brought the house down, with AI judges Jennifer Lopez and Randy Jackson joining the live audience in a standing ovation.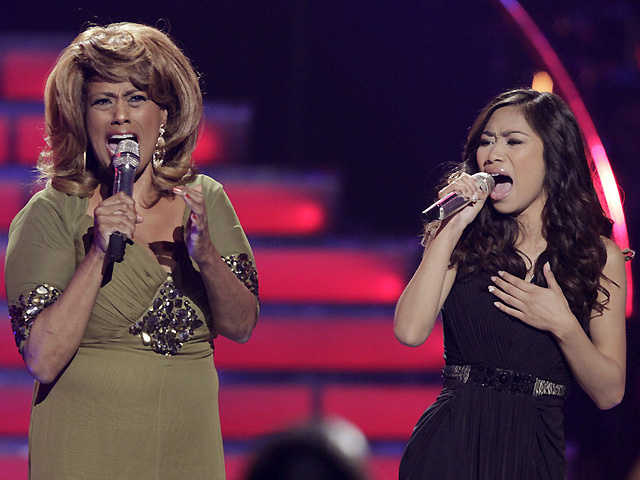 US singer Jennifer Holliday performs 'And I'm Telling You I'm Not Going' with finalist Jessica Sanchez (right) during the 11th season finale of 'American Idol' in Los Angeles, California on Wednesday (Thursday in Manila).

On Twitter, the hashtags #idolfinale and #JessicaForTheWin became the top two trending topics locally Thursday morning.
Despite lower ratings this season, "American Idol" remains a hugely popular reality singing show. Past winners–aside from David Cook, Kris Allen, and Lee DeWyze–include Kelly Clarkson, Carrie Underwood, Ruben Studdard, Fantasia Barrino, Taylor Hicks, Jordin Sparks, and Scotty McCreery.
Among the finalists on the show who have had successful singing careers are Katharine McPhee and David Archuleta.
Filipino-Americans
who have made it to the top 12 in past seasons include Thia Megia (2011), Ramiele Malubay (2008), Jasmine Trias (2004), and Camille Velasco (2004).
–with Reuters, Karen Galarpe/LBG/HS, GMA News