Outside the box: Fifteen last words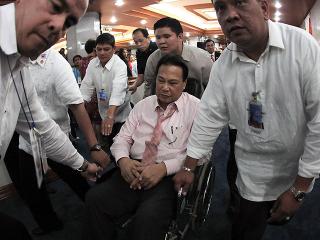 Corona exits session hall after trial adjournment. A visibly weak Chief Justice Renato Corona is wheeled out of the Senate session hall after he was discharged by Senate President Juan Ponce Enrile. Corona had walked out after his testimony. His lawyers claimed he suffered from a hypoglycemic episode, or low blood sugar. Corona is a diabetic. Joseph Vidal/Pool
"And now the Chief Justice of the Republic of the Philippines wishes to be excused," the man in the black suit read from a prepared script. Eyes downcast, he rose from his seat and headed for the door with his security men. The presiding officer called for him to return as he had not yet been discharged, but he never looked back.
In the corridor leading to the VIP garage, the sergeant-at-arms stopped him in his tracks and refused to let him pass. All the building exits were shut as the presiding officer ordered a lockdown, incensed that the last witness on the stand would defy the judges who had patiently heard him out while he rambled on and on in an almost three-hour monologue.
Television footage showed chaotic scenes as defense lawyers scrambled to get hold of their client, who had left them to their own devices. Even as he was taken aback, the lead defense counsel took pains to appease the grim-faced presiding officer, who was adamant that the witness had to return to the session hall or else, all the valiant efforts of the defense team for the past five months would amount to nothing.
After an hour, the witness was wheeled back to the session hall, a horde of media people trailing him. His coat was gone and his pink shirt and tie had been loosened, making him look disheveled. He wore a forlorn yet arrogant look, avoiding eye contact with anyone. He remained silent while the presiding officer reprimanded the defense counsel for the breach of court protocol, as if he was not there.
Anyone looking at the surreal scene would be forgiven for blurting wha-! But no such outburst was forthcoming from any of the judges. The presiding officer was in no mood for any more drama. Even the court jester was not spared, the gavel going down on a light-hearted comment the following day.
The witness had painstakingly laid out his case, at times stammering and often surprisingly inarticulate for someone who describes himself as a successful lawyer. In a country that eagerly awaits the bar results every year, many wondered how it came to pass that the head of the highest court would be someone who speaks ill of a dead man in front of millions who were listening to him live on television, radio, and the Internet. The much-awaited testimony became a rehash of old speeches, the witness often venting his anger rather than arguing coherently. In the end, there was very little light in his lantern.
Yet, it was hard not to feel pity for a man who seemed genuinely hurt to the core. As he narrated his simple life and hard work, it was easy to believe that he had been unjustly accused – that maybe, just maybe, he had indeed been a victim of political persecution. When he took out his pen and signed a waiver allowing everyone to have a peek into his accounts, it seemed he had won the battle for public sympathy.
But then, he tried to outsmart his opponents by asking them to follow his lead. "I am no fool," he declared, unaware that his action created just the opposite reaction. And then he walked out, leaving his credibility crumbling in his wake.
When people choose judges, even just for a singing contest or spelling bee, high on the list of criteria would be competence and integrity. Even in many indigenous communities, wisdom and a sense of fairness are more valued than lineage when it is time to choose leaders who will act as arbiters during conflicts.
The last witness spoke his fifteen last words as if he were royalty, as if everyone would do his bidding even though this was not his milieu. He spoke as if he was proud to have his day in court, but would not be bothered to face his accusers like any ordinary litigant.
As he concluded his speech, he seemed to have forgotten that respect is earned, not dictated. And as every Filipino knows by now, in this country, dictators are eventually toppled from their pedestals.
- GMA News