Top designers take the stage at Philippine Fashion Week
It's not too often that one becomes sentimental after watching a fashion show, but Philippine Fashion Week's Premiere Collection A is definitely an exception.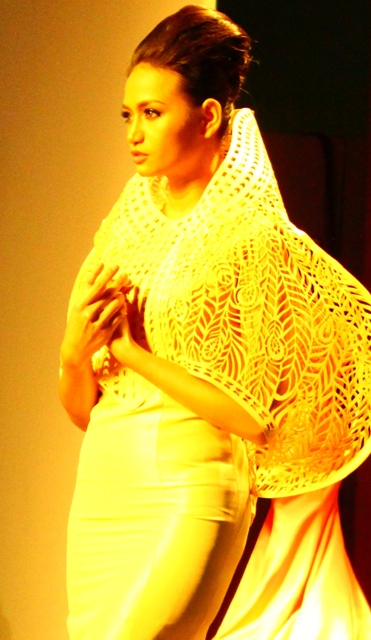 The finale show Thursday night showcased five of the country's top designers, all of whom have received international buzz in the last few years. They include Albert Andrada, Bandoix Flores, Butz Fuentes, Ezra Santos, Ronaldo Arnaldo, and Kermit Tesoro.
According to Dubai-based designer Albert Andrada, "the delicate, artful finish of Japanese porcelain marbles and lanterns" was the inspiration for his Holiday 2012 collection.
"Drawing from the intricate designs of these iconic blue-and-white wares, I adorned my clothes in similar hues, with touches of gold. With chamois, silk shantung, tulle, chiffon, and leather, I created figure-flattering short and long dresses as well as menswear pieces with broad shoulders that pay homage to the Japanese warrior's fierce look," he added.
For Kermit Tesoro, his current collection is quite different from his previous works.
"It's all about my take on high-density looks using an excess of fabric, stones, and other materials. I translated my vision through practical silhouettes, touches of sparkle and elements that subtly reflect sexual and patriarchal references," he said.
Meanwhile, "Memoir of an Arabian Princess" by Ezra Santos is said to be influenced by the socio-cultural situation of the Arab woman.
"I consider this collection my commitment to artistry, handicraft, and extravagance, as each couture creation features modern ornamentation and crystallization, lace, French tulle, and Mikado taffeta and a vibrant palette of colors that ranges from shades of gray to peach, accentuated with gold and semiprecious stones," he explained. –
Text and photo by ANNA MAE YU LAMENTILLO/YA, GMA News