Malacañang rejects calls to have Cabinet members sign waivers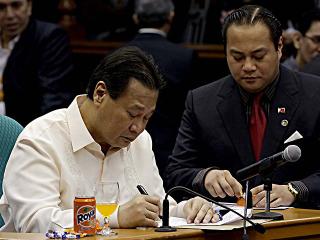 Corona signs waiver, opens up his assets. Chief Justice Renato Corona signs an unconditional waiver authorizing the opening of his dollar accounts and other assets as his son Francis looks on during the impeachment trial on Friday at the Senate. Bernard Testa/Pool
President Benigno Aquino III is not accommodating a suggestion from a senator to have his Cabinet members sign waivers opening up their bank accounts to scrutiny for purposes of transparency.
Deputy presidential spokesperson Abigail Valte said Aquino already said it will be up to the individual Cabinet members to sign such waivers.
"We asked the president that before,
nagkaroon na ganitong issue dati
. The president's reply (was), that will be up to the individual Cabinet members," she said on government-run dzRB radio.
Earlier, Sen. Alan Peter Cayetano was quoted in a report as suggesting that the Cabinet members be made to sign such waivers.
Cayetano added the waiver should be amended into the Statements of Assets, Liabilities and Net worth (SALN) Law.
But he particularly urged Aquino to ask his Cabinet members to start by signing a waiver opening up their bank accounts to the Ombudsman.
"It is up to the individual Cabinet members. They will not be forced. That will be their personal decision," Valte insisted.
Cayetano's suggestion came after Corona – in his first appearance before the Senate impeachment court last Tuesday – signed a waiver allowing the Anti-Money Laundering Council (AMLC), the Bureau of Internal Revenue (BIR) and the Securities and Exchange Commission (SEC) to probe his bank accounts.
But he issued a condition he will submit it only if the 188 lawmakers who signed the impeachment complaint against him and Sen. Franklin Drilon will sign a similar waiver.
On Friday, Corona submitted the waiver without conditions but prosecutors claimed it was too late.
Foreign Currency Deposit Act
Meanwhile, Malacañang said it is leaving to Congress to amend the Foreign Currency Deposit Act (FCDA) to head off possible money laundering activities.
"
Depende yan sa ating
lawmakers (It's up to our lawmakers)," Valte said.
She also noted the FCDA does not bar the depositor from talking about his own deposits and empowers the depositor to sign a waiver.
Earlier, legislators were urged to amend the FCDA, or Republic Act 6426, as well as craft a law regulating hospital arrests.
— LBG, GMA News