Sen. Enrile: Ombudsman's testimony was key in convicting Corona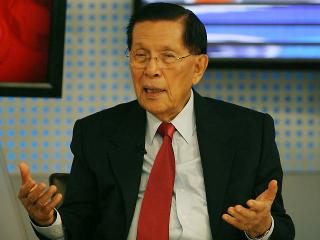 Sen. Enrile talks about key moments in historic impeachment trial. The impeachment court's Presiding Officer and Senate President Juan Ponce Enrile said on News To Go on Tuesday that he believes the walkout of Chief Justice Renato Corona after his testimony last week was scripted. Enrile also cited Ombudsman Conchita Carpio-Morales' presentation to the court as a key in the guilty verdict. Joe Galvez
A day after the senator-judges voted 20 to 3 to convict impeached Chief Justice Renato Corona, Senate President Juan Ponce Enrile said the testimony of Ombudsman Conchita Carpio Morales was crucial in the judges' verdict.

Morales was a hostile witness of the defense team on May 14.
Morales
brought with her a 17-page report of the Anti-Money Laundering Council
(AMLC), the institution tasked with investigating cases of money-laundering. It receives reports from banks about questionable funds for any possibility of money-laundering.
Morales also presented slides which showed that Corona had over $10 million in 82 dollar accounts spread in various branches of five banks, including $12 million in fresh deposits. Her slides also showed circuitous movements of funds in four primary accounts, some of which showed deposits and withdrawals made on the same day.
On "News To Go" a day after the Senate sitting as an impeachment court handed down a guilty verdict on Corona, Enrile said he felt sad that the five-month trial ended with a conviction, saying the impeached Chief Justice was his friend.
"Mahirap talaga ang gumawa nang isang pasya [na] hinuhusgahan mo ang kapwa mo tao. Lalong lalo na yung alam mo na yung magiging desisyon ay talagang tatamaan nang matindi yung nakasakdal," Enrile said.
Still, after making a decision to convict Corona, Enrile said:
"Nakatulog ako nang mahimbing kagabi. I have no problem sleeping."
He explained that he and Corona were friends, having met before former Chief Justice Reynato Puno retired, and were even once co-sponsors at a wedding.
"Doon nag-umpisa ang acquaintance namin na naging kaibigan ko siya," Enrile recounted.
"Sa aking paningin naman ay siya ay mahusay na tao kaya ako'y nalulungkot na nangyari sa kanya 'yun [conviction]," he said.
Enrile said he had the chance to talk to Corona on May 25 when the Chief Justice returned to the Senate for his testimony.
"I hope you understand, there's nothing personal about it. We are playing roles in this life," Enrile recalled telling Corona, who, he said, understood what he meant.
Asked about the prosecution's "loosely crafted articles of impeachment," Enrile said: "Nagkulang sila in the preparation of the articles of impeachment. Of course, I just, to remind them that next time, you better prepare your articles in a very precise and a clear system."
"We also did the same thing in the case of the defense. We already ruled that paragraph 2.4 of article 2 will not require the presentation of evidence… but the defense started presenting elements of illegal wealth, so in effect they revived the issue of illegal wealth," he added.
Asked if he thought Corona's dug his own grave by testifying in his own impeachment trial, Enrile said: "Unang-una, sila ang nag-presenta nang quantum of income ni chief justice – element ng illegal wealth yan."
"Second, sila ang nagbukas ng issue nung Basa-Guidote corporation. Na kung saan lumabas yung issue ng execution ng judgment in favor of Mrs. Corona na kung saan ipinagbili yung 90% control ng Basa-Guiidote sa anak niya for P28,000," Enrile said.
Asked if Corona's supposed "walkout" when he testified for the first time on May affected the senator-judges' decision, Enrile said: "In a way it affected the attitude of the members of the senate because they felt rudely insulted."
- Andrei Medina, VVP, GMA News