Demystifying superfoods
The idea of raw food may not be appetizing to many diners, especially with today's typical eating habits. We rarely think twice before ordering fast food or buying canned goods, and almost no one considers fruits and vegetables to be proper meals.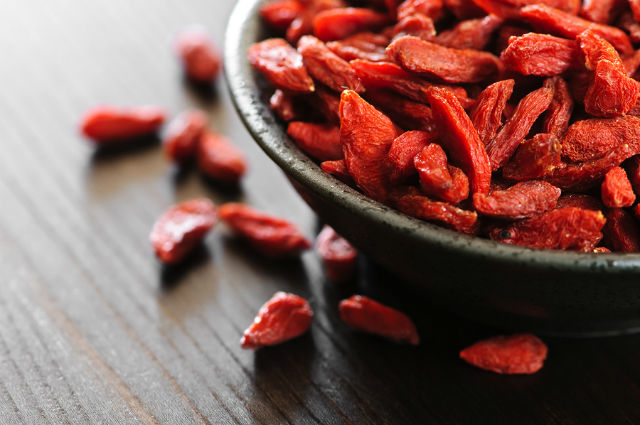 These tiny goji berries are packed with vitamins. Sugarleaf
Certified raw chef and health educator Mona Lisa Neuboeck explains that people have come very far from a natural diet, which she says is the best diet for Homo sapiens. "In the past one million years, we have mainly eaten vegetables and fruits, and very little animal protein," says Chef Mona during the second class in a five-part raw food preparation series from May to September.
The Seattle-born chef was raised in Austria, where her father was a butcher. But after years of personal research and experimenting with different diets, Chef Mona chose to become a raw vegan. She shares that at first, even she found it difficult to transition from being vegetarian to becoming a raw vegan.
"I was having tantrums because I couldn't see why I would have to give up my tofu, my cheese, my cookies and all my favorite baked goods," she laughs.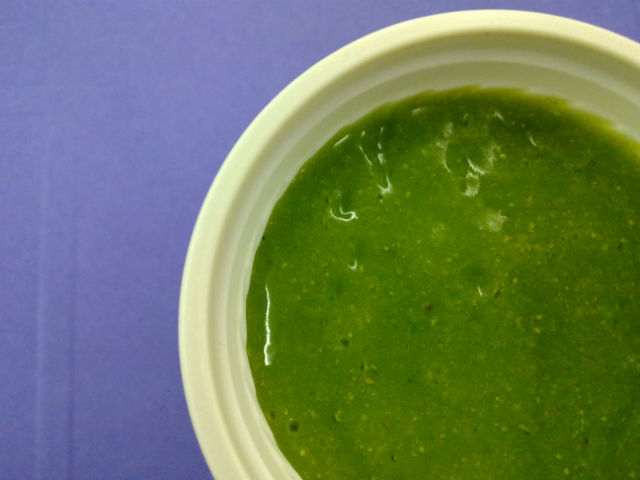 Chef Mona Neuboeck says the Green Superfood Lunch Smoothie is a fantastic meal replacement. Carmela Lapeña
But she says there is a strong manipulation going on, as it is with television ads that show trim models eating processed junk. "Food has been perverted and is no longer a life-giving essence for the body," she says.
Chef Mona strongly encourages research and experiment, so that people can find out what works best for themselves. While raw food and superfoods have a lot of nutritional benefits, Chef Mona emphasizes that there is no such thing as one size fits all. "What may serve one person very well may not serve another as much. Some may even have allergic reactions to some powerful foods, so it's very important to go step by step, find out what works," she says.
Superfoods on the table
To introduce the class to some superfoods, Chef Mona demonstrated some recipes she designed. The Green Superfood Lunch Smoothie of spinach, romaine lettuce, buko meat, bananas and mangoes is high in muscle building amino acids, blood sugar regulating soluble and insoluble fiber, replenishing electrolytic minerals, appetite-controlling pectin, mood-stabilizing micro nutrients, nourishing Omega 3's, 'youthening' enzymes and immune system boosting anti-oxidants.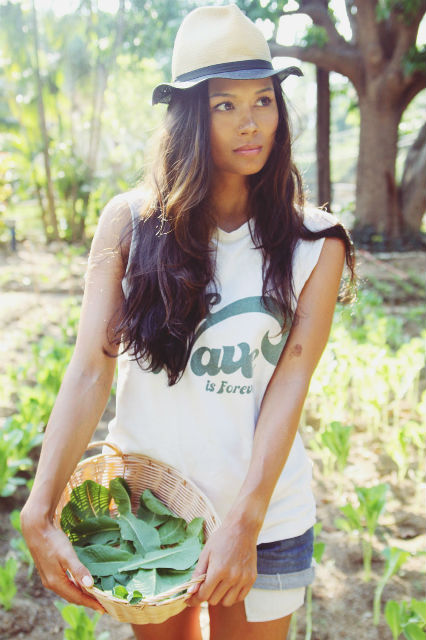 Certified raw chef and health educator Mona Lisa Neuboeck Hannah Reyes
Apart from all those fruits and vegetables, the smoothie has malunggay leaves, spirulina powder, maca powder, bee pollen, goji berries, hemp powder and cacao nibs. "This is a fantastic meal replacement," says Chef Mona.
The smoothie looked like some magic potion that could turn you into The Hulk. It also looked very slimy. But the class was pleasantly surprised to discover it was delicious. It tasted like a regular fruit smoothie, and if it weren't so green you could probably forget that there were spinach and lettuce leaves in there.
Next, Chef Mona prepared Super Chia Chocolate Pudding, which gives you energy without the acidity and sugar rush from conventional packaged cereals. Instead of sugar, the pudding is sweetened by vanilla bean, raw coconut sugar, and Stevia powder. Stevia is a natural sweetener from Sugarleaf. Because it has no glycemic impact, it's suitable for diabetics.
For the main dish, Chef Mona made Spirulina Purslane Temaki and Ampalaya Ginger Pickles. A lot of people avoid the bitter melon, but Chef Mona says pickling ampalaya will help mask the strong taste. Ampalaya prevents disease because of its phytochemical compounds. It inhibits the growth of pre-tumorous cells, and lowers blood sugar levels. Chef Mona adds that you can also mix malunggay leaves to make the side dish even healthier.

Know your superfoods
Maca - A root plant that is used as a folk remedy to increase stamina, energy and sexual function.

Chia seeds --"Chia" is the Mayan word for "strength." The tiny seeds were used by ancient cultures in Central America as an abundant source of essential fatty acids, as well as protein, fiber, antioxidants, complex carbohydrates, vitamins and minerals.

Goji berries – These are used in Asian herbal medicine as a source of 18 amino acids, antioxidants, and over 20 trace minerals and vitamins including zinc, iron, phosphorous, and riboflavin. One ounce contains more vitamin C than oranges, more beta carotene than carrots, and more iron than soybeans or spinach.

Cacao - Mayan civilizations used this "food for the gods" in sacred rituals. These dried seeds most commonly used in making cocoa, chocolate and cocoa butter contain antioxidants, dietary fiber, magnesium, iron and other essential minerals.

Spirulina - A blue-green algae with plenty of vitamins, amino acids, antioxidants and phytonutrients. It increases energy and strengthens the immune system.

Source: Sugarleaf
The ampalaya is mixed with julienned carrots and bell pepper, then combined with ginger, garlic, sugar and sea salt. Coco sugar is added, for a little sweetness. The ampalaya pickles were crunchy and still a bit bitter, but the class seemed to approve. They went well with the temaki, which was made with purslane-mushroom filling and 'Spirulina Green Cheese.'
The mini-rolls were tasty and creamy, and it was easy to forget that nothing in there was cooked. The fresh chopped purslane, called gulasiman or alusiman in Visayas, and the chopped mushrooms were marinated in coconut sugar and calamansi juice, while the "cheese" was made with raw cashew nuts, spirulina powder, garlic, salt, white pepper and spring onions. Everything was assembled in sheets of nori, with julienned bell peppers, shredded carrot and lettuce leaves.
Next was Superfood Bliss Balls, a deceptively tiny snack packed with organic ingredients of raw cacao, flax seeds, goji berries, raw dates and almond-powder. The "instant-energy" balls were designed to give you extra antioxidants, amino acids, magnesium, fiber amino acids and enzymes. The Superfood Bliss Balls were crunchy and chewy at the same time, with a smooth, sweet flavor that was both rich and subtle.
Dessert was Fairy Fudge Squares, an easy-to-make nutrient rich superfood treat that's good for kids and their parents, too. The squares, which look like floral foam, are made with honey, spirulina powder and coconut flakes. Bee pollen and chopped nuts can be added as toppings.
After eating all that superfood, we decided to skip dinner. As Chef Mona warned, superfood has different effects on different people. While some of us felt great, others felt a bit warm, and others a bit dizzy. "Superfoods are really powerful...some people can tolerate more of it, some people less," says Chef Mona. Her advice is to start with small amounts, then slowly add more as you get used to the effects.
In the end, it's really about you and what's best for you. "Test it, try it out. See if it works for you and if it doesn't then just throw it all out," she says. –KG, GMA News