A fun night spent learning how to cook Thai food
Like a lot of other people, we thoroughly enjoyed the movie "Ratatouille." We're not sure how many people enjoyed one of the movie's messages—that anyone can cook—but we took that to heart. So it's perhaps no surprise that when offered a chance to take a cooking class at The Fort's The Cookery Place last Thursday alongside a bunch of bloggers, we jumped at the chance.
We were the first to arrive, and were informed by The Cookery Place's chef Rehnee Sy that what was on the plate, so to speak, was a night of Thai cuisine.
She quickly assured as that we would be learning in an informal, fun, low-pressure environment.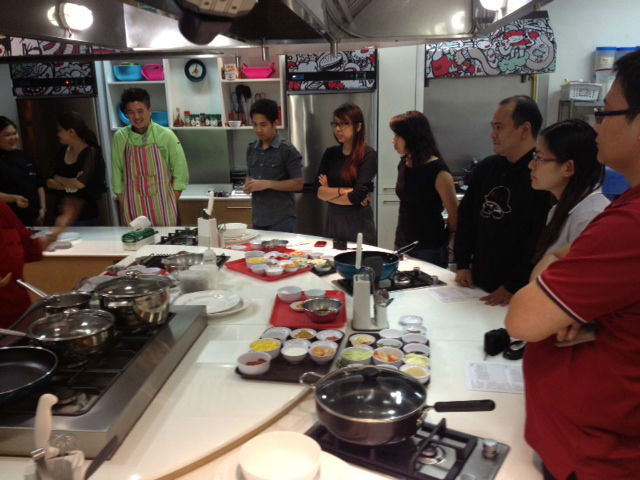 All ready to learn at The Cookery Place.
When the other participants arrived, we all chowed down on some southeast Asian pica-pica (the chili and sesame salad was incredible!), introduced ourselves to each other then soon moved to the kitchen to start cooking.
Chef Rehnee told us we would be eating the best meal of our lives for dinner, as we would be preparing it ourselves.
We were then told we would be learning, and cooking, three dishes—beef salad, pineapple fried rice, and chili prawns.
We divided ourselves into groups, were given demos of each dish we were to do—1. beef salad; 2. pineapple fried rice; and 3. chili prawns—then dove right in.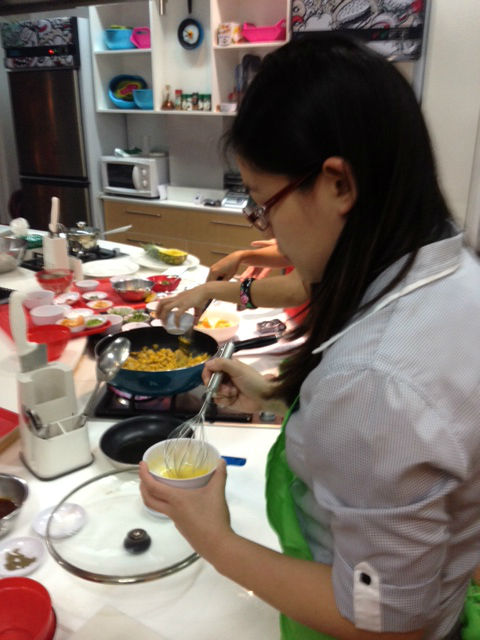 Recreational cooking is fun at The Cookery Place.
Chef Rehnee was right in saying that cooking is fun! In fact, one of the mottos they live by at The Cookery Place is that recreational cooking is fun. We couldn't agree more.
Partnered with a couple—husband and wife—we were assigned the chili prawns—"yum! yum!," as that guy on that other channel likes to say—while hubby would handle the pineapple fried rice and wifey would tackle the beef salad.
Much of the process was really a no-brainer, as almost all the ingredients had been prepped beforehand. We had to do none of the slicing, dicing, chopping or fussing.
We were taught basic hygienic kitchen practices—WASH YOUR HANDS!!! DO NOT DOUBLE DIP! DON'T CROSS-CONTAMINATE INGREDIENTS! —and kitchen hygiene was maintained throughout.
In fact, at one point, excited at the savory scent of our dishes, we exchanged high fives with a groupmate, right after which we each muttered to ourselves, "wash hands," then proceeded to do just that.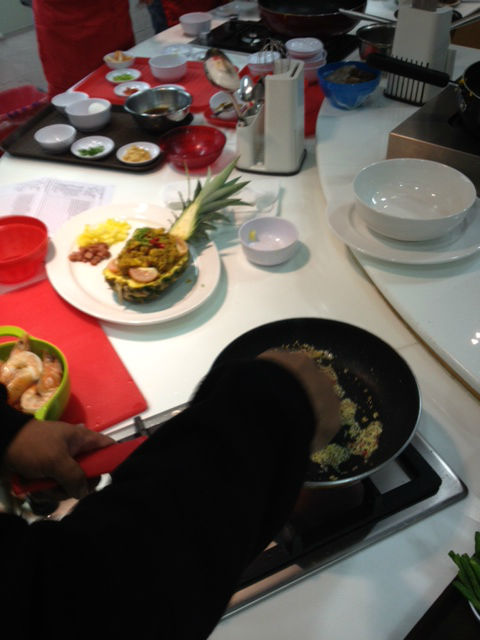 The Pineapple Fried Rice could've held its head up high in any Bangkok restaurant.
While we were all cooking, Chefs Rehnee and Paul taught us what they called flavor profiling. Thai cuisine, for example, is distinguished by a particular mix of sweet, spicy, sour and salty. In musician terms, Thai food would be a blend of Taylor Swift, Madonna, Cher and Lady Gaga. Or in terms Corona-trial-watchers might appreciate—a blend of Pia Cayetano, Miriam Defensor Santiago, Jinggoy Estrada and Juan Ponce Enrile.
Given that last metaphor as a benchmark for our own spicy prawns, we submit that our dish was a qualified success, though it could've used just a tad more Miriam. But what the heck, a conviction's a conviction, right?
Dining on our own dishes, our group couldn't have been happier with our work. The Pineapple Fried Rice could've held its head up high in any Bangkok restaurant. The Beef Salad was delectable. And the Spicy Prawns sat well both on our palate and in our tummies.
And while we still have quite a few bits of rice (marami pang kakaining bigas) left to eat before being in the gustatory league of our pere', the great man himself, we submit that "Ratatouille" was right—anyone CAN cook! –KG, GMA News

Photos courtesy of The Cookery Place