Millions watch Venus Transit online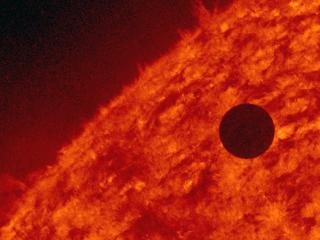 Rare Venus Transit documented by NASA. A handout image from NASA shows the planet Venus at the start of its transit of the Sun on June 5, 2012. One of the rarest astronomical events occurs on Tuesday and Wednesday when Venus passes directly between the sun and Earth, a transit that won't occur again until 2117. Reuters/NASA/AIA/SDA
Millions of netizens flocked to the Internet early Wednesday (Manila time) to watch the once-in-a-lifetime Transit of Venus.
Netizens had a choice of several sites to watch the rare celestial phenomenon, which will not occur again until after 105 years.
"(I)f the weather isn't cooperating or nightfall has come too fast, you can check out some of the many options for watching the transit online,"
said tech site Wired.com
, which embedded a number of feeds on its site.
Wired.com also noted the NASA feed included guest speakers who talked about the event.
The site also cited another feed from the Exploratorium in San Francisco, which featured views from a telescope on Mauna LOa in Hawaii, with an audio commentary every 30 minutes.
In the Philippines, meanwhile, Filipino families flocked to the Philippine Atmospheric Geophysical and Astronomical Services Administration observatory in Quezon City to watch the event.
A report on dzBB radio said many of the families considered the event to be a time for family bonding. — TJD, GMA News