Return of jeepney fare to P7.50 looms as crude oil, local fuel prices fall
A consumers' welfare group has said it will petition the government for a rollback of public utility jeepney minimum fare to P7.50 for the first four kilometers when diesel prices hit P40 per liter, but transport association Pasang Masda said P36 per liter is the level that will trigger the fare cut.
Possible fare reductions loomed over the near term horizon as Shell Philippines spokesman Bobby Kanapi revealed that another fuel price rollback may be in store for consumers after June 12, Independence Day.
GMA News' Julius Segovia reported in the '24 Oras' newscast Friday that the National Center for Consumers safety and Protection (NCCSP) said it will ask the Land Transportation Franchising and Regulatory Board (LTFRB) to bring jeepney fares back down to P7.50 as soon as diesel prices hit P40 per liter.
But Pasang Masda national president Obet Martin said that as per experience jeepney fares are pegged at P7.50 when diesel costs P36 per liter.
Shell, Flying V, Seaoil, Petron rolled back their fuel prices early Saturday. The Petron price cut was P2.50 per liter for regular gasoline and P1.90 per liter for its diesel. Shell's diesel cut was P1.50 per liter while its gasoline is now P2.00 cheaper.
The oil firms said their price adjustments are meant to reflect the downtrend in world oil prices.
The Organization of Petroleum Exporting Countries (OPEC) said that for the week ending Friday, June 8, the average of the basket price of crude oil has fallen to $96.82 per barrel—down from $123.79 per barrel last January 3.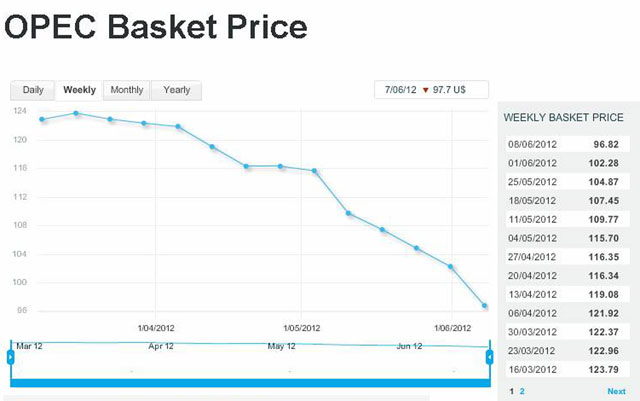 The average of OPEC-monitored crude oil prices is down to $96.82/barrel in the week ending June 8 from $123.79 per barrel in the first week of January as world economy slows down.
According to the Department of Energy, world crude prices have fallen from their record highs in July last year because of a slowdown in the global economy and a recent decision of the OPEC to keep their production levels steady until December this year.
In the commodities markets, oil prices fell slightly Friday as traders weighed financial and economic uncertainties in Spain and the eurozone that have markets on edge.
New York's main contract, West Texas Intermediate crude for delivery in July, slipped 72 cents to close at $84.10 a barrel.
Brent North Sea crude for July lost 46 cents, settling at $99.47 a barrel in London trade.
"It's a really confusing market, there is no big position," said Rich Ilczyszyn, a trader at iiTrader.
He said traders were keeping an eye on Spain, with expectations Madrid will seek some form of rescue for its banking sector over the weekend.
"A lot of players are outside the market" because of the uncertainties in the eurozone, he said.
"Nobody can quantify risks, because we don't know what the monetary and fiscal situation is."
— with Agence France Presse/ELR, GMA News