The Final Score: A snapshot of Manny Pacquiao's new spiritual universe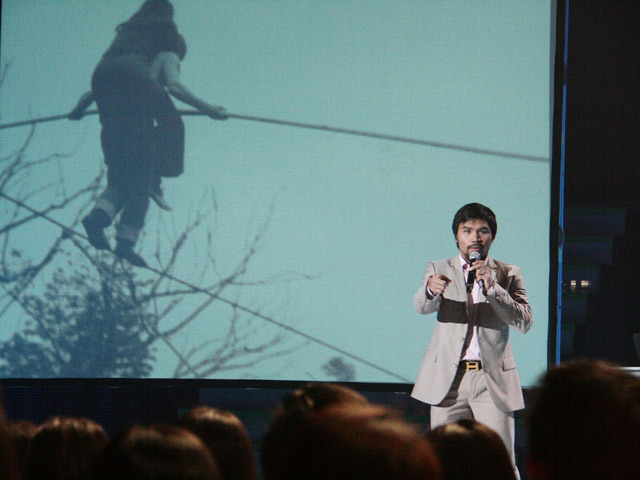 Manny Pacquiao in Bible study mode, shown here in a file photo taken during a service at the GMA Network complex. Roehl Niño Bautistaa
LAS VEGAS - Pastor Jeric Soriano's voice filled the living room. The crowd inside Manny Pacquiao's suite on the 60th floor of the Mandalay Bay listened.
People whispered. Eyes shifted. They watched Pastor Jeric. They observed Manny. They read the lines on a PowerPoint presentation.
Soriano declared, "If you are going to give your life to the Lord Jesus Christ today, you will be married to the Lord."
People replied in unison, "Amen!"
Manny nodded.
The champ, in a mustard jacket, sat on the first-row couch. He appeared calm. Jinkee was by his left side. Bro. Eddie Villanueva, meanwhile, was on his right side, just a chair away.
The main living room was converted into a session hall. Every chair was occupied. Some sat on the floor. It was Standing Room Only. Manny's luxury suite is often a cyclone of activity. Visitors stream in and out of the door. It's less a private sanctuary and more of a public realm.
On this Thursday night, two days before another big fight, that public realm emitted a different vibe.
People clapped. They sang along. They prayed.
Well, most of them did.
Some could no longer squeeze into the main living room. They stayed in the den. The living room and the corridor were separated by a long hallway. They could barely hear Pastor Jeric's teachings. The giant TV screen was on ESPN. While Pacquiao absorbed scripture in the other room, guests in the den watched LeBron James drop 45 points.
The TV was on mute. The guests didn't cheer. They were indifferent. It was an incredible feat by a professional athlete. Yet in this slice of Pacquiao's newfound spiritual universe, LeBron's Game 6 opus went unnoticed.
Manny hopped off the couch to join Pastor Jeric.
Pastor Jeric said, "For me to cross from my hotel room to the Mandalay lobby, ang dami mga jackpot machines. C'mon, I can just put one quarter (he pretended to place a coin into an imaginary slot machine)..."
Manny cut him off and quipped, "No. No. Close your eyes."
The crowd erupted with laughter and applause.
Some believe the transformation is real. Others expectedly remain skeptical. From Team Pacquiao to Team Jesus? From living the life to living by scripture?
iPhones were out. Digital cameras were ready to capture the moment. The champ had the microphone. The people waited for him to speak.
Manny gently recited, "Matthew 5, verse 48. Be perfect, therefore, as your heavenly Father is perfect."
Pacquiao's supporters cheered. They replied with a resounding "Amen!"
Manny slowly returned to his place on the couch, right beside a beaming Jinkee, surrounded by people whose lives are somehow altered by his deeds. He hopes to alter their existence. Financially. Emotionally. Spiritually. Perhaps in ways only a man with legendary fists can.
Are you ready for this new Pacquiao?
What choice do we have?
Pacquiao has spoken.
As the crowd settled down, Pastor Jeric prepared to resume his lecture. But he just had to say it.
"Wow."
- GMA News
TAGGED IN
mannypacquiao boxing

#gomanny Tweets