12 artists short-listed for Ateneo Art Awards 2012
Twelve young artists were included in the short list for this year's Ateneo Art Awards, a recognition given by the Ateneo Art Gallery (AAG) to outstanding Filipino visual artists.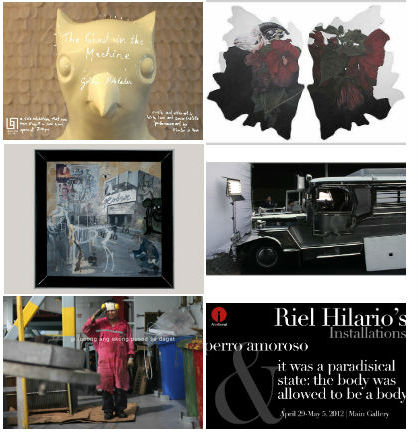 The artists are Martha Atienza, Zean Cabangis, Vermont Coronel, Kawayan De Guia, Patricia Eustaquio, Dina Gadia, Riel Hilario, Goldie Poblador, Mervy Pueblo, Maria Taniguchi, Mark Valenzuela and MM Yu.
Themed "The Sneak Peak," this year's program is a call for introspection.

"The contemporary Philippine art scene is as dynamic as ever and with what the past year has shown us; the world is taking notice. With the dazzle of recognition, we are called back to the core to reminisce, to hope and to work anew," read a press release from the Ateneo Art Gallery.
As done in the past, the artists were selected based on works exhibited between May 2 of the previous year and May 1 of the current year.
Among this year's short list are an experimental video project, acryclic and photo transfers, and street photography.


To be featured at an exhibit at the Grand Atrium of the Shangri-la Plaza, Edsa corner Shaw Boulevard from August 3 to 13 and at the Ateneo Art Gallery from August 20 to September 22 are the following works by the chosen artists:
Atienza's "Gilubong ang Akon Pusod sa Dagat (My Navel is Buried in the Sea),"
Cabangis' "Shade My Eyes and I Can See You,"
Coronel's "Spirit of a Place,"
De Guia's "A Lot of Sound and Fury Signifying Nothing,"
Eustaquio's "Cloud Country,"
Gadia's "Regal Discomforts,"
Hilario's "Perro Amoroso / It was a Paradisiacal State: The Body was Allowed to be a Body,"
Poblador's "The Ghost in the Machine,"
Pueblo's "Stone Mediation,"
Taniguchi's "Untitled (Celestial Motors),"
Valenzuela's "Zugzwang," and
Yu's "Inventory."
The winners will be announced on August 9, 6 p.m. at the Grand Atrium of the Shangri-la Plaza.
The Ateneo Art Awards have been given annually since 2004 to Filipino visual artists below the age of 36. According to the gallery, the recognition is reminiscent of how Fernando Zóbel de Ayala (1924-1984), the founding benefactor of the museum, supported young Filipino visual artists and through it, left an indelible mark in Philippine art history.
Three of the 12 short-listed exhibitions will be chosen as winners. They will be invited to apply for international residency grants funded by the Ateneo Art Gallery and its partner institutions: Common Room Networks Foundation in Bandung, Indonesia, La Trobe University Visual Arts Centre in Bendigo, Australia, Artesan Gallery in Singapore, Art Omi in New York, USA and Liverpool Hope University in Liverpool, United Kingdom.
Previous awardees include Kawayan De Guia, Bembol Dela Cruz, Maria Taniguchi, Mark Salvatus, Pow Martinez, Leslie De Chavez, Leeroy New, Kiri Dalena and Patricia Eustaquio. –Carmela G. Lapeña/KG, GMA News