Midnight snack finds and more at Makati's Distrito Food Market
Hankering for crunchy pork liempo in the middle of the night? Or a bite of peppery shawarma? A cheesy chicken or beef quesadilla, perhaps? Or maybe sticks of barbecued isaw (grilled chicken intestines), isol (chicken ass) and some kwek-kwek (quail eggs in crunchy orange batter) downed with ice cold drinks to cap the evening?
If you're craving for a late night fix or a midnight snack that cannot be quelled by simply raiding your pantry, there is a place for you right in the heart of the metropolis. Head on over to Makati from 9 p.m. to 3 a.m. on Wednesdays to Fridays this June and satisfy yourself with the wide array of sumptuous offerings at the newly-reopened Distrito Late Night Food and Lifestyle Market beside the Makati Medical Center.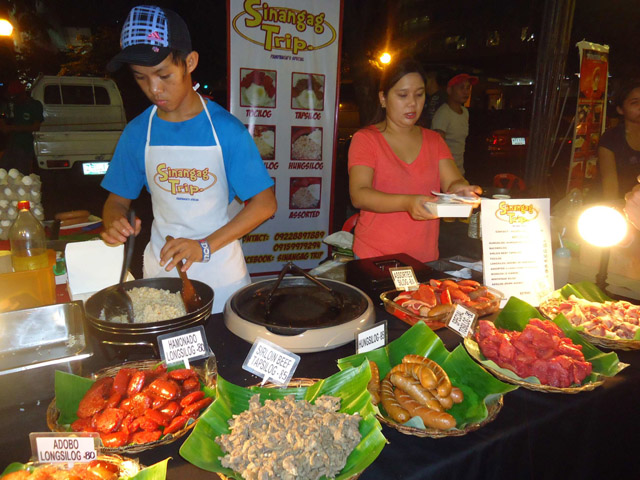 Tapa, longsilog and more at Sinangag Trip

With more and more call center staff and office employees keeping odd hours, the clamor for the reopening of Distrito which had a successful run in December 2011 couldn't be ignored. Event organizer RJ Ledesma confirms this when he says, "You wouldn't believe how many complaints I got when we closed the market. In January, we were getting emails, texts and Facebook messages asking 'what happened to Distrito?'"
Indeed, nowhere but in the busiest hub in the country can you find yet another food destination to be conquered aside from the long-running
Salcedo Market
and Legazpi Market, weekend havens for all sorts of food you can't find anywhere else. Here, where you'll find the most number of business offices, local and foreign companies, embassies, ad agencies, art galleries, and lifestyle centers, are gathered a great number of young, on-the-go highly-creative, and the hardest-to-please foodies. Good reason for the wide variety of food you'll find in these food festivals.
Something for every foodie
In Distrito, you'll find stalls for all sorts of street food barbecues and kebabs as you would see in other food markets and even a corner for freshly cooked hot Mongolian barbecue. And despite being right beside the Makati Medical Center, don't be surprised to see doctors, nurses and hospital staff indulging in crunchy pork belly from Carlo's Kitchen that was last year's runaway hit, or in some juicy barbecued pork spareribs from Tong Baracas, or sisig at Chef Bab's. And as in any food market, Distrito has an entire section for fearless fans of "pampabata" treats like chicharong bulaklak, crispy chicken skin, lechon kawali, and more.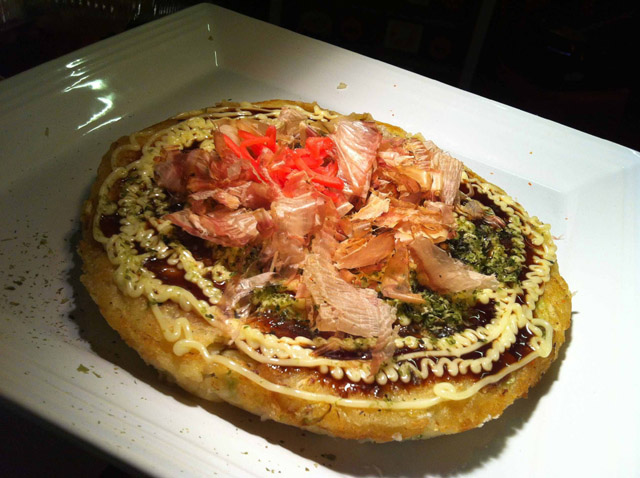 Japanese pizza at Tonton Chaya

The organizers of Distrito made sure that it had something for every foodie. Meat lovers can get a lion's share of shawarma or a hefty roast beef sandwich from the carving station of Chef Resty's. Those who are into international offerings can make a beeline for Tonton Chaya's popular Japanese pizza made of coleslaw, squid, shrimp and minced pork or the beef and chicken quesadillas of Mexikanto. Then there are the deep dish pizzas and pastas of Chicago's Pizza and noodles and pan-fried siopao of Big Panda's.

Meanwhile, anyone can go for a native food fix at Mac's Deli's original Vigan empanadas and okoy while those who find themselves wanting some tapsi or longsilog are in for a dizzying range of choices at Sinangag Trip.
Juice bars and milk tea stalls also abound here alongside tables offering delectable sweet treats, homemade cakes and desserts. At Cakes by K, you can have a slice of their 24-layer crepe cake with vanilla filling for just P80, and at Piper's Pan you can stumble upon a bargain with chocolate cake slices at 3 for P100.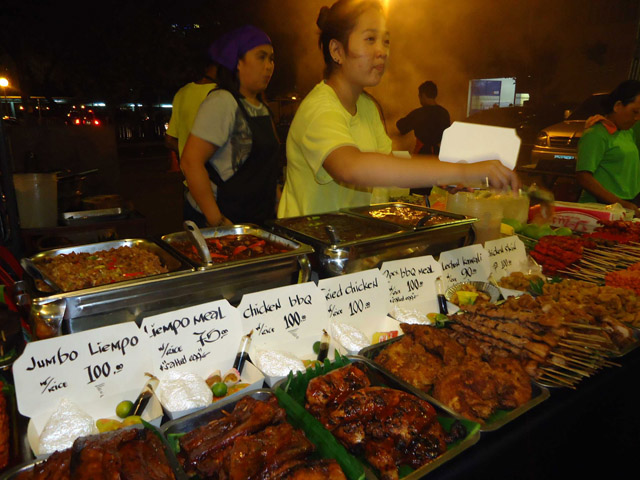 Liempo, barbecue, and fried chicken meals for the hungry

To cool off on warm nights, there are the popular Mochiko with their best-selling Cookie Dough and Green Tea ice cream-filled mochis, and Merry Moo, another food bazaar hit because of their homemade ice creams top-billed by their Salted Caramel flavor. In time for Independence month, Mochiko is offering their Chocnut Mochi, ice cream filled mochis with Chocnut bits, and Merry Moo has a special edition Banana Q ice cream.
This midweek food festival in the heart of the business district is just what city dwellers and workers need. It certainly shows that in this bustling metropolis, people know how to work hard and play hard. Distrito offers a fun way to unwind and enjoy the company of friends over good food and drinks at the end of a stressful day or at the start of yet another one.
This reopening of Distrito in Makati North for the whole month of June is part of the "Make it Makati" campaign, a collaboration of Ayala Land Inc. and the Makati City government to celebrate the city's 342nd foundation day. –KG, GMA News