Former janitor becomes UP Los Baños Chancellor
An old man, not more than five feet, greets me at the gate of an exquisite garden perfectly landscaped with shrubs, trees, flowers, and edible plants. In the middle of it lies a two-storey house beautifully backdropped with the mountains of Mount Makiling.
As Dr. Ruben Villareal toured me around, I was amazed by how much he knew about each flower or plant. At 73, he could still recall the scientific names of each one.
It was then I realized how he came to be one of the forerunners of agriculture: He loved what he was doing, and barely noticed it was work.
But the road to success wasn't easy. Trials were hard for the future chancellor of the University of the Philippines Los Baños.
In fact, he had to sell buchi, and scrub floors to pursue his education.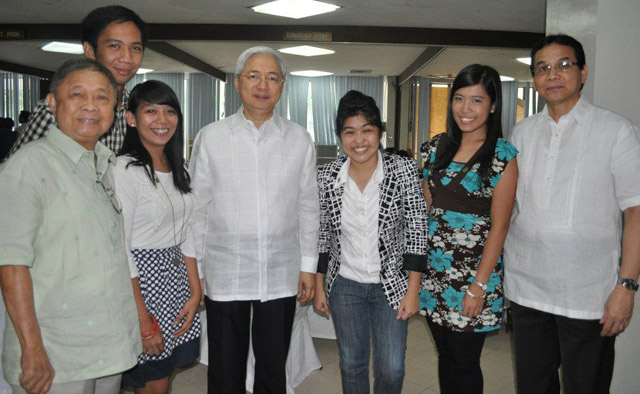 Dr. Ruben Villareal (leftmost), Dr. Alfredo Pascual, and Dr. Rex Victor Cruz pose with student leaders during the induction ceremony of Gamma Sigma Delta: The Honor Society of Agriculture.

Working while in grade school
While learning addition and subtraction in his elementary years, Dr. Villareal had to help provide for his family. He recounted delivering loads of unfinished shoes from small shoemakers to big factories to help his father.
"My father was a shoemaker on weekdays and a barber or carpenter during weekends. But even his pay from two jobs wasn't enough," Dr. Villareal recounted.
"Hence, I delivered shoes for five centavos a pair to supplement our income," he said. "I also sold ice drops and buchi."
After graduating salutatorian at Marikina High School, he wanted to enter the Philippine Military Academy (PMA). However, he was rejected because of his height.
But this did not bar him from pursuing his dream. Following the call of President Ramon Magsaysay to pursue agriculture, the ice drop and buchi vendor enrolled at the University of the Philippines College of Agriculture (UPCA).
"After seeing Los Baños and its beauty, I said to myself, this is where I will have my family," he recounted.
For Dr. Villareal, Los Baños today is still the same place he fell in love with 55 years ago. It was the haven where he met his wife, raised their children, and built their home.
First job description: janitorial work
In the world of plant breeding, he recalls having excellent mentors such as Dr. Dioscoro Umali, the Father of Philippine Plant Breeding and renowned National Scientist.
"During my sophomore year, I needed an assistantship to compensate for my limited allowance. But my application to the Department of Agricultural Engineering was declined," he recalled.
But Dr. Villareal wasn't jobless for a long time. In fact, the incident led him to develop a closer relationship with the man he looks up to as mentor.
"When Dr. Umali encouraged me to major in plant breeding, I asked him for an assistantship," Dr. Villareal said. "He agreed."
This started his journey into the world of plant breeding where he later helped develop superior vegetable varieties for Filipinos.
However, his first job description did not involve research, but janitorial work instead.
"My morning routine was to open the offices and windows of the main building, scrub the hallways, and clean the toilets," Dr. Villareal recalled. "I did these tasks faithfully every day for about two months until a full-time janitor was hired."
After a while, he was given assignments of a research assistant such as collecting research data, helping in field experiments, and preparing and harvesting experiment materials.
"I developed skills I could have never learned inside the classroom," he said. "Success was something I really worked hard for. It wasn't an easy road."
A scientist with meager resources
Today, the janitor has become an authority in the scientific community in and outside the country.
His study on the Southern Leaf blight disease (Helminthosporium maydis) of corn proved beyond doubt the cytoplasmic inheritance of the disease.
In other words, he proved a direct relationship between the disease and the presence of the "Texas" cytoplasm, a man-made material used by plant breeders to simplify the process of hybrid corn seed production.
This finding helped solve the Southern Leaf blight epidemic in 1970, a crisis that caused about one billion dollars in production losses.
However, US corn breeders were slow in heeding the study's warning. "They failed to recognize the work of a Filipino scientist with meager research resources," Dr. Villareal said.
"They didn't seem to listen to a study published in [the] obscure Philippine Agriculturist [the official journal of UP Los Baños]," he added. "It could have prevented the disaster from happening."
Today, he makes sure that policymakers hear the viewpoints of scientists. –KG, GMA News