DLSU expands by 4 hectares with Centennial building
De La Salle University's newly-built Henry Sy, Sr. Centennial Hall will add four hectares of floor space to the Taft campus, contrary to some complaints from alumni and students that having a new building would only congest the school grounds.
"Right now, we have virtually created just about four hectares of floor space with this building. The whole campus is about six hectares, so that virtually makes 10 hectares right here in this campus. That is how we're addressing the issue of space," DLSU president and chancellor Bro. Narciso Erguiza, FSC told GMA News Online at the building's blessing ceremony June 15.
The blessing was attended by students, faculty, alumni and brothers, and was done as part of the university's centennial culminating activities.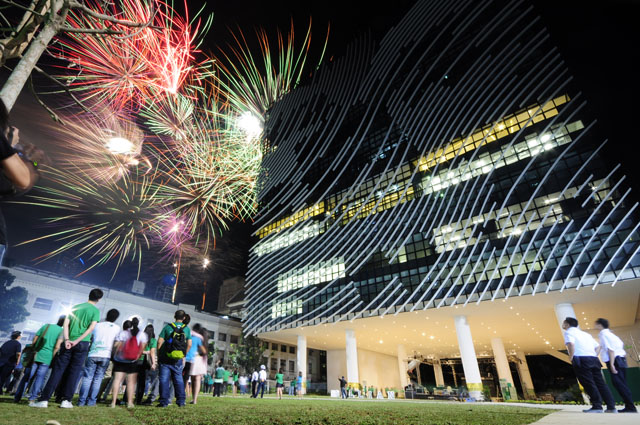 Fireworks are seen from DLSU's new Henry Sy, Sr. Centennial Hall as the school closes its yearlong centennial celebration. Photo courtesy of Martin San Diego of The LaSallian
The building, which has yet to be opened, is 14 storeys high and will house research facilities and study areas. SM Investments Corporation gave P300 million for its construction.
"This building is really an icon for research, so aside from being a library, it's really the concept of a learning commons. It's not gonna be classrooms. We have the library, Internet, e-books, the usual print materials," Bro. Erguiza detailed.
"There's a lot of spaces where students can study, can learn, can just commune with each other," he added.
Bro. Erguiza also clarified that while the building is "substantially finished," it is still not ready to be used.
"We have not moved in yet. They still have to do finishing touches. Give us one and a half months to be able to do that," he said.
Education Secretary and former DLSU president Bro. Armin Luistro, FSC, told GMA News Online that the centennial building was "the new façade" of the campus.
"Any Filipino and any Lasallian will be proud of this new building. I'm most happy about the environmental and green features…it's also not too dependent on air-conditioning. I think this just recreates De La Salle University, the whole campus," Luistro said.
Meanwhile, other members of the community have said that the building does not blend well with the university's classic architecture.
"I like it in the sense that it looks grand, but I don't think it resembles La Salle," said Nicole Ricafort, a graduating student.
Alumnus Manny Lahoz, echoed the sentiment: "It's out of place in terms of design. It looks good, but it doesn't fit with the other buildings around it."
But others like freshman Arum Narciso appreciate the facilities that the building has to offer.
"Even though we don't have a field anymore, I think the bright side of having the building is that it gives the students a clean and comfortable place to learn," she said.
The university has also launched the DLSU-STC, its new Science and Technology Complex, located in Canlubang, Laguna. The new complex is set to house several DLSU Colleges, particularly the College of Science and the College of Engineering. — KG/ELR, GMA News