For shoes and accessory designers, Pinoy fashion could use more styling
At the holiday season show of Philippine Fashion Week, over-the-top styling was the name of the game for most designers, who put a lot of effort in mixing and matching the accessories and shoes for the clothes in their collection.
It's a hit or miss event when it comes to accessorizing, which can complete a certain look but can also destroy a certain style if not worn properly.
Two craftsmen who managed to translate their creative visions into fun and fearless creations were Joco Comendador and Tsard Chua, who collaborated with clothes designers for the latest fashion week held at the SMX Convention Center last month.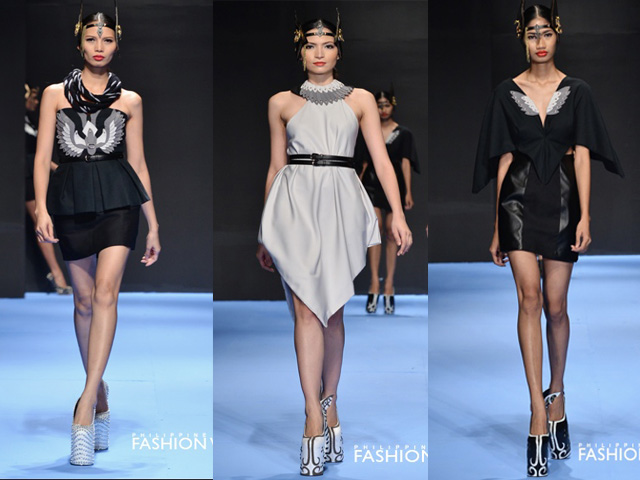 Joco Comendador made the shoes for Enrico Carado's Holiday Collection. Photo from Philippine Fashion Week
The shoe designer
Joco is the man behind those battle-ready shoes with wave-like details in pumps up to nine inches high, as well as four-inch platforms, showcased at Enrico Carado's collection.
He also made the rocket-high wedges for Zxander Tan's menswear collection.
"I hate the typical men's shoes. They're boring. I carved them in the shape of a shark that is four inches high and bootie-like," shares Joco by way of explaining his shoe philosophy.
The 'Valkyrie pumps' that Joco made for Carado's collection are richly detailed in shades of black, white, and gold. The collection is about demon-faeries, but his inspiration for the shoes comes from Norse mythology. The shoes have a mixture of soft and hard touches consisting of spikes, sparkling studs, and wing-like accents and platforms structured like soft waves.
For Zxander Tan's collection, Joco was inspired by sharks. "I deviated from the theme given to me which was alien-inspired," says Joco, who used black and copper as the main color for the scaly, glittery, and shiny leather.
Joco is a BS Export Management student from De La Salle–College of Saint Benilde. He describes himself as the quirky, whimsical, and crazy type of designer.
"There are a lot of ideas running in my mind. I even dream of designs while asleep and sketch it when I wake up," he said.
"Fashion is a form of art that you wear. I enjoy it a lot," Joco enthuses.
He decided to pursue shoe making after doing a project for his major subject, when the class was asked to produce eco-friendly products. Drawing inspiration from the shoes of Kermit Tesoro, a popular Filipino fashion designer, Joco created heel-less shoes made from water-lily leatherette.
Although he has no proper education in shoe making, Joco has been designing and creating shoes for six months now with the help of some very formidable teachers, the
sapateros
in Marikina. Joco has learned how to construct shoes, but has less enthusiasm when it comes to sewing them.
He plans to go abroad after college to obtain proper training in shoe design. "The Philippine fashion industry is very political. Talent alone can't help you," he says.
"I can imagine myself working in this industry until I die. It simply excites me," declares Joco.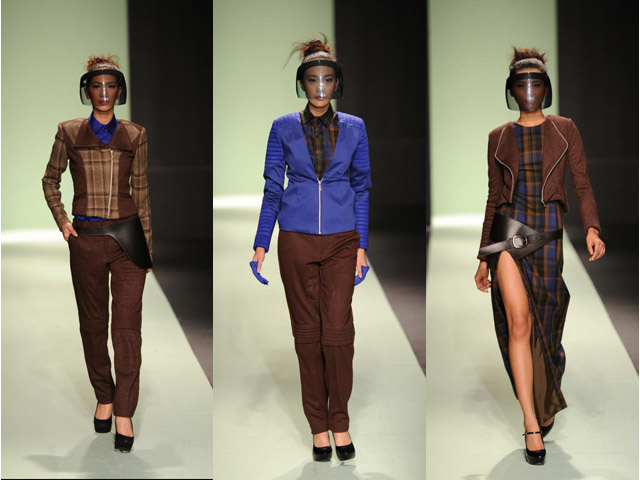 Tsard Chua designed the gloves and belts for Julius Tarog's Holiday collection. Photo by Greg Mayo
The accessory designer
For accessory designer Tsard Chua, who helped style Julius Tarog's Holiday 2012 collection, trial and error is part of the fashion culture along with experimentation.
"We first thought of making helmets wrapped in tartan and leather, then came the idea of bags, more of the sporty rucksacks, then we scrapped it and settled with just belts and gloves," Tsard says.
"Designing and creating accessories for a certain look is hard... It has to really go with the look, or else, everything will fail," he adds.
Visors, gloves, and belts are the main accessories that Tsard made for Julius Tarog's Holiday collection. The styling is undeniably eye-catching, especially the black fingerless gloves with gold round details. They're wearable even though they are not limited to the usual styles. Instead, the gloves are strikingly impressive in blue, brown, and black.
Tsard has an AB Photography degree from De La Salle-College of Saint Benilde. He gained a deeper appreciation and understanding of fashion when he became friends with Fashion Design students.
Becoming an accessory designer started as a joke, which turned out to be "half-meant considering where I am now," says Tsard.
Fashion soon became a lifestyle for Tsard, whose talent and skills have been showcased in four seasons of the Philippine Fashion Week already.
He's the type of person who can't stop creating what he calls "avant-garde type of accessories" even as he knows the craft can be tricky; one wrong move and he knows his name would be tarnished.
"I think it's the never-ending ideas that come to my mind, both in wakefulness and dreams," says Tsard. "Only when I stop dreaming will I stop making things."
Unlike in other professions, Tsard doesn't think formal training is required in making accessories. "I mean, this is art and design. When you have the idea, you get the technique, and then you can train yourself with that," he says.
Right now, Tsard believes that Philippine fashion is progressing to the stage where Filipino designers have become a force to be reckoned with in the global market.
"Even though we lack the best materials, our designers always find a way to make ends meet, and make the best out of whatever we have. And undeniably, the results are world-class!" he asserts.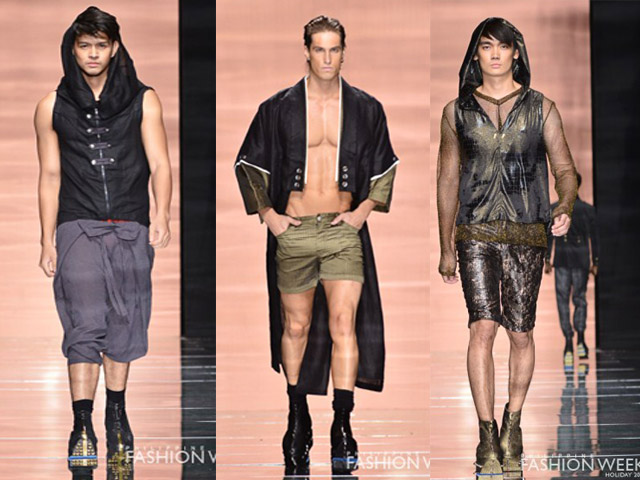 Male models walk with confidence in Joco Comendador's 4-inch wedges for Zxander Tan's menswear collection. Photo from Philippine Fashion Week
Fashion as a form of expression
Both designers started making shoes and accessories because they were not afraid to explore and express their feelings.
After all, it takes courage to innovate, the right drive to succeed, and the passion and love for the craft to make a strong impact in the big
big
world of fashion. Translating ideas and inspirations into something that is appreciated, or even becoming a trend in fashion is the key to every designer's success.
Like most designers, Joco and Tsard stick to the credo that fashion is a form of expression; it is part of who they are.
"Fashion is everything you see, day in and day out. Financial statuses, designer brands, age, are not qualifiers of fashion," asserts Tsard.
The best part about this glamorous yet political world is that people can express who they are as artists while having fun. Fashion can take designers to places, and it can be anyone's territory as long as the right elements are there.
As Joco says, "Love what you do and put your heart and soul in each of your works! Your work is what will make you immortal." –
YA, GMA News