Transformer-style wine rack, anyone?
Wine connoisseurs with a flair for the robotic might want to buy this 1,000-pound wine rack made from auto transmission parts —for $7,000.
An ad posted on Craigslist featured a menacing six-foot robot that can hold up to 32 wine bottles, depending on the size of the containers.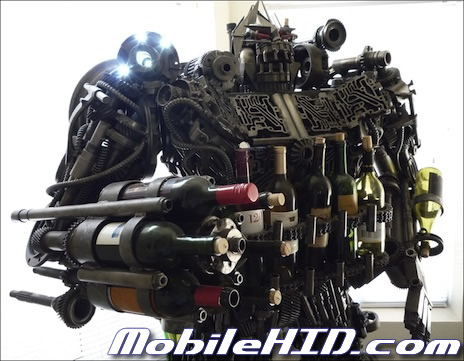 "There are only several times in one's life when one has the opportunity to purchase something that is RIDICULOUSLY COOL. This is one of those moments,"
said the poster
.
According to the maker based in North Phoenix, all parts in the rack "have been dipped into a solution to neutralize and remove any oil, grime, or chemicals to ensure there are no corrosive chemicals left."
The entire piece was then painted gunmetal-gray and then clear-coated.
It has blue LED lights that have been carefully wired into the body all along the leg and up into the torso to the top of the shoulder.
LED lights are also mounted in the "calf" of the leg. — TJD, GMA News