PBA
:

Meralco gets huge surge, short-circuits Air21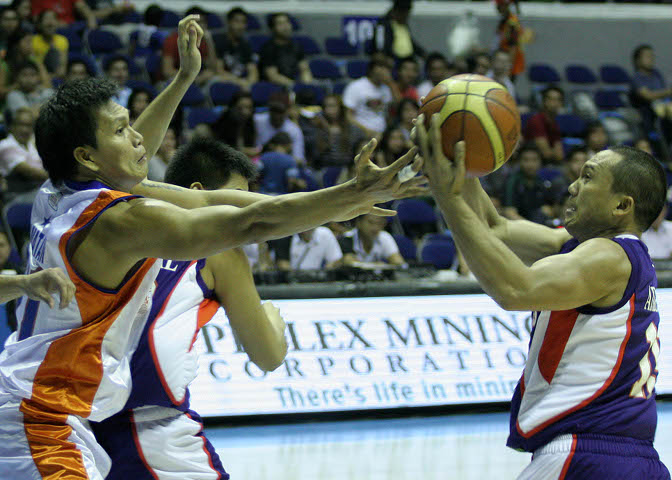 Reynel Hugnatan (left) grapples with Wynne Arbole.
KC Cruz
The Meralco Bolts found their groove on offense, dispatching the hapless Air21 Express in a 106-77 drubbing that kept their slim chances of a PBA Governors' Cup semifinals berth alive, Wednesday at the Smart Araneta Coliseum.
"We started on defense. Those defensive stops created points for us. There are still a lot of tasks for us to make it on the next level. The goal is to have a clear passage to the next level; no less than a sweep is required," said Meralco head coach Ryan Gregorio.
Import Mario West had 34 points on 10-of-20 shooting and added seven rebounds and seve steals.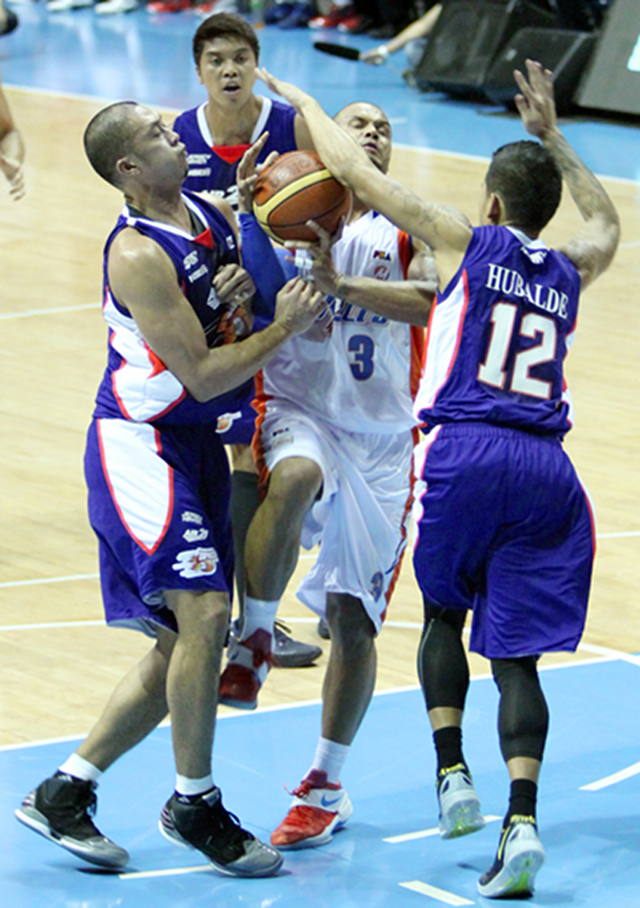 Sol Mercado (center) tries to get airborne against Paolo Hubalde and Mark Isip. Nuki Sabio
Mark Cardona similarly waxed hot, making fifty percent of his shots from the field on the way to 15 markers, while venerable center Asi Taulava continued to flash his might, with a double-double of 11 points and 16 rebounds.
A pair of West's free throws tied the game early at 4-all, before the Bolts went on an 11-0 run to erect a 17-6 lead. Air21's basket seemed to have a lid on it as they got stuck at six markers, while Meralco poured it on, with a Cardona lay-up giving the Bolts a 25-6 advantage.
The first quarter ended with the Express doubling their production to 12 points, but on the other end of the court, they allowed Meralco to score 34 in the same span.
It was the same story in the second, as a Jay-R Reyes basket brought the Bolts' lead to 28, 40-12.
A mini-run by Air21 cut the lead to 22, 40-18, but West decided to continue with his onslaught, bringing the lead to a high of 35 with a jumper, 64-29.
Another points streak for Air21 capped off the half, but Meralco still boasted of an intimidating lead, 64-35 headed to the third quarter.
Things got ugly early, as the Express' Ogie Menor was slapped with a flagrant 2 foul after hacking Mario West hard at the back.
Menor's ejection seemed to wake up the rest of the Express, as Zach Graham and Ren-Ren Ritualo caught fire on the offensive end, reducing the deficit to a still daunting, but more manageable 20 at the end of the third, 84-62.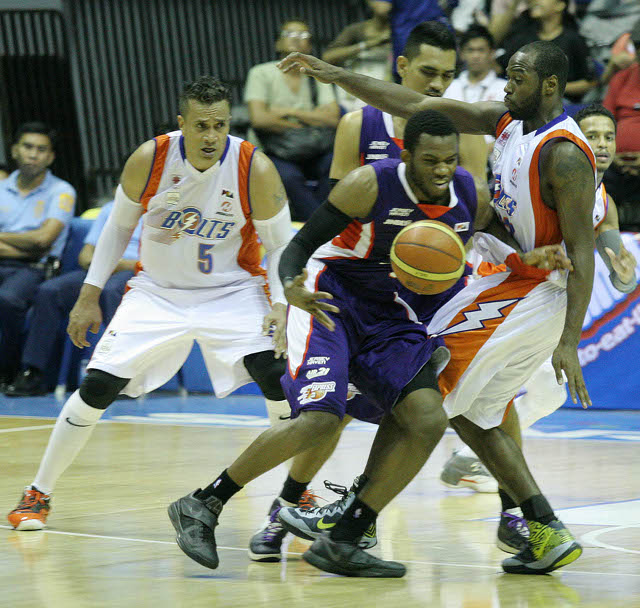 Zachary Graham (center) runs into a roadblock in the form of his counterpart Mario West.
KC Cruz
However in the final quarter, the Bolts didn't make the mistake of giving the Express any hope, outscoring their foes 24-15 in the final 12 minutes to arrive at the final margin.
Zachary Graham continued his high-scoring ways for the Express, producing a game-high 36, but he had little support from his teammates. Ren-Ren Ritualo had 12, but missed four triples, while Mark Isip chipped in 10 points and 10 boards.
"We want to give ourselves a chance to make it to the semis. The most encouraging sign is we've been in this situation before. All we need to do is try to duplicate it," Gregorio said.
The Bolts more than doubled the Express in terms of turnover points, 31-15. They also ran Air21 into the ground, 22-10 on the break, as Meralco's opponents failed to live up to their team name.
Meralco continued to keep their hopes alive with a 3-4 win-loss slate, while Air21 have just a loss separating themselves and the cellar, 1-5.
— ELR/AMD, GMA News
The scores:
MERALCO 106 - West 34, Cardona 15, Taulava 11, Mercado 9, Macapagal 9, Bulawan 6, Reyes 6, Hugnatan 6, Ross 5, Yee 3, Aljamal 2, Ballesteros 0, Daa 0, Artadi 0.
AIR21 77 - Graham 36, Ritualo 12, Isip 10, Arboleda 6, Omolon 5, Sena 2, Espiritu 2, Menor 2, Faundo 2, Bagatsing 0, Salamat 0, Sison 0, Escobal 0, Hubalde 0.

Quarter scoring:
34-12, 64-35, 82-62, 106-77