Music review: Chris Botti in Manila—best concert we've ever seen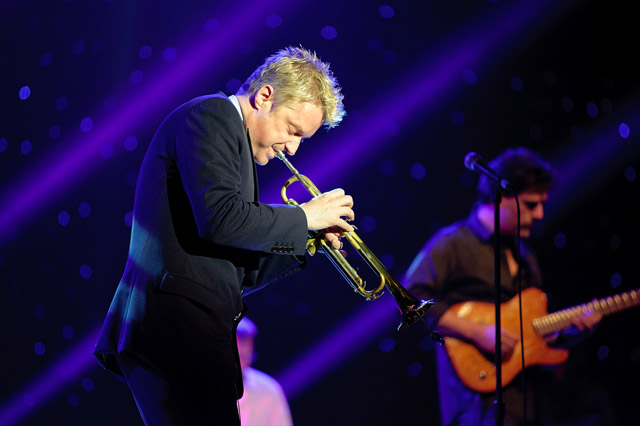 Grammy nominee Chris Botti returns to Manila. Photo by Magic Liwanag for Radio High 105.9.

You know you're in for a night of top-flight music when from the opening notes, the very air around you seems to change, becoming charged with divine energy of The Spheres.
That's what it was like at the Chris Botti concert at Resorts World Manila's Newport Performing Arts Theater last June 19.
From the opening bars of front act Richard Merck's "You Are The Sunshine of My Life" to the closing strains of Chris Botti's "Over The Rainbow," the air around us was transformed by jazz alchemy into much needed soul food.
The air tasted palpably sweeter. And the hairs on the back of our neck were standing from beginning to end.
As concertgoers, we've seen Janet Jackson, Miley Cyrus, Esperanza Spalding, and Lady Gaga in action live. Chris Botti's concert was easily the best concert we've ever seen in person!
It was amazing on so many levels. Amazingly high levels of musicianship from virtually all musicians onstage that night. Ineffable teamwork and spectacular ensemble playing. Remarkable egolessness from the most virtuosic of musicians. Magic gig on all levels. It was the kind of gig that made us fall in love with music all over again.
Our ears were primed from the word go. The opening band of maestros Mar Dizon on drums, Richard Merck on microphone, Elhmir Saison on piano, and Roger Herrera on upright bass had us swingin' in our seats from the first bar onward.
Saison was as inspirational as always, nailing gnarly harmonies and intricate post-bop runs as easily as breathing. Our ears pricked up and took copious notes. After writing this review, we shall spend a couple of hours translating what we heard to our own instrument.
Verni Varga, who did the second opening act, acquitted herself pretty well on "Love Dance," although we noted intonation issues in the opening bars.
Violinist Bryson Andres was the third front act, and he played a decent number.
After Andres, there was a 10-minute break, ostensibly for technical issues, before Botti and band took the stage. It seems Botti is something of a star among the fans, as the theater was full that night.
Selfless artistry
We didn't recognize their first tune but their second was a daring rearrangement of "When I Fall In Love," and featured a spellbinding piano solo by Geoff Keezer as well as an inspired reading by the leader, Botti.
One of the most remarkable facets of Chris Botti's artistry is his selfless willingness to share the limelight with others. Many times throughout the night, he trained the spotlight on one of his band members. It's gracious and it's good stagecraft. Focusing audience attention elsewhere allowed him much needed breaks. Believe us, audience attention is as exhausting as it is addicting. Focusing attention elsewhere also helped prevent Botti fatigue. Movie star handsome though he is, a respite from the star is also necessary to a good show.
This gracious selflessness is even more noteworthy in a trumpeter, as trumpeters have been the stars of the show from Gideon's time onward. The instrument's very nature commands attention.
They next played a tune from Botti's "Live In Boston" DVD—"Emmanuel"—which co-featured a lovely violinist named Aurica Duca.
Aurica's violin was featured almost as much as Botti's trumpet throughout the night. Together they essayed the pretty melodies of Chopin's "Prelude in C minor."
Next up was "Flamenco Sketches," the first of two tributes to Miles Davis.
On this tune, Botti and band hearkened back to the '80s' electric Miles, the Miles of "Human Nature."
The band played loose as a goose and stretched the tune out to the stratosphere and back while the leader played fast and loose with the theme(s) and offered a wonderful improvisation which had our ears standing at attention all throughout.
This number also featured a great electric bass solo from bassist Richie Goods, and wonderful rhythmic interplay between Goods and drummer Billy Kilson, who Botti later introduced as, according to Sting, "the most bad-ass drummer in the world."
The second tribute to Miles was the "Concerto de Aranjuez," known to most jazz listeners as "Sketches of Spain," or the introduction to Chick Corea's "Spain."
On this tune, guitarist Leonardo Amuedo soared practically as high as the leader, essaying offset pentatonics, bluesy jabs and post-bop runs on his instrument. One thing that sets Amuedo apart from run-of-the-mill guitarists is his ability to play pretty melodies and do so with blinding fretboard speed.
Amuedo then accompanied Botti on a reading of Michael Jackson's "You Are Not Alone," which also featured Lisa Fischer on vocals.
Miss Fischer, who also sings with no less than The Rolling Stones, then sang a marvelous mash-up of "I Loves You, Porgy" and "The Look of Love." On the latter tune, Amuedo turned the heat up another notch and unleashed a guitar solo replete with such fire and brimstone that, had Miles been in the audience, he doubtless would've hired Amuedo for his next album.
The next tune, "The Very Thought of You," had Amuedo trading phrases with Botti, with each egging the other on further and further, higher and higher. The music got so exciting that our bladder screamed for mercy, and we had to take a bathroom break.
It seems Grammy nominee Botti also needed some respite after the fireworks of the last tune, so they then brought out a wonderful 11-year-old Pinoy cornetist named JP, who played "Carnival of Venice" and a duet with Botti on "Italia."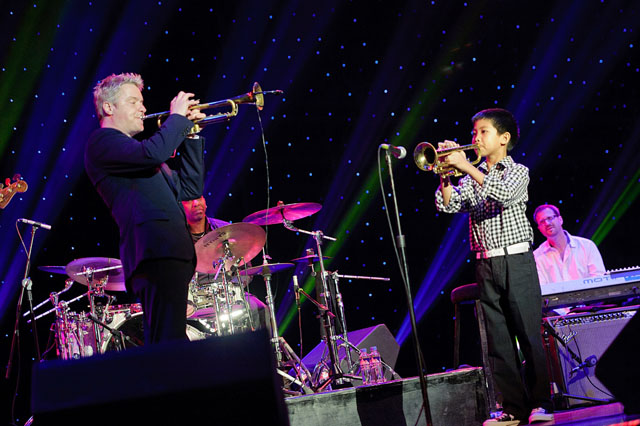 Chris Botti plays with 11-year-old JP. Photo by Magic Liwanag for Radio High 105.9.

Botti then went into a spiel about how it's good for a kid to start on a cornet before graduating to the trumpet, and promised JP that he, Botti, would send the kid his first trumpet within two weeks.
Another truly remarkable facet of Botti's artistry was his ability to play ballads on a very high level, avoiding the pitfalls of both arch sentimentality and brusque bebop change-running.
This was very much in evidence on "The Very Thought of You." Botti stayed in the moment throughout and played either pretty melodies or dazzling runs as the moment dictated.
It was artistry of the highest order, played at a level few mortals spy, much less reach.
After featuring the kid, JP, Botti and company went into a rocking tune, "Indian Summer," on which Botti again turned his rhythm section—drummer Billy Kilson and bassist Richie Goods—loose. Kilson responded with one of the best drum solos we've ever heard, ever.
This was to have been their last tune, but the wowed crowd gave Botti and company a standing ovation, so they responded with two encore numbers—"Nessun Dorma," on which was featured a very pretty lady from the audience playing the famed drum roll, and "Somewhere Over The Rainbow," which unruffled kinks in the audience's minds and hearts with artless trumpet beauty.
Kudos to Francis Lumen and Radio High for bringing an artist of Botti's caliber over for easily the best concert we've ever seen in person. –KG, GMA News