School on air: Poor mothers learn through radio dramas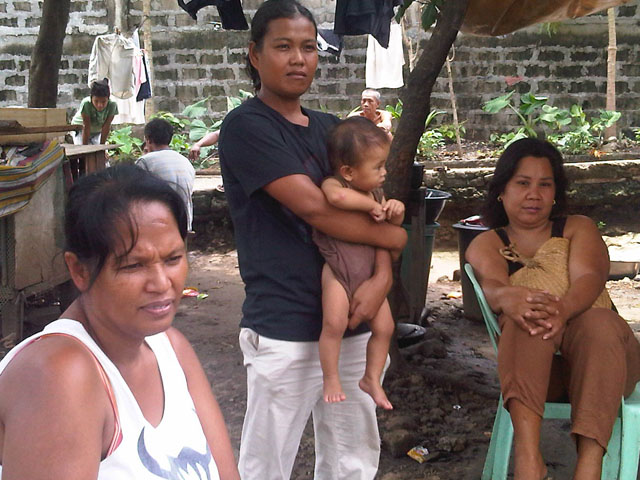 Some of the mother-learners at La Unica in Barangay Cupang, Antipolo City
Photos by Claire Delfin

Geraldine Magalona, at age 34, got only as far as Grade 6. She had long ago given up her dream to go back to school and finish her education.
Poverty was the reason she dropped out of school. Now, she also just has no time for it. She is a mother of two, and taking care of her children and doing all the household chores eat up her time.
So continuing education was for her a far-fetched idea. Then the Department of Education (DepEd) brought to their community the so-called radio-based instruction (RBI) program aimed at educating poor mothers and other out-of-school adults.
The RBI program, which used to be called "School on Air," is an innovative and non-conventional means of teaching people functional literacy and other life-enhancing skills. It uses radio as a means to bring lessons to learners who are too busy to leave their homes to study.
The lessons are audiotaped and come in the form of a radio drama. The teachers, as usual, do multitasking. They are oftentimes the scriptwriters, voice talents, and producers—all these without additional honorarium.
"Many of the families here come from rural areas where listening to drama on AM radio is a popular and favorite pastime. So now, learning is just like doing your pastime. There's no reason then for them not to listen," said Marcos Cardino, a mobile teacher.
And so, at the depressed area of La Unica in Barangay Cupang in Antipolo City, Magalona, like other mothers-learners, listens to her lessons without leaving her home and while doing her chores.
She said the program gives her a brand new ray of hope.
"I want to have a high school diploma so I can find a job and be able to send my children to college," Magalona said in Filipino.
Learners are also given modules for them to study. Mobile teachers conduct regular home visits too to give learners follow-up lessons.
Radio's wide reach
DepEd, in implementing the program, acknowledged radio's capacity to reach remote villages, including those that do not have electricity. It then tapped the cooperation of various local radio stations in making the program.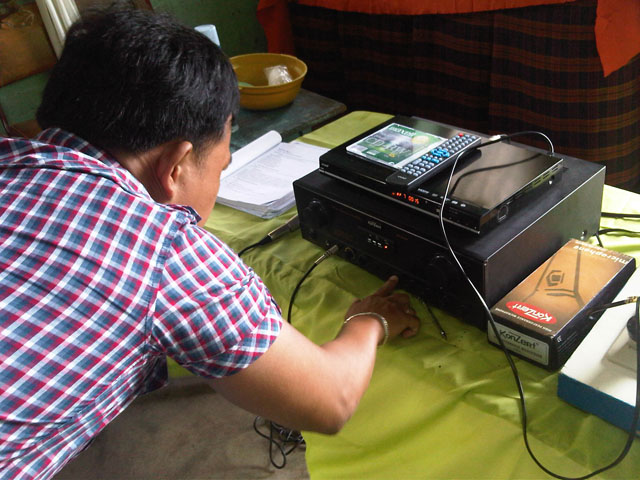 Mobile teacher Marcos Cardino prepares to broadcast the audio-taped lessons.

As it is done with practically no budget, DepEd has to rely on the resourcefulness, creativity, and to a large extent, public relations skills of its pool of mobile teachers.
The teachers with their supervisors are the ones who negotiate with local government units and radio stations in the locality. In some areas, the local government units are the ones funding the program. But there are also cases where the radio station, believing in the nobility of the program, allots an airtime for this purpose for free.
According to Dr. Carolina Guerrero, director of the Alternative Learning System of DepEd, in areas where forging a partnership with radio stations is impossible, mobile teachers will need to widen their creative options again. Usage of a public address system in broadcasting the audiotaped lessons becomes a good alternative.
The program started in year 2006, and as of 2011, a total of 1,459 learners have enrolled in the RBI. Proof of its usefulness is the high rate of completion because of these learners, 1,449 completed the said program.
"It is really meant to address the needs of the marginalized learners, giving them access to education in whatever way possible," said Guerrero.
Educating mothers
In the midst of high dropout rates in basic education in the country, DepEd believes that educating mothers is a good tool in bringing back the children and the youth to school.
According to DepEd, dropouts from basic education (elementary to high school) constitute 45 percent or almost one half of the country's entire population at 92 million.
These 41 million Filipinos consist of:
14 million dropouts aged 6 to 16 years old, and
27 million youth and adults, aged 17 years old and above.
Around 1.27 million of the cited 27 million youth and adults have not completed any grade level at all.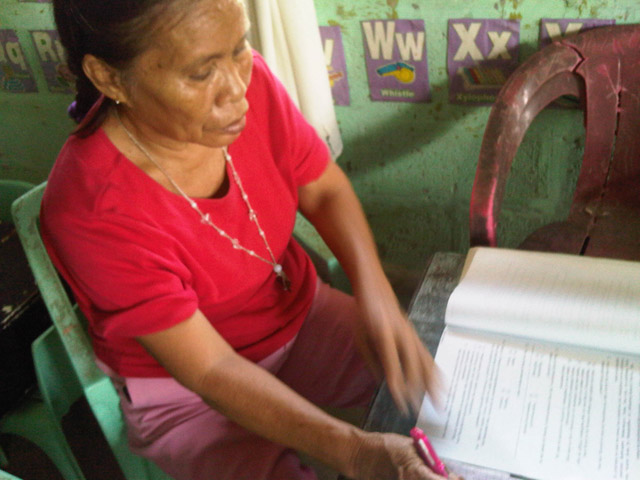 58-year-old learner Netty Rivera reviews the lessons for the Accreditation and Equivalency Test.

"If the mother is educated or has finished at least basic education, it is more likely that she will ensure that her children will start school on time and will also push them to finish it on time too," said Guerrero.
She also added that education also provides mothers the knowledge to help their children with their lessons, and the confidence to face other people in society.
At La Unica, 58-year-old mother and grandmother Netty Rivera is one of the fast learners and the most determined.
She has finished the lessons and is now reviewing for the Accreditation and Equivalency Test given by DepEd. If she passes the test, she will receive a certification signed by no less than the DepEd Secretary. In her case, the certification is equivalent to a high school diploma.
For her, the diploma will not be used in job-hunting as she said she is too old to do it. It will instead serve as a tangible emblem of her strength of character, giving herself a real sense of fulfillment.
"So that my children will see that I always go all out in everything I do," Rivera said.
More than the quest for personal achievement, Rivera and Magalona are one too in believing that their decision to continue education, regardless of their age, poverty, and other priorities in life, will serve as an inspiration to the young ones, especially to their own children, that they too will strive to finish education. And that it's never too late to achieve a dream. –KG, GMA News
The author is a senior correspondent of GMA Network and a contributor of special reports on women, children, education, health, and the environment to GMA News Online.