NCAA
:

Alas sets career-high as hosts Letran begin campaign on a high note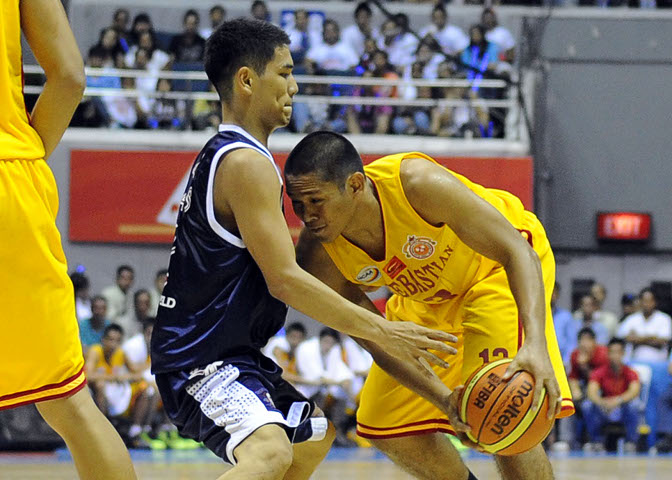 A study in contrasts: Kevin Alas (left) posted a career-best 31 points, while Ronald Pascual was held scoreless in his return from an ACL injury .
KC Cruz
Kevin Alas presented a post-Father's Day gift to head coach Louie Alas on the first day of 88th NCAA men's seniors basketball tournament.
The veteran playmaker, playing his fourth season as a Knight, one-upped his old collegiate-high of 29 points by posting 31 on Saturday, to power this season's host team, the Colegio de San Juan de Letran Knights, to an impressive opening day win against last season's runners-up, the San Sebastian College-Recoletos Golden Stags, 80-74, at the Smart Araneta Coliseum.
Although the Golden Stags made a gallant effort in the fourth period, the defensive-minded Knights' will and aggression prevailed in the fading minutes. With Kevin providing an offensive spark, his supporting cast took care of business on the defensive end, initiating 21 San Sebastian turnovers that led to 18 turnover points.
"I'm not satisfied with our defense and it is only our first game [but] I'm happy with Kevin's performance," said long-time Knights head coach Louie Alas, the father of Kevin and his teammate Junjun. "We can do a lot better. We still have to work harder because most teams have improved very well this season."
Kevin, who missed most of the summer pre-season due to a foot injury, led by example with 16 points on a 6-of-13 clip from the field in first half, putting the Knights up by 10, 39-29 at halftime.
Off the intermission, the Golden Stags countered with a 16-1 run capped by a basket by Jovit Dela Cruz to seize the edge, 49-47, with 1:55 left in third period until Alas made another three-pointer to snatch the lead once again, 50-49.
After two free throws from Stags reserve Bobby Balucanag, Kevin Racal's five-point scoring binge tied the ball game at 55-all at the 8:40 mark of the fourth quarter.
Then Jonathan Belorio and Jam Cortez ignited a 14-2 run that nailed the Golden Stags at the 62-point mark to give the Knights an eight-point advantage midway through the final period.
"Revenge is sweet because we were beaten last year by San Sebastian in the Final Four and I also made a career high," said Kevin, who finished 8-of-16 from the field with three triples.
However, his father reminded him: "It was a team effort, defensively."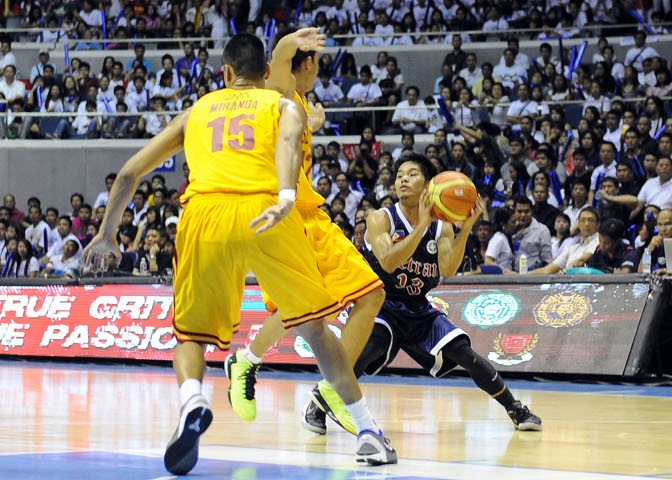 Sophomore point guard Mark Cruz (right) was undaunted by the taller defenders San Sebastian sent at him.
KC Cruz
Belorio added 14 points and six rebounds, while diminutive point guard Mark Cruz added 10 markers, including 4-of-6 insurance free throws in the last 35 seconds that sealed the Knights' first win.
Ian Sangalang had 18 points and 14 rebounds while Calvin Abueva, who fouled out of the ball game with 2:09 minutes remaining, added 18 points, 17 rebounds and six assists but had six turnovers for San Sebastian.
Ronald Pascual, who suffered an ACL injury last December and did not play during the Stags' pre-season games, was a surprise starter, but the normally explosive swingman was scoreless in 22 minutes of action, and committed his fifth and final foul of the game early in the fourth quarter.
Both teams see action a week from now on Saturday at the FilOil Flying V Arena in San Juan, with the Stags colliding against the St. Benilde Blazers at 4pm, and the Knights drawing last year's host, the Perpetual Help Altas at 5:30pm.
- AMD, GMA News
The scores:
CSJL 80 – K. Alas 31, Belorio 14, Cruz 10, Racal 9, Cortes 8, Almazan 6, Lituania 2, J. Alas 0, Gabawan 0, Pantin 0, Luib 0.
SSCR 74 — Sangalang 24, Abueva 18, Dela Cruz 11, Balucanag 11, Antipuesto 4, Juico 2, Miranda 2, Rebullos 2, Pascual 0, Binuya 0, Maiquez 0.
Quarter scoring:
14-13, 39-29, 50-53, 80-74.
Inboundpass has been covering collegiate basketball for six years. For more NCAA stories and information, check out inboundpass.com and follow Inboundpass on Twitter at @inboundpass