UST holds Freshmen Rite of Passage
The University of Santo Tomas (UST) will officially welcome its new students with the annual Freshmen Rite of Passage, Eucharistic Celebration and Welcome Party on June 29, 2012, Friday, at the UST Grandstand.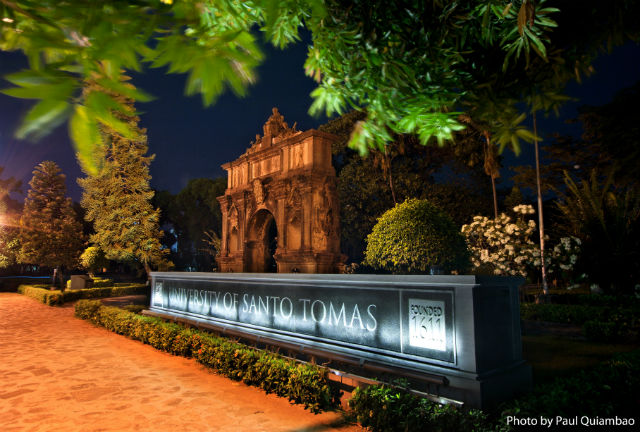 Arch of the Centuries with UST Marker.
For this academic year, more than 10,000 freshmen from the University's 19 faculties and colleges are expected to join the traditional Thomasian Rite of Passage which is symbolic of their quest and yearning for authentic Thomasian education. Considered a unique opening-of-the-school year affair in UST, the Freshmen Rite of Passage aims to inculcate among the newest members of the academic community the hallmarks of a Thomasian, Competence- to pursue excellence, Compassion- to reach out to others, and Commitment to exercise genuine leadership. In their ultimate yearning for all of these, the University wishes to seal their identity as Thomasians by seeking truth in love. The Rite of Passage or passing through the Arch of Centuries, the historic façade of the UST campus in Intramuros, and one of the National Cultural Treasures declared by the National Museum starts at 3:00 pm.
Freshman Rite of Passage through the historic Arch of the Centuries, the original entrance to the University in 1611.
Immediately following the walk will be the Eucharistic Celebration which will be held at 5:30 pm with UST Rector, Fr. Herminio V. Dagohoy, O.P., as main celebrant and homilist. This will be followed by the post-Mass program wherein the new students will be formally initiated as full- fledged Thomasians.
A welcome party will be held at the Plaza Mayor at 7:30 pm.

Press release and photos from University of Santo Tomas