PBA
:

Alaska ends Governors' Cup on a high note, beats Air21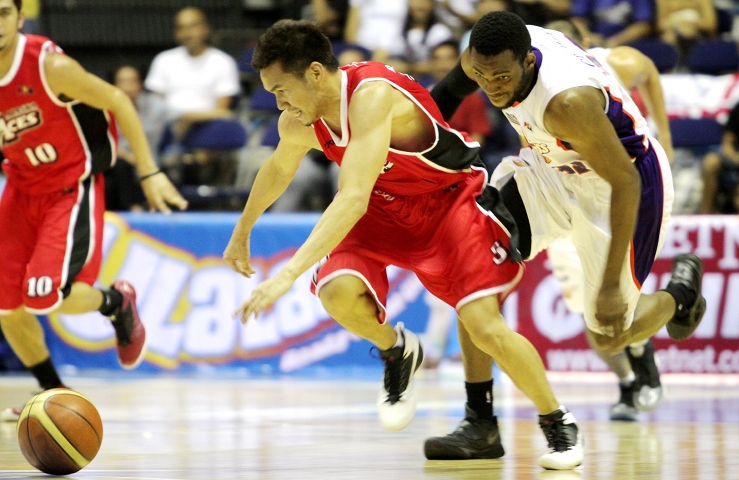 Cyrus Baguio goes on the run, swiping the ball away from Air21's Zachary Graham.
Jeff Venancio
At least it ended with a win.
The Alaska Aces ended a season of misery on a bright note, managing to close the 2012 PBA Governors' Cup with a second win, 110-80, over the Air21 Express, Wednesday at the Smart Araneta Coliseum, as they raced out to a 7-0 lead in the opening minutes of the game and never looked back.
Cyrus Baguio had 17 of his 24 points in the first two quarters, and shot 4-of-4 from the three-point line with three blocks, helping the Aces post a commanding 56-32 lead in the first half.
In the third quarter, Alaska never let up, adding 10 more points to their first half lead to move into the fourth quarter with a 34 point advantage, 90-56.
It was all academic from that point on, as the Aces still managed to close out the game, on top by 30 points.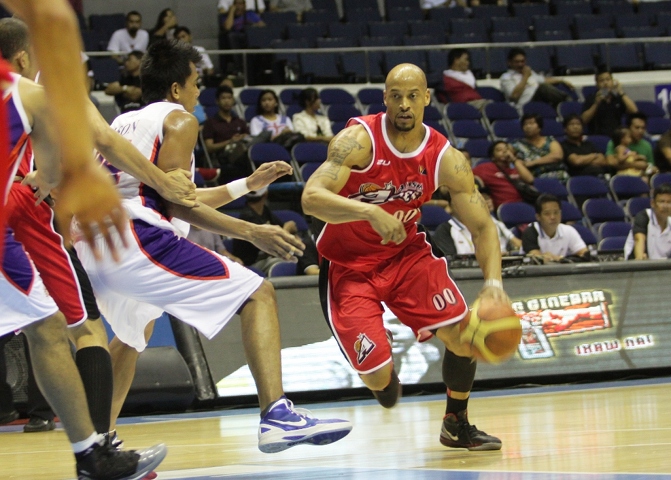 Jason Forte capped off his run with the Aces, posting 26 points and 12 rebounds.
Jeff Venancio
"The first and the third quarters are really the hard ones for us. Today we cleaned it up," said Alaska head coach Luigi Trillo, who was brought in just two weeks before the start of the conference to replace Joel Banal, who stepped aside after just two conferences in the role of successor to local coaching idol Tim Cone.
Riding on its strong third quarter performance, Alaska even led by as much as 35 points early in the fourth before cruising to its second win in nine games.
"We're a team in transition. I gotta find ways to motivate them. Hopefully, through hardships we build," added Trillo.
Import Jason Forte finished his second tour of duty with the Aces with a tally of 26 points, 12 rebounds, six assists and two steals, making 10-of-15 from the foul line. LA Tenorio added 19 points, 11 rebounds and six assists in 29 minutes.
The Express got a relatively quiet night from their scoring machine import Zachary Graham, who totaled "just" 25 points, plus seven boards and six dimes. Ren-Ren Ritualo was the only other Air21 player who finished in double figures, scoring 11 off the bench.
The Aces close out the Governors' Cup with a 2-7 record and now look ahead to the PBA Draft, while the Express fell to 2-6, and will try to avoid tying their opponents, when they play the reigning champions, the Petron Blaze Boosters, on Friday.
— ELR/AMD, GMA News
The scores:
ALASKA 110 - Forte 26, Baguio 24, Tenorio 19, Thoss 10, Cablay 9, Espinas 8, Baracael 4, Dela Cruz 4, Jazul 3, Eman 3, Thiele 0, Bugia 0, Gelig 0.
AIR21 80 - Graham 25, Ritualo 11, Arboleda 9, Escobal 7, Faundo 6, Isip 6, Omolon 6, Sison 4, Menor 4, Espiritu 2, Bagatsing 0, Sena 0, Hubalde 0.
Quarter scoring:
32-15, 56-32, 90-56, 110-80