Specialty bookstore rolls out July events
Ripples Books & Gift Store, the first and only book shop in Metro Manila which specializes in rare titles on spirituality and similar themes, recently opened its events area to host intimate gatherings of up to 20 people.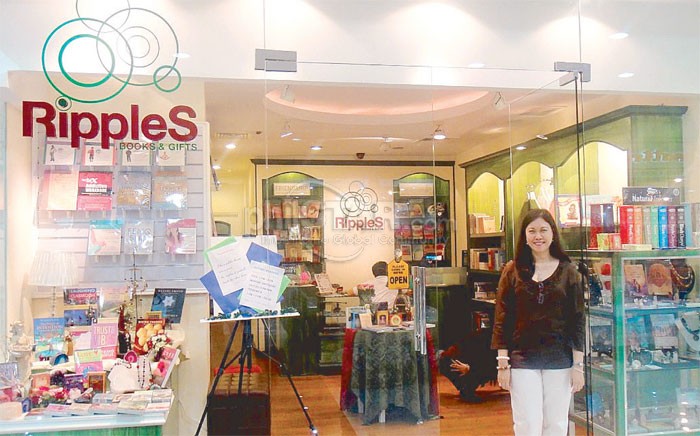 Ripples Books & Gift Store specializes in rare titles on spirituality and similar themes.
On July 14, Milan Gurnamal of Third Eye Manila will be conducting Take Charge of Your Life Now workshop wherein participants will learn a combination of tools so they can start living an empowered life and take charge from within.
On July 21, Ripples will host a Free ThetaHealing® Meditation-Talk, a technique that is considered the world's most advanced scientific healing process, at 1PM. Afterwards couple-facilitators Manny and Betty San Luis (CBI) will share their seven guiding principles in pregnancy and childbirth at 4PM.
On July 29, Reiki Master and Metaphysician Noel Resella will be facilitating Reiki Level 1 course. Reiki is a spiritual practice developed in 1922 by Japanese Buddhist Mikao Usui. It is administered by "laying on hands" and is based on the idea that an unseen "life force energy" flows through us and is what causes us to be alive. If one's "life force energy" is low, then we are more likely to get sick or feel stress, and if it is high, we are more capable of being happy and healthy.
"Ripples has a long list of hard-to-find titles on spirituality, religion, new thought, new age, psychology and philosophy. By making these books available, the store encourages a more open and pluralistic community of readers who could find clarity in issues relating to the principles or tenets of their beliefs," Yasmin Nuño, Ripples Books and Gift Store owner, said.
Ripples carries You Can Heal Your Life by Louise Hay, Archangels 101 by Doreen Virtue, The Astonishing Power of Emotions by Esther & Jerry Hicks, and The Power of Intention by Dr. Wayne Dyer.
Other events slated in July are Contacting Your True Self through a Cosmic Sign Language by Orlan de Guzman, Jr. of Byakko International on July 7; Laughter Medicine with Pinoy Laughter Yoga Teacher Paolo Trinidad on July 8; Karmic Resoulution: Healing the Past & Creating a Positive Future by Metaphysician Noel Resella on July 15; Access Your Intuitive Wisdom & Creativity through SoulCollage® by life coach Lydia Cabasco on July 22 and Advanced Angel Awareness Workshop by clairvoyant Nonoy Ozaeta on July 28.
Nuño, who is also a communications and couseling professional, explained the name behind the store. "Ripples aspires to create a rippling effect on each customer who, in the process of creating a personal transformation, likewise affects a collective change within his or her own sphere."
Ripples Books & Gift Store also has crystals and healing gemstones, special gift items, affirmation card decks, tarot card decks, unique greeting cards, accessories, and spiritual audio tracks.
Upon special arrangement, Ripples could be a venue for one-on-one sessions with life coaches, healing artists, tarot card and intuitive readers, meditation teachers and workshop facilitators.
Ripples Books & Gift Store is located on the 3rd level East Wing, Robinson's Galleria in Ortigas Avenue corner Edsa.
For inquiries, please contact 340-1214, 655-1982, 0922-8871158 or email: ripplesbgs@yahoo.com. Ripples Books & Gift Store is also on Facebook.
Press release and photo from Ripples Books & Gift Store