Heavy rain floods low-lying streets in Metro Manila, some classes canceled
(Updated 12:49 p.m.)
Heavy rain since early Tuesday has flooded some roads in Metro Manila, making these impassable to light vehicles.
In Parañaque City, Mayor Florencio Bernabe Jr. suspended classes in the elementary and high school levels, citing the threat of floods and high tide at 9 a.m.
"Sa buong Parañaque na po, private and public walang pasok pwera college. Prevention na," Bernabe said in an interview on dzBB radio.
He said that aside from the floods, the high tide was due at 9 a.m. He also noted the rain had been continuous since Monday night.
Bernabe said his worry was that students may have problems getting home later in the day.
A separate report on dzBB said classes were suspended in some schools in Valenzuela City.

Mayor Dominic Ilagan also announced the suspension of afternoon classes in Cainta from preschool to high school in public and private schools. Classes in the morning were also suspended, said a report on dzBB.
The Manila city government, meanwhile, announced the suspension of afternoon classes in public schools up to high school.
The order covered classes starting at noon in public elementary and high schools in the city, radio dzBB's Carlo Mateo reported.
Earlier Tuesday, Mayor Alfredo Lim had left to parents to decide whether to allow their children to go to school amid the rain and flooding.
But the dzBB report said the office of the city administrator decided to suspend classes after noting the continued heavy rain in the city.
Pasay City also suspended classes in public and private schools up to high school.
Navotas City has announced classes in all levels in public schools are suspended.
The Department of Education relayed the decision of the two local governments to netizens in posts on its Twitter account.
A separate report by dzBB's Glen Juego said afternoon classes for public and private schools from preschool to high school were also suspended in Mandaluyong and Marikina Cities.
Classes have also been suspended in Bacoor, Cavite (afternoon classes in all public and private schools),
Taguig City
and
Pasig City
(elementary to high school in both public and private schools).
Caloocan Mayor Recom Echiverri announced the suspension of classes for all levels in public and private schools in Caloocan on dzBB.
Mayor Orencio Gabriel announced the suspension of all classes in public and private schools from elementary to high school levels in Obando, Bulacan.
Many schools have already
suspended classes
.
Waist-high flooding in Quiapo underpass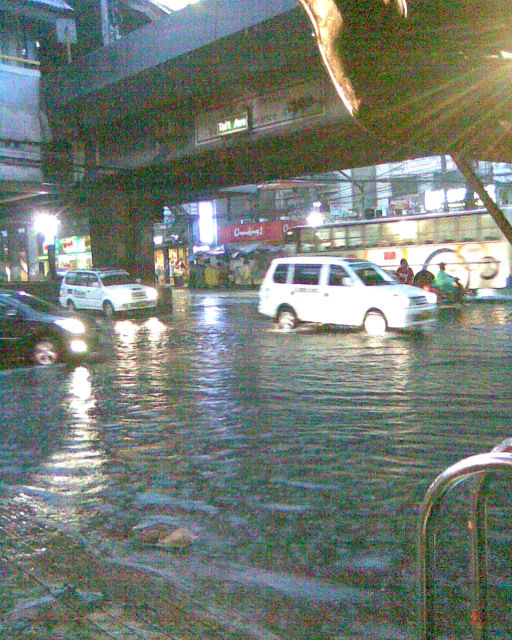 Early morning floods slow down traffic along Taft Avenue in Manila, hours after heavy rain pelted Metro Manila and Luzon. GMA News
In Manila, flooding in some areas such as the Quiapo underpass was waist-high, according to a report by radio dzBB's Carlo Mateo.
Only buses and large vehicles could pass through the underpass while drivers of smaller vehicles like jeeps and taxis backed off.
Also flooded were areas like United Nations Avenue and Padre Burgos Street, the report said.
However, dzBB quoted the Metropolitan Manila Development Authority as saying the floods in most areas had already subsided as of 3 a.m.
On the other hand, the Philippine National Railways said portions of its Sucat and Alabang stations were flooded, but said trains from Bicol arrived in Tutuban Monday night.
Along Taft Avenue, traffic slowed as tricycles picked up passengers in the middle of the road.
A report by dzBB's Allan Gatus also said floods were impassable to smaller vehicles along portions of Araneta Avenue near Maria Clara Street and Quezon Avenue.
PAGASA issued a yellow warning signal at 6:20 a.m., noting 10.2 mm of rainfall in Tanay in Rizal; 4 mm at Sangley Point in Cavite; 5 mm at Science Garden, Quezon City; and 3 mm at Port Area, Manila.
It said this is "most likely to continue for the next hour."
PAGASA
warned
of flooding in low-lying areas and those located near the river channels.
Under the heavy rainfall warning system, a yellow warning indicates an expected rainfall of 7.5 mm to 15 mm within one hour.
Communities under this advisory are advised to be aware of the weather conditions and warned that flooding may occur in low-lying areas. –HS/KG/RSJ, GMA News