Eiga Sai 2012 starts PHL-Japan Friendship Month
Celebrations marking the Philippine-Japan Friendship Month begin on the night of Thursday, July 5, with the invitational gala screening of the "Villain" which raises the curtain for Eiga Sai 2012 (Japanese Film Festival 2012).
Shuji Takatori, director of the Japan Foundation-Manila, said this year's Eiga Sai showcases 10 films released between 2008 and 2011, with genres varying from mystery, action, samurai, ninja, family drama, to animation. The festival runs until July 15 at the Shang Cineplex of the Shangri-La Plaza Mall in Mandaluyong.
"From July 20 to 22, it goes to Davao City's Gaisano South Citi Mall, from Aug. 7 to 12 at the Ayala Center Cebu's Cinema 4, and then returns to Metro Manila through screenings at the UP Film Center's Cine Adarna from Aug. 15 to 21," Takatori said.
With the Japanese Embassy in Manila as sponsor, the Philippine-Japanese Friendship Month will also have other activities, such as the traveling exhibit "Sharaku Interpreted by Japan's Contemporary Artists" composed of 28 portraits, 28 posters, 23 paintings, sculptures, ceramic, and woodblock prints. The exhibit goes on display from July 10 to Sept. 9 at the Ayala Museum in Makati.
The Japanese acoustic duo "Aki and Kuniko" also returns to the Philippines for a series of concerts in various venues from July 13 to 21 across the country, Takatori said. The 2012 JPop Singing Contest and Mini-Cosplay Contest, Le Velvets Concert, and Anime Film Showing will all be mounted on July 21-22, he added.
10 films
In a news conference, Takatori said the 10 films of the 2012 Eiga Sai were selected "to introduce and expose a wide range of audience to Japanese culture."
"All the 10 films will be shown in their 35-mm format with English subtitles. We want to maintain the longstanding tradition of the Eiga Sai: that of screening films in their original 35-mm format," Rolando Samson, film project coordinator at the Japan Foundation-Manila, added.
Teodoro Granados, executive director of the Film Development Council of the Philippines (FDCP), said the annual Eiga Sai held since 1998 "has brought to Filipino audience an impressive roster of films, from contemporary hits to critically-acclaimed classics from the masters of Japanese cinema." The Japan Foundation-Manila has partnered with the Japanese Embassy in Manila and the FDCP in staging this year's Eiga Sai.
"Villain," which opens the 2012 Eiga Sai, is a gritty social critique released in 2010 featuring award-winning actress Eri Fukatsu as she plays sales clerk Mitsuyo, a woman who is on the run with a murderer, Yuichi (Satoshi Tsumabuki). Directed by Lee Sang-il, the 139-minute film won the Best Actress award for Fukatsu in the Montreal World Film Festival.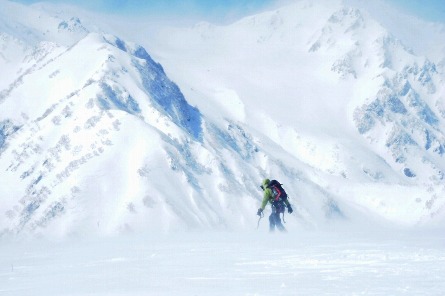 Peak—The Rescuers follows the story of a mountain rescuer in the Northern Alps after having conquered the world's famous peaks. (c) 2011 TOHO CO., LTD. / TV ASAHI CORPORATION / SHOGAKUKAN INC. / Tristone Entertainment INC. / Shogakukan-Shueisha Productions Co., Ltd. / KDDI / HAKUHODO DY MEDIA PARTNERS INC. / THE MAINICHI NEWSPAPERS / NIPPON SHUPPAN HANBAI INC. / Asahi Broadcasting Nagano Co., Ltd. (c)2005 Shinichi Ishizuka / Shogakukan
Released in 2011, "Peak—The Rescuers" is an adventure film and drama based on the popular comics by Shinichi Ishizuka. It follows the story of Sanpo, who volunteers as a mountain rescuer in the Northern Alps after having conquered the world's famous peaks.
"Railways" (2010) is a heartwarming family drama which chronicles the turning point of businessman Hajime, who is in line to be the head of a prominent electronics company. After his mother falls ill and his best friend is killed in an accident, Hajime—who has no time for family—returns home and revisits his childhood dream of becoming a train conductor.
Japanese comedy "Happy Flight" (2008) is set onboard Flight No. 1980 bound for Honolulu from Japan, where co-pilot Kazuhiro Suzuki is counting on the flight as his final test for a promotion to captain while the new cabin attendant Saito Etsuko sees it as her debut on an international route. However, the plane is forced to head back to Japan due to technical failures and they encounter yet another difficulty on the way back: landing the aircraft in the face of an approaching typhoon.
"Tomorrow's Joe" (2011) is an exciting live adaptation of Asao Takamori and Tetsuya Chiba's eponymous comic, regarded as a brilliant feat in manga history. The story revolves around two boxing rivals—a recruit from the slums and a professional fighter—who engage in a fierce battle that will determine both their fates.
Medical drama "In His Chart" (2011) is based on the debut novel of Sosuke Natsukawa. An eye-opening glimpse into rural Japan's healthcare issues, the film follows the growth of young doctor Ichito (Sho Sakurai), who encounters terminal cancer patient Azumi and is left questioning the very existence of medicine.
Animated sci-fi and fantasy film "Colorful" (2010) shows what happens to a deceased soul that was transferred into the body of high school boy Kobayashi Makoto, who just committed suicide. With Kobayashi's body regaining life, the soul inhabits him and journeys deeper into the boy's story, eventually uncovering the truth behind the suicide.
The film "Abacus and Sword" (2010) is a family drama and a film adaptation of Isoda Michifumi's book, which chronicles life in the final days of the Tokugawa shogunate from the household accounts of a low-ranking samurai.
Award-winning "Ninja Kids" (2011) is a live action adaptation of Amako Sobei's well-loved ninja action manga, following the comical slapstick antics of a group of boys who are elite ninjas-in-training. The film focuses on Ninja Academy first grader Rantaro and friends and fellow students Shinbee and Kirimaru as they commit constant blunders in school. Fourth-grader Takamaru, as an assassin, unexpectedly turns up.
Romance drama "Permanent Nobara" (2010) unravels a love story for grown-ups, based on the popular manga series of the same title by Reiko Saibara. The tale unfolds as Naoko returns home with her young daughter, where her mother runs a beauty parlor where local women gather to lament their bad luck with men and laugh over dirty jokes. –KG, GMA News