Movie review: 'Abraham Lincoln: Vampire Hunter' explodes with superb action-horror
The President as action hero isn't a new concept in Hollywood. Just see the template pioneered to pitch perfection in "Air Force One," as Harrison Ford picks up an assault rifle to save the day against Russian extremists. But in this movie, where the President combats supernatural forces, he needs to be transformed into a superhero.
"Abraham Lincoln: Vampire Hunter" is a potent cocktail of bloodsuckers, politics and reimagined history. You will come away from this one speechless and happy, all good signs of a pure entertainment experience.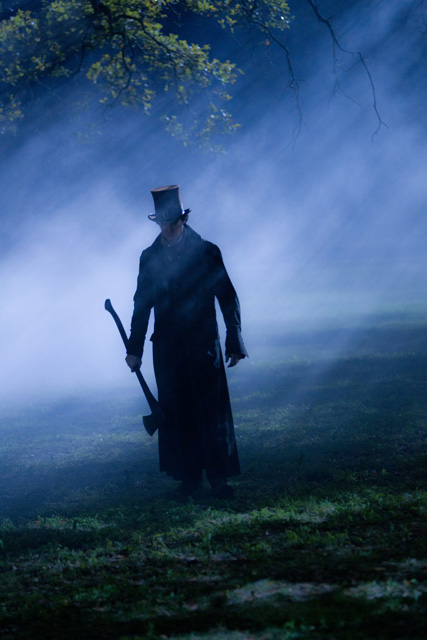 Armed with an axe, an iconic silhouette emerges from the darkness.
Adapted from the similarly titled book by Seth Grahame-Smith (who also wrote "Pride Prejudice and Zombies," and does screenwriter duties for this one) this movie covers 45 years in the alternate history that is Abraham Lincoln's life, 1820 to 1865, from his childhood up to the time of the Civil War, when he was President.

We begin in Kentucky, where the Lincolns are eking out a life near the frontier as hired help for the lumber and fishing industries. When the very young Abe stops a slave monger's whip from hitting his childhood darkie friend Will, his father is forced to intervene, thereby offending the local boss, Jack Barts (played to sneering scoundrelism by Marton Csokas). Later that night, Abe watches helplessly as Barts, now transformed into a fanged monstrosity, hovers over his mother and bestows a curse on her, causing her to waste away and die days later.
Years later, Lincoln has grown up into the tall and strapping Benjamin Walker ("Flags of Our Fathers") and tracked down the villainous Barts, shooting him on the docks. Problem: Barts is a vampire and nearly succeeds in killing Abe if it weren't for the timely intervention of Henry Sturgess (Dominic Cooper). It is under Sturgess's tutelage that Abe is educated in the ways of hunting bloodsuckers, gaining proficiency with a silver-lined axe in tracking, detection, and the all-important cardio.
"Lincoln's life story is an archetypal superhero origin story," exclaims Grahame-Smith. "He's as close to an actual superhero as this country's ever seen. Forget about vampires. Lincoln had neither family name nor money… With no education, and armed with just his mind, he became president and saved the nation."
His hunting adventures take him to Illinois, Louisiana, and eventually to the hallowed halls of Washington. In between, he meets his future wife Mary (Mary Elizabeth Winstead), uncovers the hierarchy of vampire society all the way to the still living progenitor of the American bloodline Adam (Rufus Sewell) and his general, the beautiful and vicious Vadoma (played by gorgeous Texan model Erin Wasson).
A monster story
The movie may be rated R-13 for the historical weight, but the amount of gore, blood and some nudity (from the corpse of a prostitute) really scores this one its adult ranking. While Tim Burton polishes off the visuals with his signature gothic sheen, it's really the filmmaking muscle of Timur Bekmambetov (director of Wanted, Night Watch and Day Watch) that gives this movie its horror brick and mortar.
"I wanted to see Timur's version of this story!" said Burton, who was initially set to direct but instead stepped back and took producer duties. "A big plus was that Timur is from another country, so he provides a different perspective on these characters and historical events."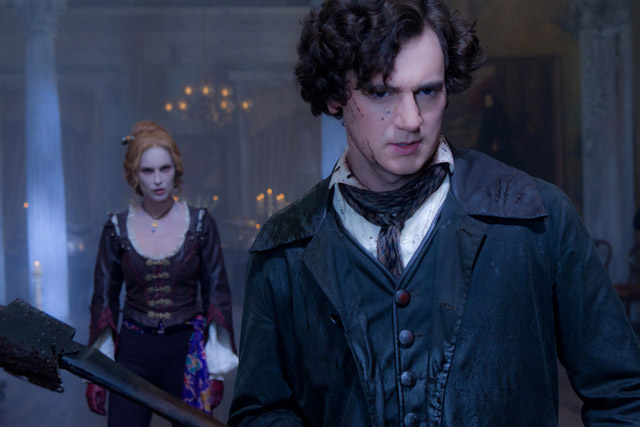 Benjamin Walker plays Abraham Lincoln's vampire-slaying version.

Oh, does Bekmambetov know how to cook up a proper monster story. The action scenes alone, shot in true 3D like the rest of the movie, are cinematic meth for the eyes.
You know the film is good when, about halfway through, we're on the edge of our seats as the young Abe finally gets to confront Barts, the vampire who murdered his mother. After having practiced his wushu-like chopping skills on several previous bloodsuckers, and acquiring a not too shabby body count, he feels he's more than ready to dish out payback.
He couldn't be more wrong as Barts, a couple of hundred years old and runs a horse farm, leads him on a merry chase through a stampeding herd. To say that this sequence was inventive is to underplay the awesomeness of its effect on an audience with 3D glasses on. Abe and Barts duel through the panicked horses, sometimes on horseback, thrown off and on foot dodging terrified equines, or hopping from one horse to another in an insane, deadly ballet of dexterity and timing.
I winced when the horses shied too close to the hill's edge and felt a sudden vertigo as the two combatants teetered, caught in that limbo moment between falling or regaining their balance. Whew. I hadn't felt that way since the climactic battle in "The Avengers."
And the vampires of this milieu are truly savage predators who can walk freely during the day, the sun more a nuisance than a deterrent, to be fended off by sunblock, some make-up and staying in the shade. They're vulnerable to silver, yes, but can be destroyed only by a vorpal swing or total incineration. Visually, they're more like a cross between shark and reptile in their true form; something with too much teeth in too small a mouth.
"The vampires in our movie aren't romantic or funny, and they certainly don't sparkle," Grahame-Smith notes. "Our vampires… [have] become a part of the fabric of everyday life, working as blacksmiths, pharmacists, and bankers."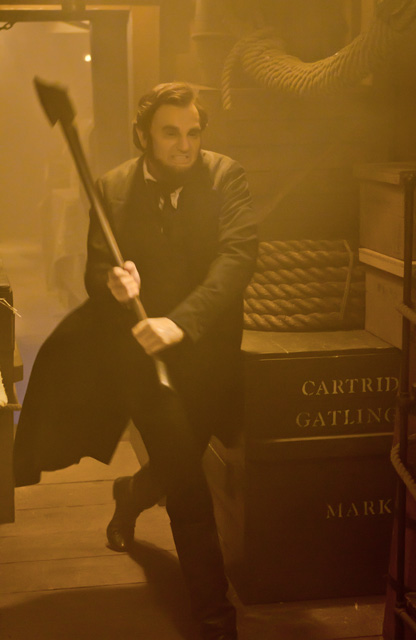 'Abraham Lincoln: Vampire Hunter' shows the president's progress in politics and slaying the undead.
Moving right along
While there are some segues in the narrative that were handled less than subtly, like Abe getting raised from giving anti-slavery speeches at the corner atop a crate box to political office and generally glossing over the intervening years of his political career until he ascends to the White House, the epic scope of the movie set in an already fantastique history moves us right along. After all, we already know he's going to be President, anyway.
Adding to the sweeping scope is head bloodsucker Adam's plans to form a political framework for vamps by forging an alliance with the political clans of the American South. He means to build a nation of vamps who can live, more or less, out in the open, and hold dominion over the vast states.
To do this he will help them win the looming Civil War by giving them undead soldiers for the ranks. In one scene the tide of a musket battle is turned as a battalion of them, mixed in with human soldiers, cuts through the Northern troops like butter. The rest of the movie takes us along for the ride as Abe and his partners try to foil the coming praxis seizure.
So leave your kids, bring your stovepipe hat, and an appetite for action horror. Go see the American President fight a secret war. Better yet, see it in 3D and watch that axe whirl. –KG, GMA News
"Abraham Lincoln: Vampire Hunter" opened on July 4 in Metro Manila.

All photos courtesy of 20th Century Fox