NCAA
:

Parala powers MIT past Benilde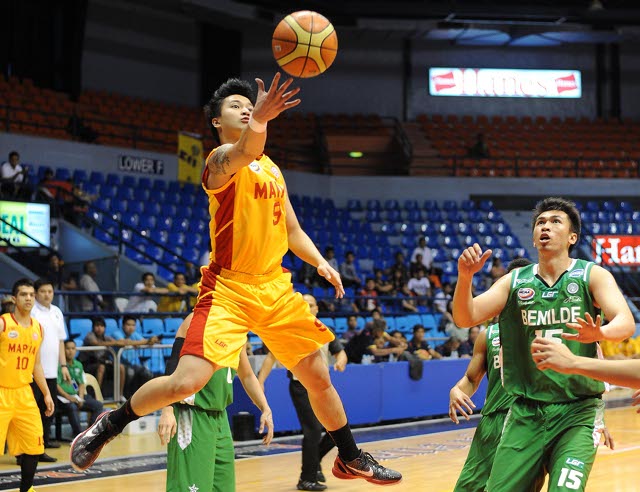 Josan Nimes gets a wide-open lay-up as Jan Tan (right) can only look on.
KC Cruz
Big man Mike Parala came out strong in crunch time, to help the still short-handed Mapua Institute of Technology Cardinals buck a lethargic start on Thursday and pull-off a 64-55 come-from-behind win against College of Saint Benilde Blazers, in the 88th NCAA seniors division basketball tournament at the FilOil Flying V Arena in San Juan.
Big man Parala drilled in eight of his 12 points in the final canto to power the Cardinals to their first win after a narrow loss to the JRU Heavy Bombers on opening day. Parala also collected 15 rebounds – seven on the offensive end.
"It's a great win and I'm proud of my players especially to Mike [Parala] for bringing out his best when it mattered most," said Mapua head coach Chito Victolero. "It only shows my players are ready to compete."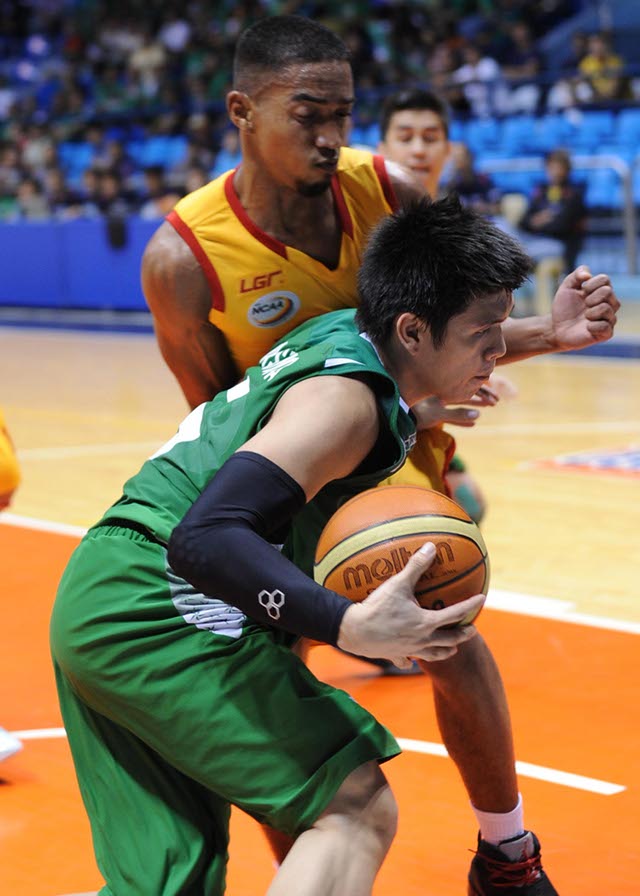 Carlo Lastimosa struggled against the defense of Kenneth Ighalo.
KC Cruz
Josan Nimes had a game high 21 points and grabbed eight rebounds to lead Mapua, while Andrew Estrella and Kenneth Ighalo contributed nine and eight markers, respectively.
Jumiel Chien hit a big-time three-pointer as the Cardinals took the lead, 52-51, in the last 3:26, but former San Sebastian Stag Roberto Bartolo scored on a floater to help the Blazers swipe the advantage back, 53-52 with three minutes remaining.
Parala then came out unstoppable when it mattered most, scoring eight straight points in the last two minutes to hand the Cardinals a 60-55 lead, with just 83 seconds left in the game.
The Cardinals rode on Josan Nimes' impressive 11-point first half performance, but Saint Benilde still had more firepower in the early going, lunging ahead 30-28 after the first half.
Nimes sank one of his two free throws to give Mapua a 45-40 lead at the end of third period, leading up to the frantic fourth quarter.
The Blazers, who led by Carlo Lastimosa's 13 points, fell to 1-2 in the standings, suffering their second straight loss after winning their season debut against the Lyceum Pirates.
- AMD, GMA News
The scores:
MIT 64 - Nimes 21, Parala 12, Estrella 9, Ighalo 8, Chien 5, Abad 4, Cantos 3, Banal 2, Stevens 0.
CSB 55 - Lastimosa 13, Ongteco 8, Sinco 7, Tolentino 6, Grey 6, Tan 6, Bartolo 4, Taha 4, Carlos 1, Maconocido 0, Garcia 0, Romero 0, Deles 0, Altamirano 0.
Quarter scoring:
9-13, 28-30, 45-40, 64-55.
Inboundpass has been covering collegiate basketball for six years. For more NCAA stories and information, check out inboundpass.com and follow Inboundpass on Twitter at @inboundpass