Movie Review: 'Ice Age 4' drifts to being just another sequel
First, a philosophical question: why does it exist? Apart from the obvious monetary benefits of releasing a sequel, why should the sequel be made? This is a question that is asked way too rarely regarding sequels, reboots, updates, and the like which turn to franchises rather than coming up with new content. And all too often there is no reason. There is no great, pressing story still left in that world to be told. Yet, we are offered these films.
Now I know that it's a rare person who enters a screening of Ice Age 4 looking to grapple with philosophical queries and explorations of the meaning of something's existence. In fact those heading into the movie would be looking to spend time with familiar characters and have a fair bit of fun. Granted there's time spent with said characters, and there's some fun to be had, but like the way of many franchises, this one is starting to show diminishing returns in terms of creativity and fun.
The gang's back together: mammoth, sloth, and saber-toothed tiger. We've had good times with these guys, and it seems that jokes about how dumb or disgusting John Leguizamo's sloth Sid are will never stop amusing kids. But where the earlier films made attempts to tell new stories or at least explore what the characters were going through (as far as kids' movies can go anyway) Continental Drift falls back on things that are too easy, too familiar, and that we've seen in too many other kids' movies already.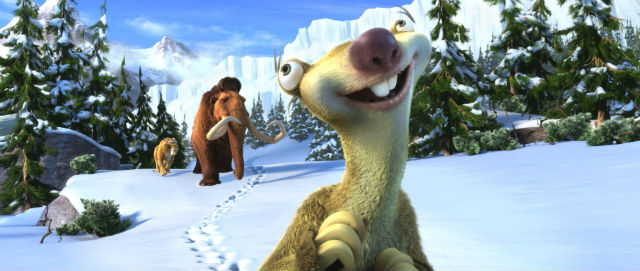 The gang is back together in Ice Age 4.
We already witnessed Ray Romano's Manny dealing with love and how that impacts the group. But we have that again here with Dennis Leary's Diego getting bitten by the bug. It works to much less effect though, because there isn't really anything new that the situation brings to the table. The bigger conflict is Manny's teenage daughter Peaches, and her, well, being a teenager. She likes the cute mammoth, wants to hang out with the cool crowd, yadda yadda yadda while Manny acts the overprotective father. This results, of course, in a row between the two, a bitter parting, and then a literal parting as the Earth between them splits and leads to the titular continental drift. Then we get the mopey, "I wish I'd never said that. What if I never see him again?" from one party and the, "No matter what happens, I'll find you," from the other. The reconciliation, we all know, is inevitable. As, I suppose, cashing-in sequels are.
There's an attempt to mitigate the thinness of the story here with new cast additions. The Ice Age movies have always featured one kind of journey or another as the characters attempt to rejoin their herd which they keep on getting separated from. The supposedly new twist here is the arrival of a crew of salty pirates that the gang must face. This film, more than any previous ones, has a strong villain and crew, led by Emmy-winner and all around awesome actor Peter Dinklage. Backing up Dinklage as first mate to his Captain Gutt is Jennifer Lopez, who voices Shira (I have to admit, before checking IMDB I thought it was spelled She-ra and was an odd He-Man/She-ra reference). Shira is also Diego's love interest and they connect because they are tough tigers who have eschewed their packs for adopted groups. Or something.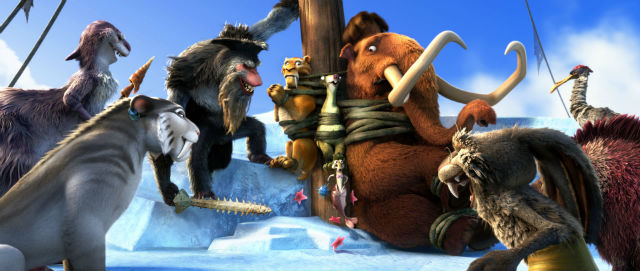 The supposedly new twist here is the arrival of a crew of salty pirates that the gang must face.
The whole classic gang vs. the pirates works as an effective audience draw. Heck, I wanted to see what this franchise would do with pirates. Unfortunately, well, it doesn't do much. Dinklage's Gutt is nasty, brutish, and vengeful, yet too lacking in menace. His crew of mostly inept and generally dumb animals serves for sight gags but not much else. So we get some nice ideas here, but none of them are executed very well. Add on the whole granny subplot which throws a new character in but doesn't really do much either, and we get a mix with a lot of ingredients but not much flavor.
Sometime during the movie, Sid tells granny about his past adventures. He tells her that they didn't make much sense, but they were a lot of fun. This is largely true, and we were more than willing to accept all of the scientific inaccuracies portrayed in the films because they provided fun. Unfortunately, the same can't be said of this latest film.
It seems more a vehicle to sell merchandise of the cute characters more than anything else. We get to spend time with characters we've come to love, but we don't really get anything new in terms of story or theme. And though there are some good sight gags and a fair number of laughs to be had, this is a far cry from previous installments in the series.
That said, it manages to be the kind of film that kids can have fun watching. It has fun recognizable characters and a simple enough plot that even the littlest of kids can follow. Shame, though, that not only doesn't it measure up to earlier installments, but it hardly even tries. It plays with tired old clichés and relies on the youth and naivetė of its target audience to let it slide by as satisfactory product. Ice Age: Continental Drift is good at being cute, good at going for easy laughs. But good at very little else. –AC, GMA News

Photos courtesy of 20th Century Fox