PNP readies over 6,000 cops for PNoy SONA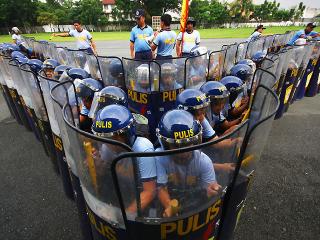 PNP prepares for SONA. Members of the PNP's Civil Disturbance Management unit hone their formation skills inside Camp Karingal in Quezon City on Tuesday. They are preparing for the coming SONA of President Aquino on July 23. Asti Flores
Some 6,400 police personnel and a three-level security setup are being readied to secure President Benigno Aquino III's third State of the Nation Address at the Batasang Pambansa this coming July 23.
The Quezon City Police District said it is also closing off part of Commonwealth Avenue to traffic on SONA day, a Monday, radio dzBB reported Wednesday.
QCPD head Chief Superintendent Mario dela Vega was quoted in the report as saying the 6,400 police personnel will secure the Batasan complex and surrounding areas.
Aquino is to deliver his SONA July 23 before a joint session of Congress. The House of Representatives is located inside the Batasan complex.
On July 23, Dela Vega said three lines of defense will be set up along Commonwealth Avenue against protesters, the first being concrete barriers and steel railings.
The second line of defense will involve police personnel, while the third line of defense will involve container vans positioned across St. Peter Parish.
Also, dela Vega said police will close off to traffic the part of Commonwealth Avenue leading to Fairview, especially the areas where protests will be held.
A part of the lane leading to Quezon Memorial Circle is to be opened to counter flow.
Militants seek permit, expect thousands to join protests
Meanwhile, militant umbrella group Bagong Alyansang Makabayan has filed a rally permit for the July 23 SONA.
The application sought to have authorities let them hold the rally at the Batasan Road, near the House of Representatives.
Last year, Bayan noted the city government denied and then modified Bayan's application without any hearing.
Bayan said the case was elevated to the Supreme Court and is up for decision. Respondents in the case include Mayor Herbert Bautista and officials including then city police chief Elmo San Diego.
In its application for a permit for this year's SONA, Bayan said it plans to hold the rally along Batasan Road from 7 a.m. to 6 p.m.
"The event will be using a mobile sound system and will have at least 10,000 participants," it
said
.
"We believe that the people have the right to present their grievances as close as possible to the institution that they are addressing their demands to. Moreover, Batasan road is a wide enough highway to accommodate the protesters. This will also decongest the main road that is Commonwealth Avenue, which is the usual site of the SONA rally. The time that was set forth in this action includes the time to set up the equipment, stage and sound system which are essential to the mass action," it added. — RSJ, GMA News