Past bombing incidents in the Philippines
May 8, 2007
Eight people were killed and dozens others were wounded in a bomb attack that rocked a crowded billiard hall and passenger terminal in Tacurong City in Sultan Kudarat. Police and military officials said there were indications that JI recruits staged the bombing. (
see report
)
January 10, 2007
Seven were killed and dozens were injured in three separate explosions in Mindanao a day before the ASEAN ministerial meeting. The explosions occurred in General Santos City, Kidapawan City, and Cotabato City.
(see report)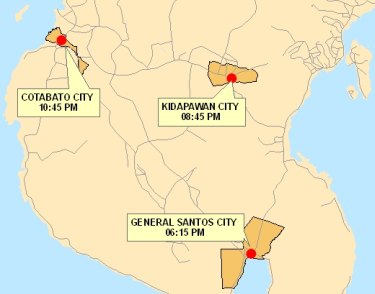 January 5, 2007
Two people were injured in an explosion along Macacua Street in Cotabato City. Police blamed the bombing on the Jema'ah Islamiyah and the Abu Sayyaf Group.
(see report)
December 28, 2006
Four people were hurt when an improvised explosive device went off inside the Kimsan mall in Sultan Kudarat. The bomb was reportedly planted by a woman who assembled a homemade device inside the mall's toilet. Police blamed that blast on the JI.
(see report)
October 10, 2006
Fourteen people were killed while about 30 others were injured during separate explosions that hit the Tacurong City Public Market in Sultan Kudarat and Makilala town in North Cotabato.
October 7, 2006
New People's Army rebels bombed P20 million worth of equipment being used to build an airport in Silay City. No one was hurt in the attack.
September 7, 2006
Two people were killed and four others were injured following a grenade explosion at the General Santos City public market.
August 28, 2005
Twenty-nine people were injured in an explosion inside the M/V Doña Ramona in Lamitan, Basilan.
August 10, 2005
Around 30 persons were injured in two explosions in Zamboanga City: one on a passenger minibus and a motorcycle parked at Sta. Maria-Pasumanca Terminal, Campaner Street; and another at OK Bazaar and Chowking Building at Mayor Climaco Avenue.
July 30, 2005
Four people were injured in separate bombings in Mindanao. One of the explosions was at the ARMM compound in Cotabato City, and two were in Koronadal City.
May 26, 2005
Three people were killed and 13 were injured when two hand grenades exploded in Purok 2, Sitio Acacia in Recodo village, Zamboanga City.
April 30, 2005
Thre people were killed and 11 were injured when a grenade exploded in Sitio Marangan, Barangay Muti, Zamboanga City.
February 14, 2005
Eight people were killed and dozens were injured in the so-called Valentine's Day Bombings in General Santos City, Makati City, and in Davao City.
December 12, 2004
At least 14 people were killed when a bomb exploded in a marketplace in General Santos City.
February 27, 2004
More than 100 people were killed when M/V SuperFerry 14 caught fire near Corregidor, Bataan. The fire was caused by a bombing owned up to by the Abu Sayyaf Group
January 4, 2004
Twenty-two were killed and several others injured in a blast in Parang, Maguindanao.
May 10, 2003
Nine people were killed and 42 injured in an explosion at a public market in Koronadal, South Cotabato.
April 2, 2003
Sixteen people were killed and 55 were injured near the entrance gate of Sasa Wharf Passengers' Terminal building in Davao City, Davao del Sur.
March 4, 2003
Twenty-one people were killed and 144 were injured when a bomb exploded at the waiting shed fronting the arrival area of Davao International Airport in Davao City, Davao Del Sur.
On December 30, 2000, 22 people were killed and around a hundred were injured in the so-called Rizal Day Bombings, a series of bombing incidents in Metro Manila.

Sources: GMANews.tv, DSWD Dromic, Inquirer, MindaNews, PNP