More than 1K attend 'I-Witness' Docufest in Cebu
More than 1000 attended the 2012 I-Witness Docufest in SM City Cebu last July 8 to watch some of the program's most awarded documentaries and interact with hosts Howie Severino, Kara David, Jay Taruc, and Sandra Aguinaldo.

The free screening of some of the finest episodes of "I-Witness" was the first of a series of documentary festivals that will be held in the Visayas and Mindanao to celebrate the program's 13th anniversary on the air.
Among the documentaries shown were "Lapnos" by Jay Taruc (Silver Medalist, 2012 New York Festivals for TV and Film), "Ambulansya de Paa" by Kara David (Winner, 2009 George Peabody Award), "Huling Hala Bira" by Howie Severino (Silver Medalist, 2008 New York Festivals for TV and Film), and "Iskul Ko No. 1" by Sandra Aguinaldo (Silver Medalist, 2008 New York Festivals for TV and Film).
The documentaries "Batang Kalabaw," "Batch 2012," "Gintong Putik," and "Saplot" were also screened. After every four documentaries, the hosts answered questions from the crowd about their the stories, journalism, and documentary-filmmaking in general.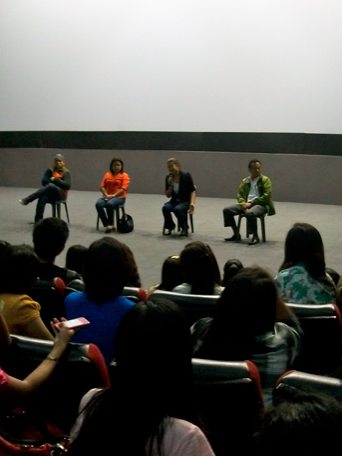 During and after the event, Twitter was abuzz with reactions and comments from "I-Witness" fans who were able to attend:
Okay, so I'm having this I.witness hangover. I am inspired to move people into action. A starting media experience for me. #IWitDocufest
— Krystyl de Gracia (@KrystyldeGracia) July 8, 2012
Mahirap gumawa ng bagay na hindi malapit sa puso mo. @karadavid #iwitdocufest @ Cebu!

— shine reyes (@tresdayle) July 9, 2012
"Making docus has become a movement and technology has made you the most empowered generation." -@Howieseverino #IWitdocufest @IWitnessGMA

— James is not bitter. (@whotheheckk) July 9, 2012
Nag enjoy sa #iwitdocufest sa sm cebu. Media really has a big role to play in social transformation.

— Paul Randy Gumanao (@rggumanao) July 8, 2012
Good documentaries don't just inform. They move you to action. #iwitdocufest

— Liezyl Gomez (@iamliezyl) July 8, 2012
Thank you @howieseverino @sandraguinaldo @karadavid and @jaytaruc for the #IWitDocufest Regional Tour. You are the engine of social change!

— Pip Compra™ (@SenyoritoPEPE) July 8, 2012
More "I-Witness" Docufest screenings will be held in Iloilo (July 14), Davao (August 11), Bicol (September 15), Iligan (September 27), Pangasinan (October 6), and Bacolod (October 12).
—Alyx Arumpac/PF, GMA News