'Opusits' and 'putocopy' in 'Akma' at the NCCA Gallery
Akma, like many other Filipino words, has two meanings - on one hand, it is the word to describe what is proper, suited, fitting; on the other, it connotes a threatening gesture.
In the case of Oddin Sena and Manu Farol, these two levels of meaning take form in an exhibition entitled 'Akma' - wherein these two young artists from the College of Fine Arts of UP Diliman challenge the propriety of the Filipino-English language by questioning its bounds, from within as well as without.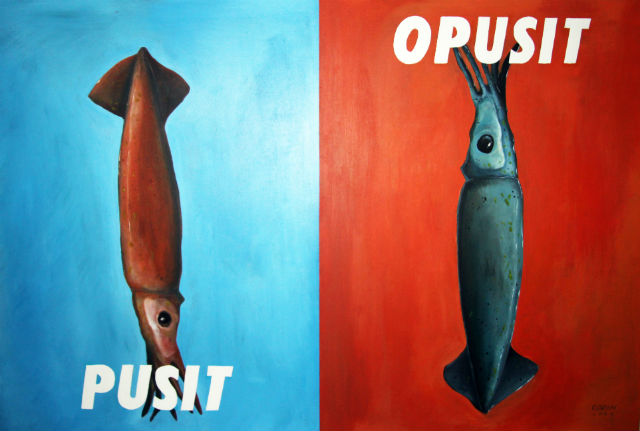 Oddin Sena's Opusits
Language is the agent through which we construct identity, the mixture of Filipino and English into its present Taglish form is the hybrid child born of a long history of interracial encounters that pervades through the present Filipino psyche. An identity crisis that one must come to terms with on several dimensions - the socio-political, the cultural, and the individual.
In his works, Oddin Sena re-invents his father Fernando's relationship to painting, as he creates puns from combining Tagalog and English words with homonymous syllables, creating a pictorial level of meaning for a language he can call his own; friend and cousin Manu Farol draws attention to its limits by visual interpretations of experience that transcend definition by words.
Through their phonemic utterance, he twists their meanings to create a visual narrative. An almost innocent teasing poke at the native pronunciation of English forced upon a people, the text results in its broken form. The native puto (also, the native inflection of the word 'photo') becomes 'putocopy' - reflecting the common Filipino's habit of poking fun at his own 'unsophisticated' [implying un-westernized, therefore inferior] and simplistic nature, through the use of written and visual images.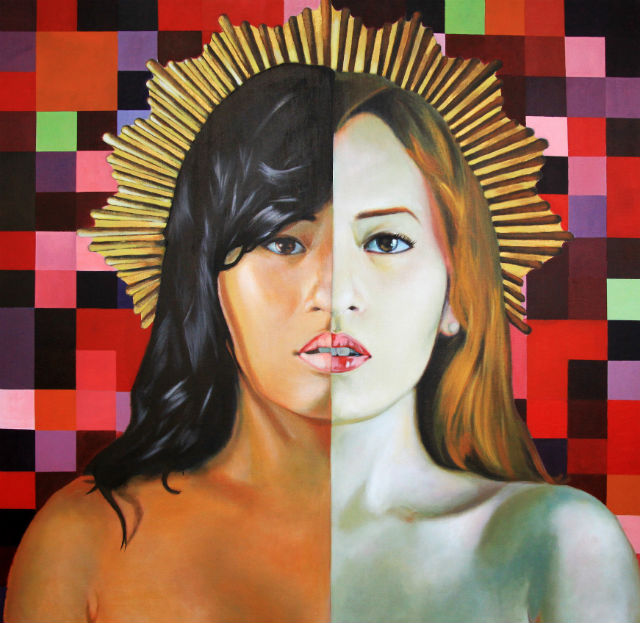 Manu Farol's Hybridity No. 1
On the other side of the division between the literal and figurative, Manu Farol raises questions about the symbolic: Who is to say that the conscious fragment of perception is the only valid part, because it is defined by language? Does logos and the logical rationality of the speakable thus then put a limit on what is real, what is actual?
Manu's conceptualization occurs in hindsight. Through quiet subversion of conventional religious symbolism, he engages the viewer in a dialogue of visual perception, and leaves us with more questions than answers - exposing the limits of language and iconography through a narrative that is at once complete yet left hanging.
Traversing parallel roads, Oddin Sena and Manu Farol negotiate Filipino colonial heritage and its endless ringing in the contemporary landscape, through deconstruction. By opening the grounds between the oppositional principles of the propriety of language as the expression of the experiential, their works lead us to re-visit, un-think and un-define the conventional boundaries of word and image, alluding to the fragility of these in bearing the burden of containing experience.
Akma, by Manu Farol and Oddin Sena opens at NCCA Gallery on July 19, 2012 at 4 p.m. with guest curator Jonathan Olazo. The exhibit is on view until August 18 2012.
Artist Talk about the exhibition entitled Understanding Contemporary/Conceptual Art will be held at the NCCA Auditorium on August 8 at 2 - 5 p.m. with guest speaker, Eileen Legaspi-Ramirez. Admission is Free.
NCCA Gallery gallery hours are from Monday to Friday, 9:00 a.m. - 5:00 p.m. The gallery is closed on Saturdays, Sundays and other Holidays.
NCCA Gallery is located at NCCA Building, G/F 633 Gen.Luna Ave.Intramuros, Manila.For details about the exhibition please contact Mimi Santos at Tel. Nos. 5272192 loc.512 or email us at ncca_gallery@yahoo.com. Visit our
website
or like us on Facebook: NCCA Gallery.
Press release and photos from NCCA Gallery