Palace leaving fate of RH bill to Congress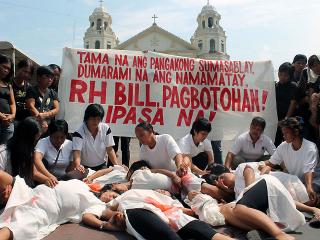 Pro-RH bill groups blame PNoy over 'unfulfilled' RH bill passage. Pro-RH groups demonstrate in front of Quiapo Church in Manila on Tuesday to highlight President Aquino's 'unfulfilled' promise in the passage of the Reproductive Health Bill. Benjie Castro
Malacañang on Wednesday said it will leave it up to Congress when it will pass the controversial Reproductive Health (RH) bill, despite the proposed measure being among the priority bills of President Benigno Aquino III.
At a press briefing, presidential spokesperson Edwin Lacierda acknowledged that the RH bill, called the Responsible Parenthood bill by the Palace, is a "very contentious topic or subject" so debates in Congress have been long-drawn.
"We certainly would like to see an end to the debates. [But] we leave it to the legislature as to when the debates will end and [when] there will be [an] up or down vote on the RH or Responsible Parenthood bill," Lacierda said.
The Palace official made his remarks following House Majority Leader Neptali Gonzales II's pronouncements that the chances of passing the RH bill in their chamber are very
slim
.

Gonzales said the RH bill — formally known as House Bill (HB) 4244 — will be shelved in the next two months, since the House will become busy with deliberations on the 2013 budget.
HB 4244 endorses the use of both natural and artificial modes of family planning. The bill is being opposed by the Roman Catholic Church, which promotes only natural family planning methods.
Last June, the controversial measure
hurdled
the period of interpellation at the Senate. At least nine senators interpellated on the bill.
Senators Miriam Defensor-Santiago and Pia Cayetano, sponsors of the bill in the Senate, even said that they see the bill's passage in their chamber by August.
In the House of Representatives, however, the bill is still in the period of interpellation.
Lacierda likewise admitted that they cannot rally allies in the House of Representatives to hasten the measure's passage.
"Ang problema yung debates eh. I really don't know the procedure in the House. There have been several proponents and those who seek to question the bill itself they are still plenty of them so I really don't know the status right now of the debates," he said. — RSJ, GMA News