Your Say: Readers' take on the Reproductive Health Bill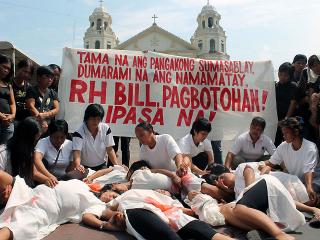 Pro-RH bill groups blame PNoy over 'unfulfilled' RH bill passage. Pro-RH groups demonstrate in front of Quiapo Church in Manila on Tuesday to highlight President Aquino's 'unfulfilled' promise in the passage of the Reproductive Health Bill. Benjie Castro
GMA News Online has a lively community of commenters. Your Say is where we feature thought-provoking opinions from the community to help further discussions on issues that affect the common Pinoy. Join us and be heard.
The RH bill endorses age-appropriate sex education, the use of both natural and artificial modes of family planning, and the widespread availability of the latter. However, it is being heavily criticized by the Catholic Church, which promotes only natural family planning. The bill has been undergoing plenary debates at the House since March last year.
Unquestionably one of the most divisive issues for Pinoys in recent history, the debate on the RH bill proves to be a multifaceted one that affects Pinoys everywhere, especially in light of the country's burgeoning population problem. The debate has touched on the effectiveness of natural versus artificial family planning methods, of women's healthcare, and, in a broader context, of the separation of the Church and the State.
Here's what some of our readers are saying:
From
Anthony Perez
, who thinks providing better resources for education would uplift the lives of Pinoys in poverty more than the use of contraceptives:
If a poor family has 12 children, what is the root cause of the problem? It's poverty right? Then why give them contraceptives? Giving contraceptives does NOT address the real issue of poverty nor will they uplift a person's status. Give a man a condom and he is still poor. Give a man education and he has a real fighting chance to work his way out of poverty. With the limited money the government has, we cannot afford to spend billions on contraceptives when you can spend the cash on books and classrooms and training world-class teachers.

It saddens me that the commenters here are so myopic to think that contraceptives will solve the real problem.
For
Jes Keshly Cruz
, who thinks that the quality of living can be uplifted through responsible parenting, which includes procreating according to the availability of resources:
Big population does not always mean national power.

The key lies on the quality of the population, per se.

Childbirth should be within one family's ability to provide proper education, food, clothing, shelter and other needs as a responsibility.

Unfortunately for most of the poor parents, they expect to freeload and pass those responsibilities to the government which is wrong because governments are not created as a big charity organization, at least not directly and they don't even care (uneducated) or apathetic having dozens of children even if it's outside their capability, so instant converts for the church?

Government should educate them about the situation and

It should be on the family's decision, if they want to use artificial or natural,

If the RC church really is confident that their flock obeys their doctrines, then why be insecure? Or is it really, majority of Catholics (except the hardcore ones) does not really care or oblivious of RC Church's laws/doctrines based on my experience.
From
natasha
, who believes that there are other, more pressing problems that the government should focus on:
Our govt should get its act together and focus on improving education, healthcare facilities, livelihood training, etc...So much money gets wasted on corruption and bills such as this.
The real causes of poverty are massive corruption and poor governance. Pouring billions on such a bill as this and contraceptives won't solve the problem.
Reader
Sam
replied to natasha, explaining that the RH bill is not a panacaea to the country's poverty:
It's not designed to 'solve' the problem. It will help. There are many more things that need to be done as well. However, feeding 3 children instead of 10 is obviously easier if you are poor.
From
just_anotherperson
, who explained how parents with a "contraceptive mindset" might perceive an unplanned child:
No to RH Bill.


A couple that uses contraception establishes a "contraceptive mindset," so that even if a child is conceived that child is unintended and thus unwelcome.
Observer
Htims
disagreed, saying it is entirely up to parents to love their children, unplanned or otherwise:
Naubos na ba ang mga arguments ng mga anti-rh at 'cpntraceptive mindset' nalang ang natira. That argument of yours doesn't even make sense. Nasa magulang na yun kung mamahalin nila ang anak nila o hindi, accident or not.
I am not surprised that you cannot make sense of my comment but I am quite sure that those who value obedience to God's will find meaning in those words.
"God's will" you say, and what is God's will? Whose version? Whose interpretation? Christianity? Is God's will only revealed through Christianity? According to who? Aside from the catholic church there are over 30,000 Christian denominations because they all have their own interpretation. So, which of the 30,000 christian religions has God's will? And how about the other non-Christian religions that have comprised the majority of humanity at present and throughout all history? Have you judged that their version of God's will is wrong and only yours is right? And for argument sake, let's say your version of God's will is right, may I ask what is it based on? How have you come about that God's will is in contradiction to RH bill?


The Catholic church proclaimed it is "God's will" when they brutally massacred everyone in Jerusalem during the crusades. They also proclaimed that it is God's will when they tortured and murdered thousands during the inquisition. This term "God's Will" has been one of the most used justifications for many of the most horrific crimes, wars, and tragedies in the history of humanity.
Lastly, the following is from
acidic boy
, whose wry and tongue-in-cheek comment underscores the current plight of many poor Filipinos:
yah. who cares about the girls who does not know better and get pregnant and end up in some illegal abortionist's table? or worse, ends up with a wire hanger in her hand?


and who cares about those aborted babies dug up in some trash heap, or some toilet bowl, a product of severe poverty and ignorance?


and who cares about the uninformed wives who does not know the concept of family planning, while she struggles with feeding her 8 kids with her husband's P400 a day wage?


and who cares about the ever increasing number of kids loitering our streets, asking for alms, whose future is as bright as catacombs, and their numbers going up by the day?


and who cares about teenagers who know nothing about sexual education and think this is just all play?


yah, as long as my soul is clean because my parish priest says so, right? who cares. good news indeed.
What's your say? — TJD, GMA News
---
Selected comments do not reflect the views of GMA News Online.