Arlovski, Aoki, other MMA Superstars, land in Manila for One FC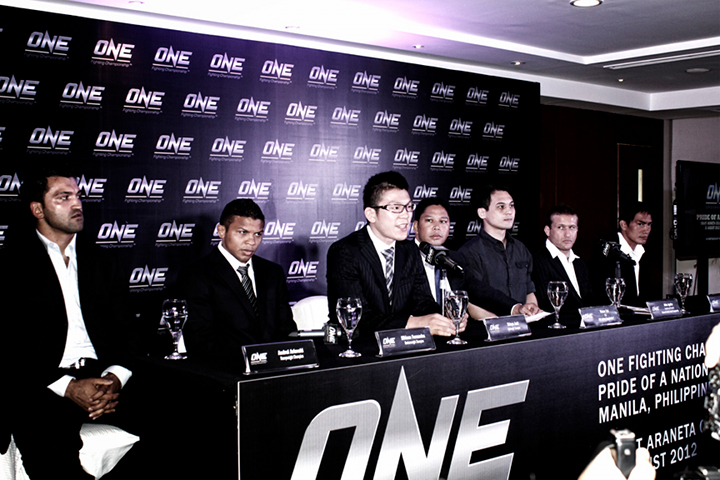 Shinya Aoki (center) fields questions via a translator during the One FC press conference. Joser Dumbrique
When One Fighting Championship (One FC) comes to town, expect blood and spectacle, especially when you have a card that includes two former UFC champions.
The press conference at the Discovery Suites, Origias, is packed, a testament to the growing popularity of mixed martial arts and fighting leagues. One FC, chaired and owned by Fil-Canadian CEO Victor Cui, is fast garnering its own devoted following. It's been hailed as the heir to the now defunct Pride FC, a league based in Japan that was the premier Far East organization for MMA in its day.
One FC 5: Pride of a Nation, is set to rock the Smart Araneta Coliseum on August 31 with former UFC heavyweight champion Andrei "The Pitbull" Arlovski going up against Australian fighter Soa "The Hulk" Palilei as the main event, inside the cage.
Alongside the league debuts of former Dream champions Shinya Aoki and Bibiano Fernandes, Pinoy pride will be represented by Eric "The Natural" Kelly, who battles former UFC lightweight champ Jens Pulver, and Eduard Folayang.
Dubbed "The Landslide," Folayang is eager and ready for his comeback. As a former URCC champ of the welterweight division and one of the rising stars of One FC, Folayang is being hailed as the number one pound for pound MMA Pinoy fighter. He is a talent that One FC is hoping to develop and elevate into surpassing even Manny Pacquiao, riding on the popularity of mixed martial arts.
"Eduard is 100 percent committed to his career and humble, almost to a fault," said Cui.
Meanwhile, although his opponent remains undisclosed, Folayang has been busy preparing by spending intense training sessions in the Team Lakay camp of his hometown of Baguio City, located among the peaks of Benguet province, at an elevation of 5,000 feet above sea level.
"Nag-training ako sa Baguio sa high altitude pero nagte-training uli ako dito sa patag," said the soft spoken Folayanag. "I'm 80 percent almost finished with training and 100 percent ready to fight!"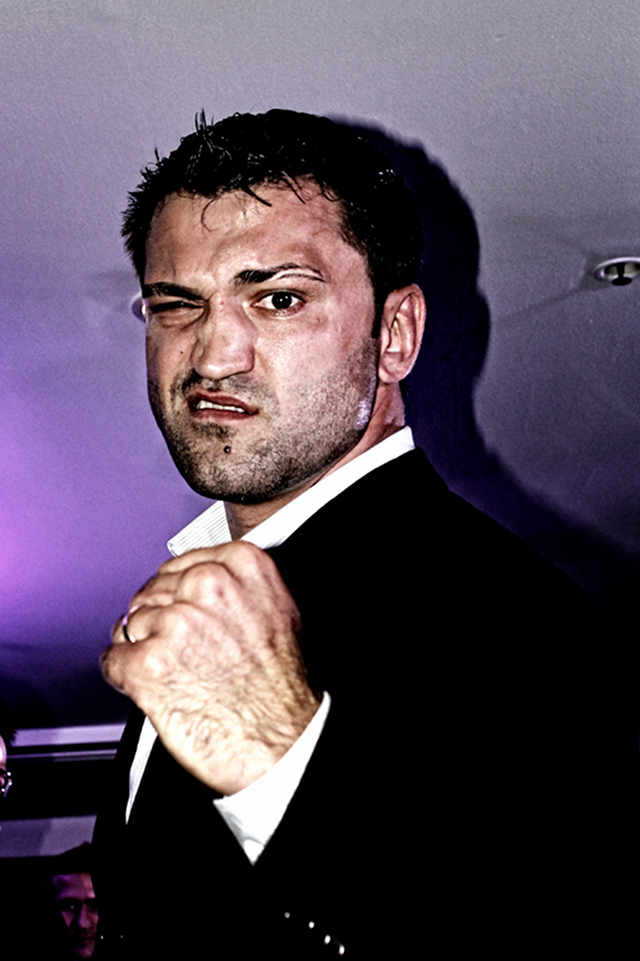 An upbeat shot of Belarusian fighter Andrei "The Pitbull" Arlovski indicates he's ready to fight. Joser Dumbrique
If you've watched the Ultimate Fighting Championship or played any of the franchised videogames like UFC Undisputed, E.A. MMA, or Supremacy MMA, then you'll be familiar with the likes of Jens "Li'l Evil" Pulver in his signature mohawk, Shinya Aoki, or the pneumatically carved Russian juggernaut Andrei "The Pitbull" Arlovski.
While Aoki, an extremely popular fighter from Tokyo and one of the best grapplers in the world, was terse and polite, answering questions via his translator, Arlovski was upbeat. He seemed genuinely thrilled, articulate in his Russian-accented English, exhorting his excitement at going up against "The Hulk" Palilei and having the opportunity to be on One FC, on the path to rebuilding his MMA career after suffering four consecutive losses between 2009 and 2011.
The six foot four, 250 lbs, Belarusian fighter, clean shaven without his familiar beard, replied to questions with wit, class, and good humor, wrapping up with "Hopefully I'm going to make a new fan base in the Philippines."
It will definitely be an explosive main event, to say the least, especially since "The Hulk" Palilei is riding a seven fight win-streak, with every one of them coming by TKO in the first round.
Still, as CEO Victor Cui, reminds us, Arlovski is no pushover and is on a comeback warpath of his own after earning a pair of wins under the ProElite league.
"[Pacquiao boxing coach] Freddie Roach has said of [Arlovski], 'Andrei has the most lethal hands in MMA.' You better believe he's ready to start dominating [the heavyweight division] here in Asia," said Cui. "He's going to bring it."
- AMD, GMA News