NCAA
:

Adeogun returns, leads San Beda to a rout of EAC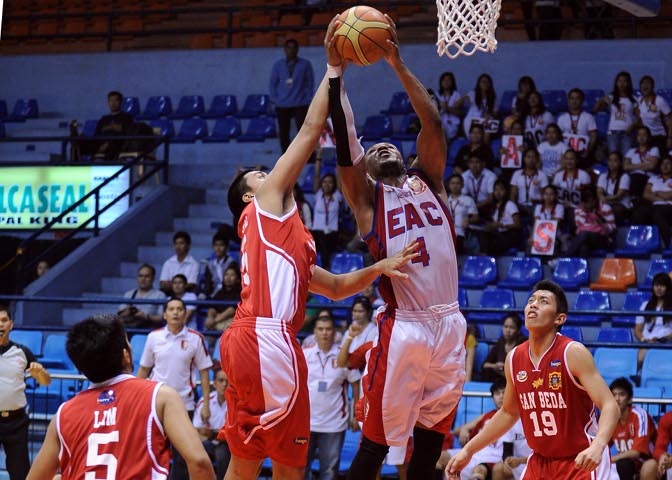 Noube Happi (right) is met in mid-air by Red Lions captain Jake Pascual with the sound rejection.
KC Cruz
The reigning back-to-back champions San Beda College Red Lions welcomed Nigerian center Ola Adeogun back with a swashbuckling 81-65 victory against a hapless Emilio Aguinaldo College Generals squad on Thursday at the FilOil Flying V Arena, staking out a share of the lead in the 88th season of the NCAA.
Coming off a four-game suspension for his role in a volleyball match brawl last December, the 6'9" Adeogun finished with nine points along with 14 rebounds and four blocks to help the Red Lions control the paint en route to a 4-1 win-loss record.
"He [Adeogun] is truly a blessing," said Red Lions mentor Ronnie Magsanoc. "He showed what character he has because he was always ready. If he plays that way, our chances are very big this season. We've been struggling because of our small frontline."
Adeogun, however, said it was just an ordinary outing for him, and that the important thing was the win.
Rome dela Rosa tallied 15 points along with eight rebounds and five assists, while Baser Amer scored 15 points along with seven assists and five boards for the Red Lions, who also committed just eight turnovers – a season-low.
The Red Lions started the third period with eight straight unanswered points for a 48-33 edge and never looked back.
The loss was the fourth straight for the EAC Generals, who remain at the bottom of the standings with a 1-4 win-loss slate. Jan Jamon powered the Generals with 18 points, including five straight early in the fourth that cut their deficit to 65-57.
Center Happi Noube added 14 points and 16 boards for the Generals.
San Beda was down, 15-16, entering the second frame, but the Lions got down to work in the last two quarters and established a 65-49 lead entering the fourth.
"We saw what we lack against our loss to Perpetual and that's a big man at the middle," said Magsanoc. "Now with the return of Ola, we'll be a contender."
- AMD, GMA News
The scores:
SBC 81 – Dela Rosa 15, Amer 15, Caram 13, Pascual J. 11, Adeogun 9, Lim 8, Pascual K. 4, Dela Cruz 4, Mendoza 2, Koga 0.
EAC 65 – Jamon 18, Happi 14, Monteclaro 10, Tayontong 5, Yaya 5, Munsayac 5, Sanchez 4, Morada 2, Chiong 2, King 0, Paguia 0.
Quarter scoring:
15-16; 40-33; 65-49; 81-65
Inboundpass has been covering collegiate basketball for six years. For more NCAA stories and information, check out inboundpass.com and follow Inboundpass on Twitter at @inboundpass