NCAA
:

Altas put out Blazers, stay tied for top spot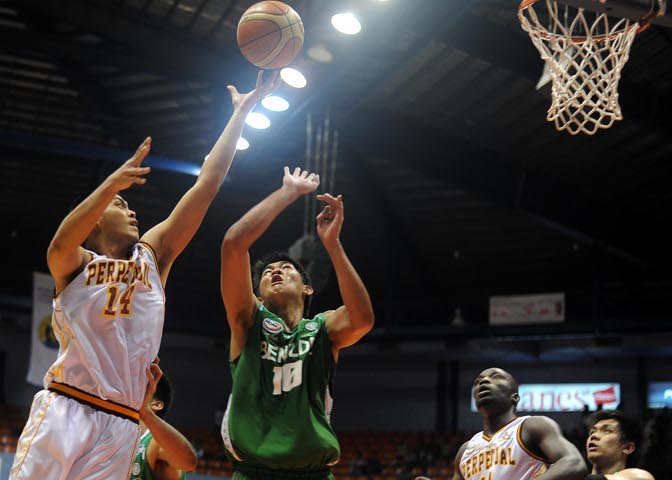 Anthony Paulino (left) arcs up a shot over the defense of Benilde's Roberto Bartolo.
KC Cruz
After a forgettable first two quarters, the University of Perpetual Help Altas unleashed a sturdy second half surge to squeeze out a convincing 84-64 rout of the College of St. Benilde Blazers in the 2nd game of July 19 of NCAA Season 88 at The Arena in San Juan City.
Earl Thompson had an impressive overall performance with 16 points along with 11 rebounds, 9 assists and 5 steals, while the rest of the team managed to offset an atrocious 6-of-22 shooting night for Jett Vidal, to help Perpetual tie San Beda on top of the standings with a 4-1 win-loss slate.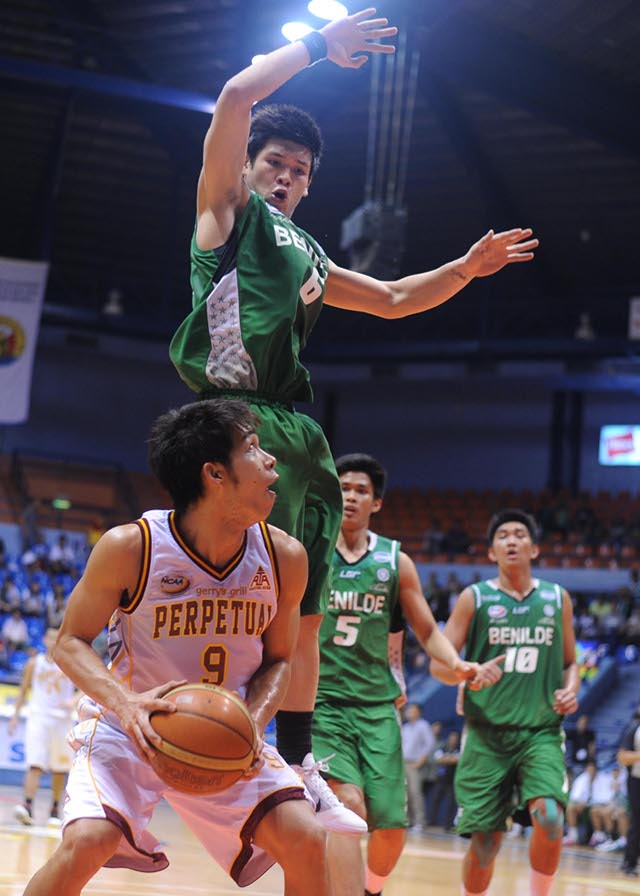 Harold Arboleda gets Carlo Lastimosa to bite on his shot fake.
KC Cruz
"Ayaw talagang pumasok noong una but I made most of my attempts in the last two quarters. I'm thankful for their [his teammates'] patience," said Vidal, who scored 12 of his 16 markers in the pivotal fourth quarter run.
"I practice a lot everyday and it turns out successful," said Thompson, who hails from Digos, Davao. "I'm so thankful to coach Aric providing us enough confidence during the huddle."
The Altas trailed 32-29 at halftime, but came out scorching in the third period, unleashing a tremendous 28-7 rally to snatch the lead, entering the fourth quarter, 57-39.
Perpetual's biggest margin stood at 27, 80-53 with less than two minutes left to play.
"I never expected this [kind of game in the second half]," said coach Aric Del Rosario of the Altas. "We were badly beaten by Saint Benilde during the preseason tournaments. I told them to keep this moment."
The Altas are now a win a way from matching their number of victories from last season, five. Nicholas Omorogbe, Anthony Paulino and Chris Elopre finished with 14, 11, and 10 points, respectively, for the Altas.
Jonathan Grey scored 13 points for the Blazers, who are now at 2-4. The Altas' solid defense limited standout guard Carlo Lastimosa to only five points.
- AMD, GMA News
The scores:
UPHSD 84 – Vidal 16, Thompson 16, Omorogbe 14, Paulino 11, Elorpe 10, Babayemi 7, Arboleda 6, Allen 2, Asuncion 2, Jolangcob 0, Alano 0, Cenita 0
CSB 64 – Grey 13, Romero 10, Tolentino 10, Taha 7, Bartolo 6, Lastimosa 5, Sinco 4, Altamirano 3, Ongteco 2, Garcia 2, Carlos 2, Deles 0, Maconocido 0
Quarter scoring:
17-18; 29-32; 57-39; 84-64
Inboundpass has been covering collegiate basketball for six years. For more NCAA stories and information, check out inboundpass.com and follow Inboundpass on Twitter at @inboundpass