Coffee and nerves don't mix: the battle of the baristas
Does drinking coffee make you nervous? Probably, if you drink more than your usual fix of caffeine.
But for the young student baristas battling it out for a slot in the finals of the Philippine Barista Cup 2012, they can never have too much.
In fact, they made it a point not to drink coffee before the competition. Unfortunately, their hearts palpitated all the same. Coffee and nerves shouldn't mix, though, when you're given just a few minutes to brew 12 cups to perfection, and in front of a panel of judges to boot.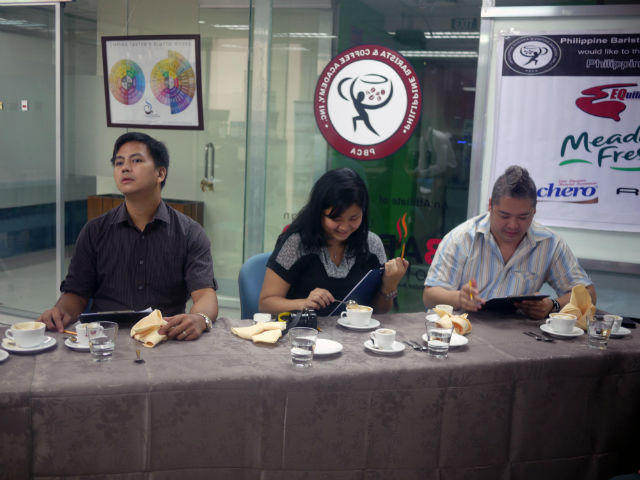 Manila's coffee experts make the panel of judges in the elimination round of the Philippine Barista Cup 2012, student category.
Now on its fourth year, the contest is Philippine Barista and Coffee Academy's (PCBA) annual competition among both students and professionals. For the student category, the elimination round among participating schools was held in the PCBA office on July 18, where only six out of the 11 contestants will move on to the finals in the World Food Expo (WOFEX) happening on August 3.
"It's showcasing the Filipino talent sa coffee preparation. Also providing a venue where you can interact with professionals and experts. At the end of the day, we just want to raise the bar, the awareness of the Filipino sa coffee, na world-class ang coffee at barista ng bansa," said PCBA School Director Susanna Edilo.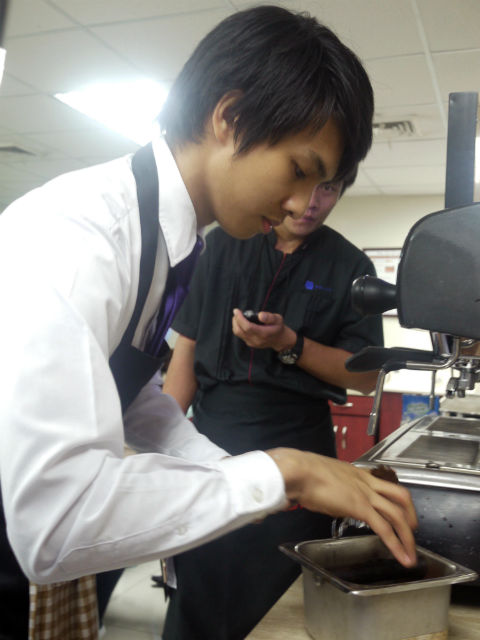 Pressed for time, Aldrin Lumaban stays calm and finishes his last cups of coffee.
12 cups in 13 minutes
The battle of the baristas has all the ingredients of a proper food reality show: a panel of stern-looking, coffee-sniffing connoisseurs, espresso machines that hissed, steamed and cackled, a huge digital clock that blinked, referees clad in black whose hands gripped timers, minus, of course, the studio lights, cameras at every corner, and the all-knowing food commentator.
The students were given 10 minutes to prepare their coffee paraphernalia. The make-or-break part, however, was the 13 minutes allotted to brew six cups of espressos and six cups of cappuccinos. This included presentation, engaging the judges with small talk and serving the coffee. Exceeding the time limit will automatically disqualify the contestant.
Though it was nerve-wracking, fourth year culinary arts student Aldrin Lumaban of the Lyceum of the Philippines was able to beat the time at 12 minutes and five seconds.
"Noong nagsasalita po ako, kabado po talaga ako, tapos pagharap ko po sa machine, I felt comfortable na po. Sabi ko na lang po, 'I can do this.' 'Yung coffee po kasi, a little mistake, naaapektuhan na 'yung lasa and presentation," Lumaban said.
One of the crucial criteria for judging is consistency in every cup, so a pair of shaky hands can ruin the taste and appearance. But as in any contest, mistakes cannot be avoided.
"May mga mistakes po ako pero hindi ako nagpahalata. Hindi dapat nawawala ang confidence mo. So kung alam mong bad shot 'yung coffee, hindi po kailangan mag-react na dismaya. Kailangan poker face," he added.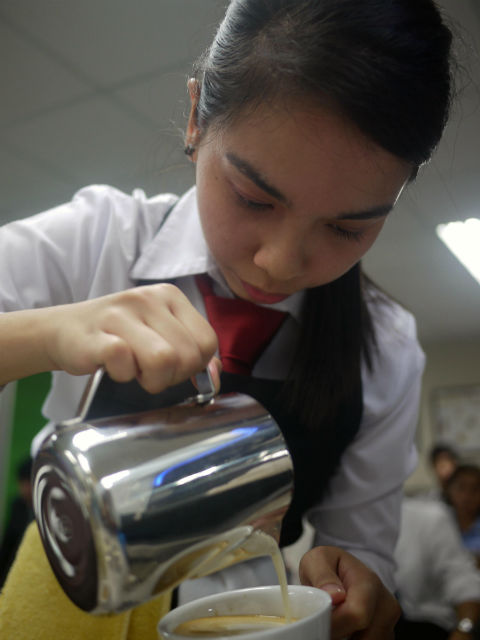 Queenie Basallo carefully pours milk on her cappuccino.
The perfect cup
Most students were given only less than a month to prepare. Luckily, fourth year hotel and restaurant management student Queenie Basallo from the University of Santo Tomas recently competed in a previous barista contest, so she was getting used to the pressure already.
Asked what she thinks makes a good cup of coffee, she answered, "the temperature of the coffee must not be too hot. Smoky flavor, nice aroma and a taste of acidity."
The panel of judges were coffee experts Manny Torejon, a barista trainor for 10 years; Wency Dalanan, owner of Bean Addicted and coffee consultant in various coffee shops in Manila; food and beverage specialist Michael Canlas; and KaffeCaffe owner and coffee lecturer Angela Ferreria.
Sip after sip of espressos, Canlas said he was looking for a consistency in both color and taste.
"Basically we're looking for color, somewhere between hazelnut to reddish brown, good thickness. Appearance should have syrupy consistency… Finished product should have about one ounce in volume. Taste should be balanced," he said.
Ferreria, on the other hand, said a perfect cappuccino for her is a cup with a "balance of the milk and the espresso. The milk shouldn't be overpowering the coffee… Dapat andoon pa din 'yung coffee. And then of course the circulating krema or the foam on top should always appear."
Six finalists
By the end of the five-hour ordeal, six contestants proved themselves worthy to the judges.
The finalists are Aldrin Lumaban (Lyceum of the Philippines), Queenie Basallo and Jose Paulo Abiog (University of Sto. Tomas), Earl Esqueron (Far Eastern University), and Angelo Anton and Erik Delos Reyes (University of the East).
The Philippine Barista Cup 2012 will be held on August 3 at the SMX Convention Center, where they will undergo the same battery of tests. This time, however, they will have to make their own original beverages. More than skills, it's the creativity of the barista that will spell the difference.
It's less than a month from now, but the young baristas are already flexing their muscles and looking for sources of inspiration.
Lumaban said he's determined to do his best and make his school proud. "Iniisip ko po talaga 'yung pressure. Nakakakaba po mas lalo doon kasi may nanonood ng crowd. Then may international judges din. Kailangan lang talaga malagpasan 'yung kaba."
Hopefully, on the day of the finals, nerves won't overpower the coffee for these young baristas.
— KG, GMA News