Top 10 cities for street food
LOS ANGELES — Summer holidays are definitely on by now and wherever you go there will be street food. In many countries that doesn't mean a hot dog on a bun, but a delicious celebration of culinary heritage. In honor of those mouth-watering meals abroad, the members and editors of travel website
VirtualTourist.com
have compiled a list of the "Top Ten Best Street Food Cities."
Reuters has not endorsed this list:
1.
Bangkok, Thailand
Few places in the world, if any, are as synonymous with street food as Thailand. For the variety of locations and abundance of options, we selected Bangkok, Thailand, as our number one spot for street food. Bangkok is notable for both its variety of offerings and the city's abundance of street hawkers. VirtualTourist members recommended Soi Rambuttri, a U-shaped lane off of Khao San Road and near Wat Chana Songkhram, as a great spot in the old district of Bangkok. One member lovingly described his last meal there: after getting an enormous Pad Thai from a street vendor against the wall, he turned 180 degrees to find an open air beer garden. Another highly recommended spot is Soi 38 near Sukumvit, which is almost like an evening food market, running until about 3 am, and very close to much of the city's best nightlife. Green Papaya salad bruised on a stone pestle, mango sticky rice, pad Thai (stir-fried noodles with egg, fish sauce, tamarind juice, red chili pepper, and a combination of meat, garnished with crushed peanuts and lime), and chicken with green curry are all some of the Thai specialties our members mentioned finding in Bangkok.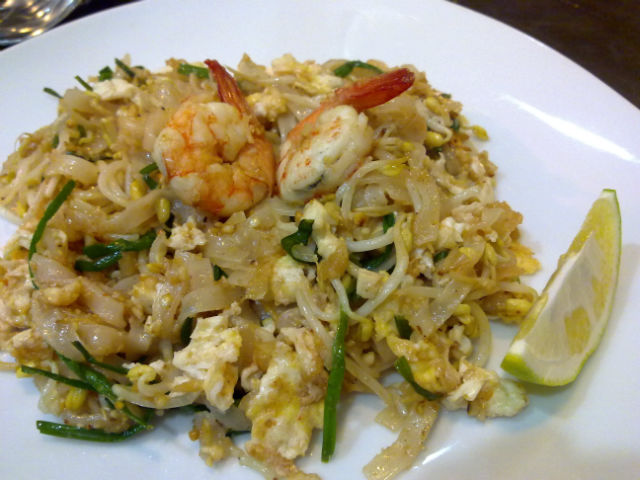 Pad Thai is a popular Thai specialty. GMA News
2.
Singapore
The undisputed up-and-coming spot for street food in Southeast Asia is Singapore, though street food already has a long history in the city. In the 1950s and 60s, "street hawking" was an incredibly popular trade, however, the abundance of street hawkers eventually created sanitation and public health issues. In 1968 and 1969, all street hawkers were forced to register, and for the next fifteen years, the government relocated hawkers to "hawker centers." These centers can be described as a hybrid of a food court and an organized market with street food stalls. While this structure lacks the spontaneity and theatrics of say, Mexico City, it has led Singapore to gain the reputation as having one of the safest and most reliable street food cultures in the world.
Singapore's cuisine is reflective of its interesting position in Southeast Asia and the multi-cultured mix of Chinese, Malay, Indian, and Peranakan (Straits-born Chinese that intermarried with Malays) citizens who call the island home. The city's specialties include Hainanese Chicken Rice, comprised of steamed chicken with a jelly-like layer with rice, cucumbers, chilies, and pounded ginger; chili crabs, which come slathered in a garlicky and fiery paste; laksa, a spicy Peranakan (Chinese & Malaysian) noodle soup; and satay, skewers of marinated and grilled meats served with a peanut sauce.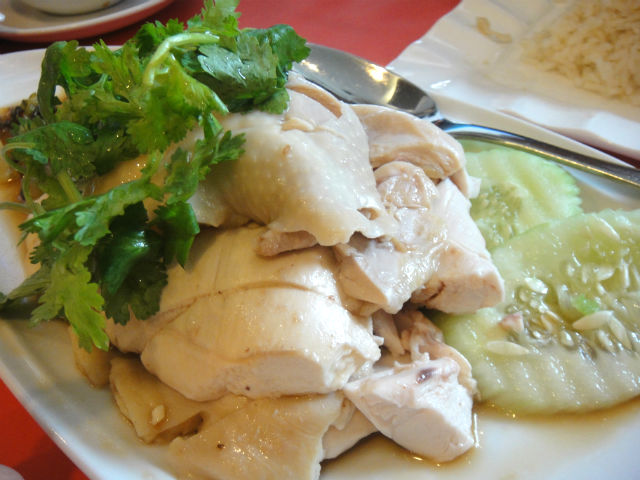 Hainanese Chicken Rice, comprised of steamed chicken with a jelly-like layer with rice, cucumbers, chilies, and pounded ginger. GMA News
3.
Penang, Malaysia
One of the surprising aspects in researching this article was our member's overwhelming enthusiasm for Penang, a small state and island on the northwest coast of Peninsular Malaysia, as one of the best street food spots in Asia. Members credited the three large ethnic groups in Penang (Malay, Chinese, and Indian) as creating both a great variety in the street food, but also a multicultural influence on the cuisine as a whole. One member even stated he had better Indian food in Malaysia than he had in India! The Little India and Chinatown areas of Georgetown, on Penang Island, are noted for their hawkers and cuisine. Char koay teow (stir-fried rice noodles), Assam laksa (a tart, hot and sour fish soup), roti (Indian-influenced flatbread), and satays of beef, chicken, or even pork are all suggested.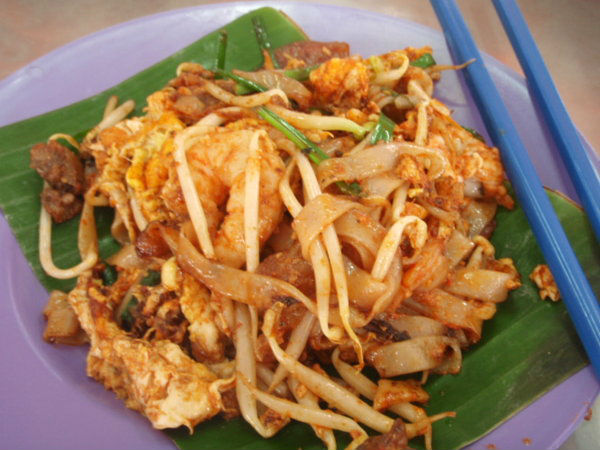 Penang Char koay teow is a tasty dish of fried flat rice noodles, scrambled egg, shrimps, and bean sprouts. GMA News
4.
Marrakech, Morocco
Multiple VirtualTourist members recommended Marrakech's main square, Djemaa el Fna, as THE spot to find your street food snack while in Morocco. Located in the city's medina quarter (old city), the square contains close to a hundred food stalls serving a variety of Moroccan cuisine that can be eaten at nearby wooden tables on the square. The options range from the standard Moroccan fare of roasted lamb and couscous, to more exotic fare like sheep's testicle and escargots, and they change as the day goes on. In the morning, stalls serve fresh squeezed orange juice, followed by eggplant, kebabs, and brochettes in the afternoon. As evening rolls around, enjoy some snails or harira soup (tomato-based spiced chickpea soup) to start, followed by tangine chicken, shwarma, or lamb.
5.
Palermo, Sicily
Italian cuisine is world-renowned, but the country's culture appreciates sitting and lounging over a meal, so though their pizza and gelato have a serious corner on the "To Go" food market, the Italian street food scene is surprisingly lacking. However, one VirtualTourist member was extremely passionate that her best street food experience was in Palermo, Sicily. Of the city's fried delicacies, our member recommended arancini (fried rice balls stuffed with meat sauce and cheese), crocche (Fried potato balls), panelle (friend chick peas pancake), and cardoni (fried cardoon), with panelle and cardoni as her favorites for their sour aftertaste. A typical Palermitano snack is "panino con la milza," or spleen sandwiches, available plain or "maritata," meaning with cheese. In addition to these specialties, it's still a great spot to get classic quick Italian foods like coffee granita, Sicilian pizza, gelato, and cannolis.
6.
Ho Chi Minh City, Vietnam
Vietnamese cuisine has received some major street cred in recent memory (Anthony Bourdain's praise comes to mind), and a quick visit to Ho Chi Minh City's Ben Thanh or Binh Tay Markets explains why. Similar to the other Southeast Asian destinations listed, the street food in Saigon embraces a mix of cultures, primarily the city's French colonial background with Vietnamese spices and ingredients. In addition to Vietnamese standards of pho and bánh mì, some other notable dishes include cơm tấm (cooked broken rice) with a fried egg on the top, Bo La Lot (seasoned beef in a leaf), and spring rolls. A member noted that no matter what Cơm tấm dish you get, it will always be served with nước mắm (fish sauce), and since each street food stall usually makes their own, people will often choose which stall to return to based on their nước mắm. However, since hawker registration and street food health standards aren't as stringent in Vietnam, travelers should be careful to always choose popular, crowded stalls with high turnover.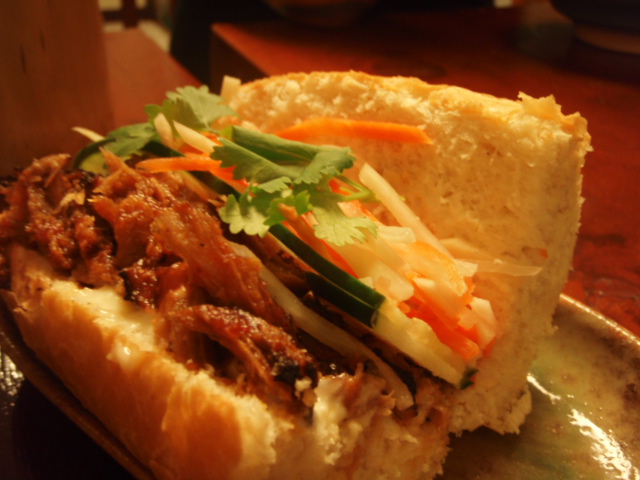 Bánh mì is a popular Vietnamese sandwich. GMA News
7.
Istanbul, Turkey
It's not hard to imagine why a city that straddles two continents is a must-see stop for street food. From the visually-striking stalls selling döner (lamb, chicken, or beef on a vertical skewer) to the balik ekmek (fish sandwiches) sold off of boats, one of the greatest attributes of Istanbul's street food is the variety of options. Mornings can start with simit, a ring-shaped bread topped with toasted sesame seeds and akin to a crisper bagel, afternoons begin with a kebab, and a snack of midye dolma (stuffed mussels) is a great break from site-seeing. Two locations noted for their street food are the beginning of Istikal Caddesi in Taksim, and near the Galata Bridge in the Eminonu area if you're hankering for a fresh fish sandwich.
8.
Mexico City, Mexico
While Mexican cuisine in other countries has sadly been oversimplified to the taco and quesadilla, a quick stroll around the Mercado San Juan, the La Merced, or Centro Histórico in Mexico City will open your eyes to a variety of antojitos (street snacks) available. Some aspects of Mexico City's street food are well-known, like tacos al pastor, made with pork and pineapple and served on small corn tortillas, but other treats have been adopted in so many places that it's surprising to find out they originated in Mexico. A perfect example of this is elote, or roasted corn on the cob, which is typically served with mayonnaise, cotija cheese, chili powder or flakes, and a squeeze of lime. One street food that may not have originated in Mexico, but was certainly perfected here, is the churro, a tube of fried dough then powered with cinnamon. In Mexico City, churros are often filled with chocolate or dulce de leche, but can also be known to include fruits such as guava. It's important for travelers to remember that the street food scene in Mexico City is not very well regulated. Play it safe, go to a spot that has been recommended to you or join one of the street food tours offered throughout the city.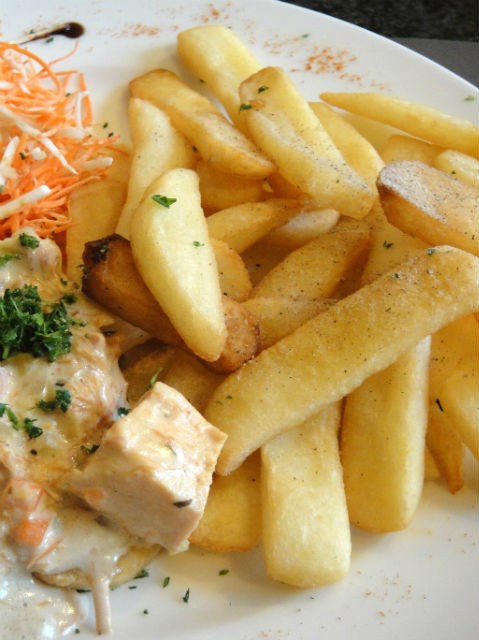 Frites are a staple when it comes to street food in Belgium. GMA News
9.
Brussels, Belgium
While we promised an article free of French crepes, we certainly can't compile an article on street food sans frites! Two stands vying for top spot in French-influenced Brussels are Frit' Flagey in Place Flagey and Maison Friterie Antoine in Place Jourdan, which is also famous for its variety of sauces, from the traditional Flemish topping of mayonnaise to a Brazilian take on ketchup and quatre poivres. Multiple VT members noted that waffles in Belgium, apparently vastly different from the American version of Belgian waffles, are alone worth the trip on the Eurostar. While the Brussels-style somewhat resembles the wide-spread notion of a Belgian waffle, the Liege waffle is denser and coated in a caramelized sugar. Either variety can be topped with powdered sugar, fresh whipped cream, strawberries and/or chocolate. One final treat not to miss are Brussels' shellfish specialties of moules frites (mussels served with fries) and caricolles (small snails boiled in broth).
10.
Beachside Ceviche in Ambergris Caye, Belize
While most street food involves a cart or a hawker center, isn't the definition of street food supposed to be fresh, on the go, and not in a formal restaurant? If we define it that way, it's impossible for us to not mention how great food can taste on a beach, freshly caught in salt water and prepared in front of you. While recouping from a snorkel or sail in Ambergris Caye, Belize, you might be offered red snapper or barracuda, but lucky travelers who visit Belize between September 30 and April 24 will be able to have conch ceviche, a seafood dish comprised of raw fish marinated in acidic citrus such as lemon or lime and spiced with chili peppers, cilantro, or regional spices. This specialty, at least the conch variety, must be enjoyed while it can, since conch recently became an endangered species and the season has actually been cut two months short for the time being in Belize. VirtualTourist members also recommended Peru, Costa Rica, and Isla Mujeres in Mexico as great spots to get some beachside ceviche. If you can't make it quite that far, a slightly easier option is My Ceviche, a small takeout window in South Beach, Miami, that despite only being open for two months has already garnered great word of mouth around town. —
Reuters