Local artists and jewelers showcase world-class designs in 'Perspectives'
It was a rare gathering of Filipino jewelers, artists, and craftsmen last July 14 when Objets d' Art presented a lifestyle trunk show dubbed "Perspectives" at One Rockwell in Makati City.
Its aim was to bring to fore local products and talents.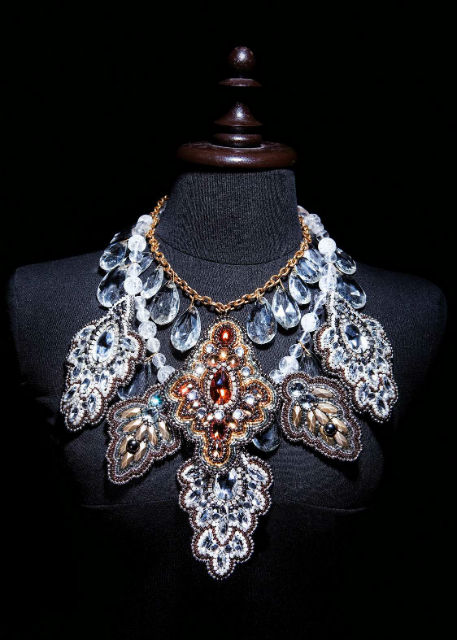 A neck piece by Nicole Whisenhunt
Participants were Gabriel Martel, Grace Guineffolean, Heima by Bong Rojales and Rossy Yabut, Joanique by Malou Romero, Jia Estrella, Maco Custodio, Maxine Syjuco, Michelline Syjuco, Narra, Natalya Lagdameo, Nicole Whisenhunt, Riqueza by Erica Concepcion, Sharmaine Ng with Evelyn Chua, and 13 Lucky Monkey.
The event was organized by friends and jewelers themselves, Malou Romero and Nicole Whisenhunt.
"We wanted to bring together local artists and their works and products who have been internationally recognized. Or those who have global potentials," Whisenhunt told GMA News Online.
"Aside from participants being local, we also made sure that they utilize materials sourced in the Philippines. In that way, they too serve as Philippine ambassadors for design," she added.
Filipino themes and traditions provided the inspiration for most of the jewelry shown.
There was for instance a piece of brass cuff dipped in gold with its gem uniformly supported by wires, an interpretation of the bayanihan spirit as the wires were likened to a group of Filipinos working together to accomplish a task.
Other inspirations were historical warfare, which gave some of the pieces a bolder look, and Filipino literary figures like Maria Clara that naturally gave feminine impressions on the jewelry.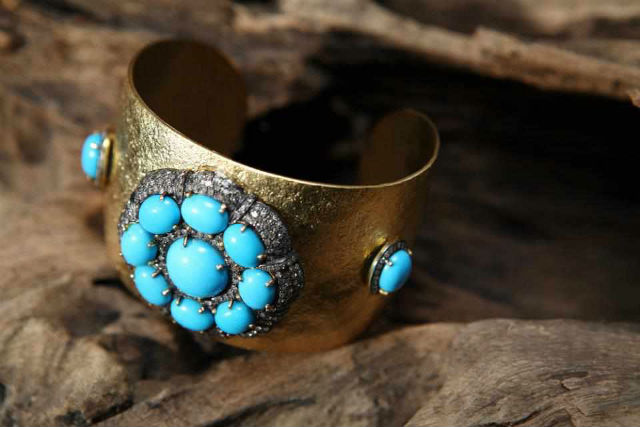 Malou Romero's Joanique Nahla Cuff of brass dipped in gold
An impressive display of minaudiere bags by Gabriel Martel also attracted guests.
Celine Gabriel, co-designer for Gabriel Martel, shared that "All the components are put together by hand by our very talented local artisans. Even down to the details of what you actually don't see, we make sure we use only top quality. One can take apart our bag and we won't be embarrassed by what will be found in the shell."
The Gabriel Martel bags are already sold in Europe and will soon be available in other parts of the world. To add to the Filipino touch, the company named some of their bags after local celebrities, like The Heart after actress Heart Evangelista. Other bags took after Philippine destinations like Manila.
"Perspectives" also had furniture on display.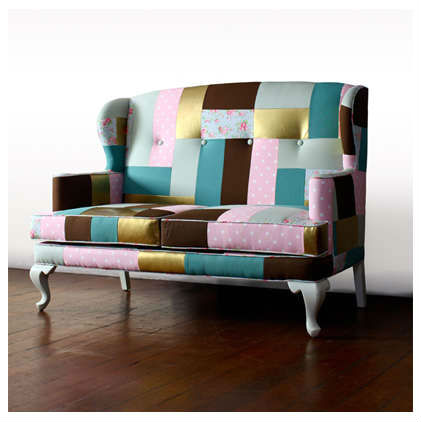 Heima's whimsical patchwork couch is proudly made in the Philippines.
One booth that particularly got the guests' attention was Heima. The very whimsical, eye candy furniture were too unconventional to miss. A patchwork couch, bench and armchair all served as exhibit items and places for tired guests to sit on. Room organizers came in pretty patterns. There was also a funky yet functional desk that drew the crowd.
Heima advocates a "carefree, indie, happy lifestyle" explained its sales associate. "The happier fact is it doesn't take much to own one. Although inspired by foreign culture, Heima is quality made Filipino, and proudly so," she added.
To complete the lifestyle trunk show, artists from Artinformal showcased their paintings, sculptures and other works of art.
Artinformal is a group of contemporary Filipino artists who want to bring art and its practice closer to the community through exhibitions and art education. It progressively promotes Filipino artists in art markets and cultural institutions in Asia and elsewhere.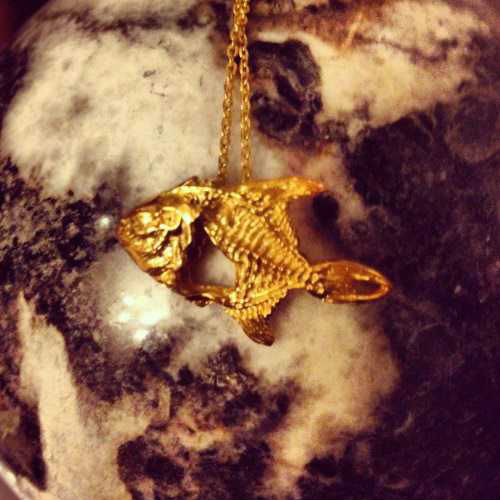 A Narra fish necklace of sterling silver dipped in gold
Gigi Lapid of Artinformal was excited with the collaboration of different artisans at the event, saying it is attuned with their recent thrust of "bringing its artists to an international platform by way of partnerships with organizations sharing the same goal, established galleries abroad, and participation in events and major art fairs."
Due to the success of the event, Romero and Whisenhunt agreed to make the trunk show an annual gathering. From its humble beginnings last year, the event has doubled in number in terms of exhibitors and guests.
Visitors shared their thoughts over cocktails, and one of them said, "This also saves us a lot of time because it is rare to have all these products under one roof. We usually travel just to see one from the other. And it's nice to be acquainted with these local brands." —KG, GMA News

All photos courtesy of Objets d' Art