INTERACTIVE
:

Who are the 20 nominees for next Chief Justice?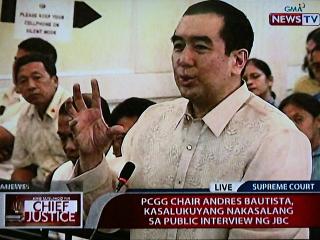 JBC panel interview for next CJ begins with Andres Bautista. Former law school dean Andres Bautista is the first to face the Judicial and Bar Council. Twenty one other nominees for Chief Justice are set to follow in marathon interviews until Friday. The nominees are being interviewed in alphabetical order. Screen grab from GMA News TV live coverage
The marathon interviews conducted by the Judicial and Bar Council are just the latest stage in a historic period for the Supreme Court, triggered by the conviction and removal from office of former Chief Justice Renato Corona. His successor will preside over a new era in the judiciary expected to be marked by greater transparency and accountability. But he or she must first be chosen.
Who are the 22 nominees for Chief Justice? GMA News Online has summarized their qualifications and experience into this interactive guide.
Source: Personal data sheets from the Judicial and Bar Council
- Infographic by Anna Mae Lamentillo, Analyn Perez, Wayne Manuel, Paolo Ferrer, GMA News