Party-list lawmakers, youth leaders dismantle PNoy SONA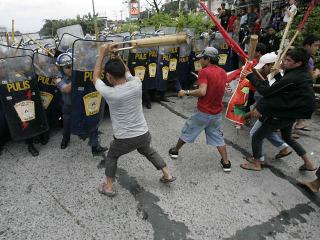 Anti-PNoy militants clash with police. Anti-Aquino activists clash with policemen during a protest march in Manila on Monday. President Benigno Aquino III is set to deliver his State of the Nation Address at 3 p.m. Danny Pata
President Aquino III will likely boast of his accomplishments under his term despite failing to live up to his promise of change, militant lawmakers said Monday hours before the President was to deliver his third State of the Nation Address (SONA).
Teddy Casiño of Bayan Muna party-list said the third Aquino SONA would be a "pulpit" for the President to boast about the impeachment of former chief justice Renate Corona and the filing of charges against former President Gloria Macapagal-Arroyo.
"That is what the SONA is all about. Accomplishment report ng Pangulo," Casiño said.
"Wala tayong nakikitang makabuluhang pagbabago as far as the plight of the ordinary people is concerned," the party-list representative noted.
On the economic side, Aquino is likely to highlight the country's $1 billion loan to the International Monetary Fund and the 6.4 percent growth in output as measured by the gross domestic product, said Casiño.
These numbers, however, have not been felt by ordinary people, according to the Bayan Muna representative.
"Ang problema talaga paano 'yan makakarating sa baba gayung ang patakaran niya ay biased in favor of the rich and big corporations," Casino said.
Kabataan party-list Representative Raymond Palatino noted Aquino would also highlight the dispute with China over Panatag Shoal.
But youth sector representative said he does not expect an honest assessment of the nation's condition in Aquino's SONA.
"That's why it's important na meron ganitong okasyon – ang pag-i-expose sa bankrupt governance at deceptive posturing bilang reformist," Palatino added, citing the demonstration of militants along Commonwealth Avenue near the House of Representatives where Aquino will deliver his address.
A leader of a youth organization, on the other hand, said he does not expect anything new in Aquino's third SONA.
National chairperson Vencer Crisostomo of Anakbayan called Aquino "sirang plaka," adding that the true state of the nation will be heard during the street's demonstrations.
"Ngayon inaasahan natin na uulan raw at babaha. Doon (Congress) uulan ng kasinungalingan sa loob ng kongreso at babaha ng palusot," Crisostomo claimed.
Aquino's "daang matuwid" is an "express lane" for landlords and businessmen, but a "killer highway" for the masses, he further alleged.
"Dito sa labas mukhang maganda ang panahon. Kung merong dadaluyong rito, yun yung protesta ng mamamayan," he added. — VS, GMA News