7 protesters, priest sent to hospital after SONA clash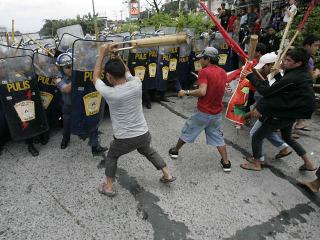 Anti-PNoy militants clash with police. Anti-Aquino activists clash with policemen during a protest march in Manila on Monday. President Benigno Aquino III is set to deliver his State of the Nation Address at 3 p.m. Danny Pata
Eight protesters, including a priest, were sent to the hospital with head injuries after a clash with police officers during President Benigno Aquino III's third State of the Nation address.
Health Alliance for Democracy, or HEAD, a national organization of health professionals and students, reported that 32 others had minor injuries and were treated by medics on site.
According to HEAD, those who were sent to the hospital are: Gershon de Jesus, 19; Ace Vargas, 26; Paolo Rosaroso, 20; Anthony Jasayan, 20; Cara Salvador, 18; College Editors Guild of the Philippines (CEGP)-NCR chairperson Romina Astudillo, 23; Lloyd Castañeda of Migrante International; and Father Rene delos Santos.
HEAD vice chairperson Gene Nisperos said that most of the more badly injured were from the youth party Anakbayan.
The eight were part of a group who was protesting along Commonwealth Avenue that attempted to get through a fence blocking the way to Congress.
According to Quezon City Police District Chief Superintendent Mario dela Vega, the protesters destroyed the fence and were throwing rocks when police officers started hitting them with truncheons.
Dela Vega added that the police officers pushed the protesters back because they were breaching an area prohibiting demonstrations.
He said that the protesters had originally agreed to hold the rallies in front of the Ever Gotesco. "They [the police] have to push them back to their original positions," he told GMA News Online.
However, legal counsel for the protesters, Terry Ridon, said that the police violated the protesters' right to free expression, and that the protesters had the right to march straight to Congress because their permit to rally was deemed granted after two days of inactivity by the city hall.
"What the police did is illegal blockade. Violence ensued because the police blocked the path of the protesters," said Ridon who us a member of the National Union of People's Lawyers. — BM/DVM, GMA News