NCAA
:

Bombers deal Altas second loss, stay in step for first place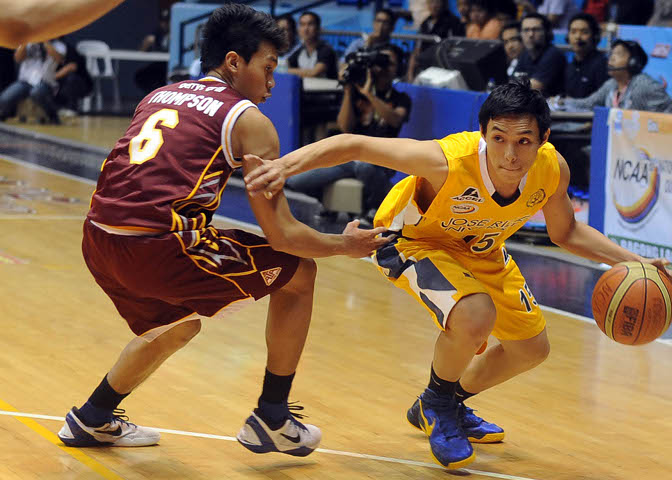 John Villarias (right) frustrated Earl Thompson all game long, holding him to just 12 points.
KC Cruz
Jose Rizal University Heavy Bombers head coach Vergel Meneses didn't fall for University of Perpetual Help System Dalta Altas mentor Aric Del Rosario's magic spell.
The Bombers, with a strong defensive game, snapped the Altas' two game-winning streak, on route to earning their fourth win, 64-59, Monday at the FilOil Flying V Arena, in the 88th season of the NCAA.
"We never gave up on our defense, even they were shooting far from the basket," said Meneses.
The Heavy Bombers shut down rising star Earl Thompson, limiting him to a season-low 12 points, but conceded 20 to Altas crackshot Jett Vidal, who waxed hot with 20 markers. Overall, the Altas shot just 35 percent from the field.
"We also stopped their fast breaks and dive[d] for every loose ball. It's our defense that helped us," added the JRU mentor.
"It's not our night," said the legendary Del Rosario, who is best known for steering the University of Santo Tomas Growling Tigers to four straight championships in the 90's.
"JRU played good defense and we failed to make a shot in the crucial minutes, but we will regroup in our next game."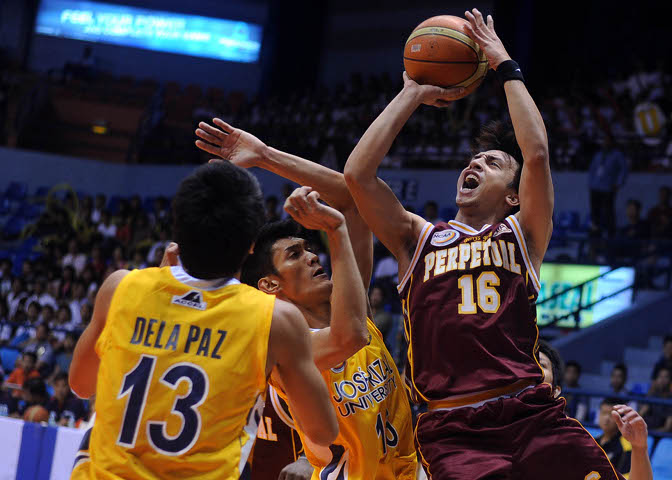 Jett Vidal (right) dropped 20 points, but it wasn't enough to lift the Altas.
KC Cruz
JRU took a 51-48 lead and successfully extended it to 60-53, with Alex Almario canning charities with four minutes left, but his point guard counterpart on the other side of the floor, Chris Elopre, made some crucial baskets to keep the Altas within striking distance, 61-58, at the 1:40 mark of the final period.
Elopre then stole the ball from Almario and drew a foul, splitting his charities with 16.2 seconds left to cut the JRU lead down to two, 61-59.
John Villarias, who finished with 10 points, then split his attempts from the free throw line, before Nate Matute added two more from the charity stripe to peg the final count.
Almario and Matute scored 12 points each for JRU, which kept in step with powerhouses San Beda College and San Sebastian College-Recoletos in the top spot in the standings, with all three squads boasting of 4-1 cards.
"We didn't allow ourselves to get intimidated," said Almario. "We tried our best and we were happy to overcome Perpetual."
JRU faces a quick turnaround as they face the Lyceum Pirates on Thursday, as does Perpetual Help, which clashes against Mapua on the same day.
- AMD, GMA News
The scores:
JRU 64 — Almario 12, Matute 12, Villarias 10, Mabulac 8, Lopez 8, Carampil 4, Dela Paz 4, Monserat 4, Camasura 2, Diapera 0
UPHSD 59 — Vidal 20, Thompson 12, Jolangcob 7, Elopre 5, Arboleda 5, Paulino 4, Babayemi 3, Alano 2, Omorogbe 1, Allen 0, Bitoy 0
Quarter scoring:
19-17, 29-30, 51-48, 64-59
Inboundpass has been covering collegiate basketball for six years. For more NCAA stories and information, check out inboundpass.com and follow Inboundpass on Twitter at @inboundpass