Komikon Indieket: A new haven for Pinoy talent
In this day and age of e-readers, web comics and Marvel superheroes, who has time for Pinoy komiks? To the casual Pinoy, komiks might mean "Darna," "Lastikman," people like Mars Ravelo and TV adaptations of titles long forgotten.
Apparently, there's a whole lot of other Pinoys who think differently. Welcome to Komikon Indieket.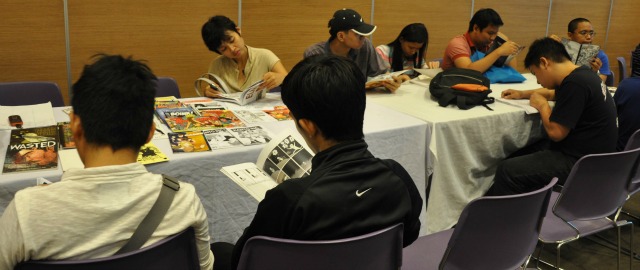 Komiks fans check out new titles at the reading corner. Oneal Rosero
An unconventional convention

Organized by Komikon Inc., Indieket was actually born of the bi-annual Komikon, which happens twice a year. Organizer John Zamar says, "At every Komikon we have limited space for independents, and every year their number keeps growing. It's such a waste na hindi nakakapasok 'yung iba. So that's why we decided we're going to hold an event, no holds barred. Anyone who registers can sell."

There were 60 booths at Indieket, held at the Bayanihan Center in Pasig on July 14. Over 100 independent titles were showcased at Indieket.

So what happens at Indieket? There are no cosplayers, no toys for sale, no free food, no video games. Instead, there's plenty of reading, drawing and autograph-signing.

Artists signed up to show off their titles, draw sketches or caricatures and meet other indie artists. Some more established artists gave talks, sharing their experience with rookies and hopefuls. Newer artists talked about their ideas.

But if you're not an artist, why go to Indieket?

Indieket is for komiks fans too, like Lorie and Pao.

Lorie works in social media and is a fan of Alamat Comics. "I've been reading comics since lumabas 'yung 'Sailor Moon' na manga. Gusto ko makita kung may bagong komiks na lalabas. Anything na Philippine folklore, babasahin ko."

Pao is an SEO specialist, "I've been reading comic books since I was young. I started with 'Funny Comics,' and I still read Marvel. Locally I read 'Trese,' 'Skyworld,' 'Beerkada,' 'Pugad Baboy.' If something catches my eye, I'll read it, just to discover new titles. I try not to miss any Komikon."
There is obviously a fervent outpouring of love and support for komiks.

Artistic license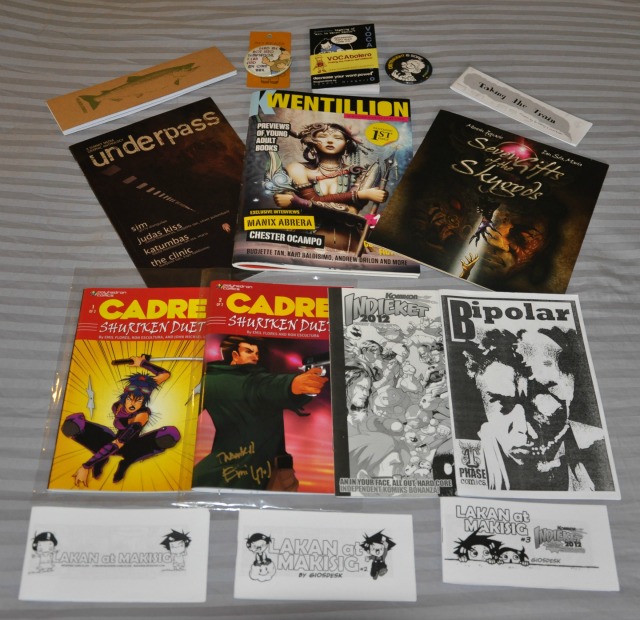 Just some of the komiks featured at Komikon Indieket. Oneal Rosero
In komiks, there are quite a few names that stand out, like Pol Medina. He started out in the late 80s and moved on to become a regular editorial cartoonist in the Philippine Daily Inquirer, which also ran his now famous comic strip, "Pugad Baboy."
As a veteran of the scene, Medina had this to say to new artists, "Mahirap maisingit 'yung paa mo sa pinto sa industriyang ito. Kaya maganda, kung ano man 'yung course nila sa college, tapusin nila. Medyo hindi ko ma-advise na ito na lang 'yung gawin nila. Ang hirap kumita. Kumuha kayo ng course na maglalagay ng title sa harap ng pangalan mo, o kaya sa dulo, tulad ng Pol Medina MD, o kaya Atty sa harap."

And then there's Lyndon Gregorio, whose "Beerkada" series has been syndicated in The Philippine Star. His latest offering is "Vocabolero," an alphabet book of puns. Selling for P100 with a pun-adorned pin, the book builds on the Pinoy love of missed translations, with definitions like "Somersault. English of 'Asin pa nga diyan.' This soup is bland, I need somersault."

Looming over all of them were veteran artists Danny Acuña and Rico Rival. Komikero invited them to sketch at Indieket, to raise funds for fellow artists who had suffered medical difficulties. Up for grabs at a silent auction were different sketches, with bids starting at P200 for some works. Artists also dropped by so that Rival and Acuña could critique their art.

Rival and Acuña were part of the generation of komiks artists whose works were published in Liwayway magazine and Pinoy Komiks. Legends like Alfredo Alcala and Mars Ravelo are among their peers.

Then as now, work opportunities were limited, and many of their generation migrated to the US to work. It was there that Rival had the chance of work on many early animated series like "Ghostbusters" and "Transformers." He was even part of the crew of "Transformers the Movie" in 1984. Some of Rival's colleagues have passed away, but he and Acuña keep busy at events like these.

Rival shares, "I'm now 73 years old, and I'm still at it! That's because I have the passion for it. Dapat 'wag mo aalisin 'yun. The moment you quit, that's the end of you."

He recalls, "Sina Mars Ravelo, Carlo Caparas, Pablo Gomez, tandem kami. Pero marami na ri'ng nawala. Ang latest si
Tony de Zuñiga
. Idol namin 'yan."

A patchwork quilt of talent

But the true stars of Komikon Indieket were the independents. Some of them were joining Komikon for the first time, like UP College of Fine Arts student Mica Agregado.

"Komiks are my passion. It's the only thing I want to do. I work more on my komiks than my school work. At Summer Komikon last year, I won the 24-Hour Comic Book Challenge. It's my first time selling here, but one of the things I learned: double-check your covers and make sure you spell them right!" she said, pointing to her comic, "Manila Automat Primer."

Agregado shared a table with her classmate Eden, artist of "Boknot." "It's about a group of grade school boys who want to start a trend in their school by wearing girls' shoes. Yes, it's based on personal experience."

Others are regulars at Komikon events, like the all-girls "Salmon Komiks," comprised of artists Nica Rojo, Sabrina Palmares and Kat Palmares-Garin. All three have been drawing since high school. For each issue, they print only 50 copies, always a limited edition. "Kami mismo wala kaming copy!" Rojo says.
Others have a cult following, like Carlo Jose San Juan, who moonlights as a medical doctor when he's not drawing "Callous Comics"—or is it the other way around? "Yes, I'm a medical doctor. I guess I'm just passionate about komiks. I've been reading since I was very young, and now it's a creative outlet for me. It helps me deal with the stress of daily life, and my work as a doctor, since my comic is medically related, helps me come up with stories as well."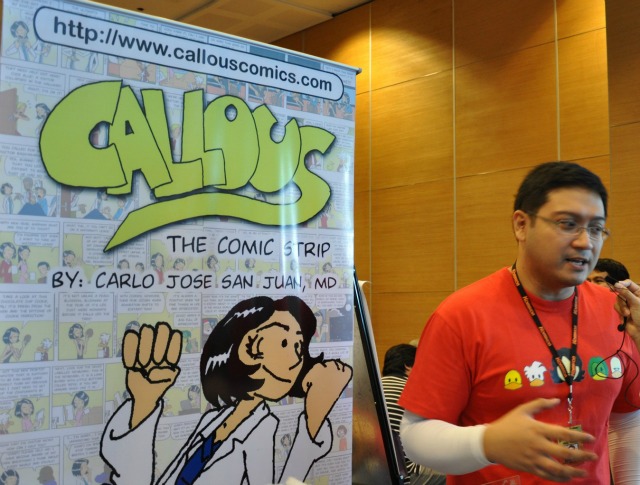 Callous Comics' Carlo Jose San Juan says comics helps him deal with the stresses of life. Oneal Rosero

It seems many of these artists are already following Medina's advice of having a back-up career in addition to producing komiks. Emil Flores teaches creative writing at UP Diliman, but he also works with Robert Magnuson and other artists to produce Polyhedron Comics' espionage action title, "Cadre."

"Our main character is a Filipino NBI agent who gets caught up in international conspiracy. All these things came from role-playing games. 'Cadre' was actually a concept of my cousin, he's the gamemaster. And some of the characters were created in that game. We just decided to make komiks out of it. It really helps me with characterization."

Events like Indieket prove that Pinoy talent, in storytelling and artwork and creativity, truly knows no bounds.

All the colors in the palette

The variety of komiks creators at Indieket was only rivaled by the rich versatility of topics and art styles featured in the different titles. In addition to "Cadre," Robert Magnuson also illustrates children's books. A great number of the komiks featured Philippine mythology, and one shining example was "Seven Gifts of the Skygods" by Mervin Ignacio and Ian Sta. Maria.

Also featured at Indieket was the first issue of "Kwentillon," a local magazine highlighting local comics and fiction, published by Summit Media. "The Last Datu" is the first story in the issue, deftly written by Budjette Tan of "Trese" fame, with dramatic artwork by Kajo Baldisimo. There's an interview with "Kikomachine"'s Manix Abrera, an article in defense of fan fiction, and a short story by Andrew Drilon.

Even the size of a typical komik is challenged here, with several artists selling komiks as literal strips. Selling at this diminutive size is "Lakan at Makisig" by Giosdesk, promising laughs that betray the size of the printed sheet. In sharp contrast is the poignant "Taking the Train," a comic by EJ Galang and Josel Nicolas, juxtaposing guidelines about commuting with understated insight.

The flavors and colors of komiks talent are about as varied as can be, and that's a good thing, because Pinoy komiks are here to stay. –KG, GMA News