Five signs that your child might be a bullying victim

Schoolyard bullying may be considered a rite of passage for some, but for others it's a harrowing, life-altering experience. While it's normal for kids to engage in light-hearted ribbing and practical jokes, there is a thin line between teasing and bullying, which can be emotionally traumatic for victims.
The topic "bullying" was discussed in a recent episode of the GMA News TV talk show, "
Tonight with Arnold Clavio
." During the episode, sexy star Mocha Uson and TV host Jace Flores, now both successful and confident adults, both admitted to Arnold that they were bullied as children.
"[Noon], nai-insecure ako sa mga sinasabi nila," confessed Uson on the show.
Unfortunately, children are often scared to admit that they're being harassed at school. Parents have to be sensitive to what their children may not be telling them.

"Ang mga batang nabu-bully, may mga senyales na," said Dr. Bernadette Arcena, a psychologist at St. Luke's Hospital. "Lalo na kapag may changes sa ugali."

Here are a few signs that may help you identify whether your son or daughter is being bullied. Not all children who exhibit these behaviors may necessarily be victims of bullying, but parents should be aware of "red flags" so they can intervene, if necessary.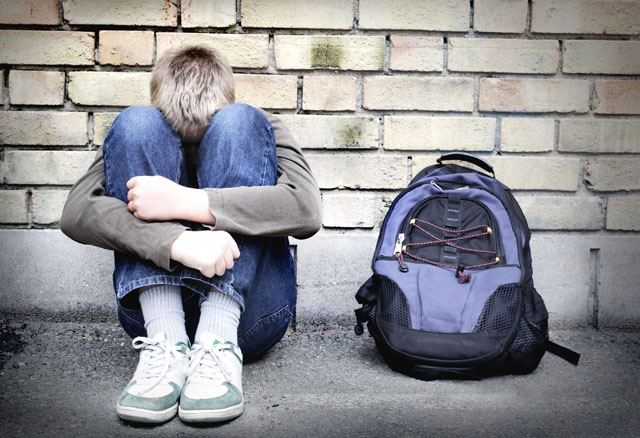 Unexplained bruises or cuts
It's expected that kids might get a scrape or two from playing outside. However, children usually seek adult attention for their wounds. If your child doesn't mention or explain how he got his injuries, these may be the result of more than the usual playground roughhousing.
Low self esteem and social isolation
Bullying is not just a physical act. Over time, name-calling may take a heavy emotional toll on its victims. When children are routinely made to feel inferior and insignificant, they may begin to internalize the taunts and jeers said about them.

"Dati tinatawag akong negra, beluga, maitin, uling—lahat na!" said Uson. She added that if not for her father's encouragement, she would have believed her bullies who made fun of her big lips and dark complexion.
Missing books, toys and clothes
Jace Flores shared how he was mistreated when he was in secondary school. "Hinaharangan ako sa hallway," he said, "at minsan kinukuha ang lunch money ko."
Through no fault of their own, children sometimes lose their things. But if you notice that your child starts losing important possessions—maybe a prized pair of shoes or a nice set of school supplies—these might have been forcibly taken from your child.
Unwilling to go to school
Kids procrastinate when asked to do homework or chores, but also when they're trying to postpone a frightening or stressful experience. Children who find excuses not to go to school may be trying to avoid bullies.
Bullying other children
Sometimes the bullies themselves are also vulnerable and frustrated individuals. Flores said that instead of reporting his bullies to his parents or teachers, he befriended them. "Para sila ang maging protectors ko," he explained. For a while, said Flores, he was even involved in a gang.
"Bullies look for people that look like potential victims," explained Dr. Arcena. If not addressed immediately, bullying can create a vicious cycle. Victims become bullies themselves, who then continue to victimize other children.

How to deal with bullying

If you find out that your child has been bullied, experts advise against confronting the bully yourself. Instead, coordinate with the school's administrators to resolve the incident at school. But more importantly, it's important for parents to be there for their children to rebuild their confidence and sense of self-worth in the aftermath of bullying.—
Job de Leon/PF, GMA News
Tonight with Arnold Clavio airs Tuesday and Wednesday nights at 10:30 PM. Follow them on Facebook and Twitter.
| | |
| --- | --- |
| | Tonight With Arnold Clavio on Facebook |
| @TWACOfficial | Tonight With Arnold Clavio on Twitter |
Talk of the web